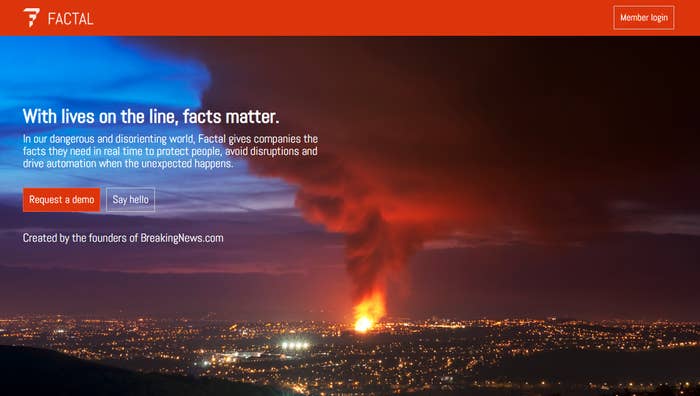 Former founders and employees of Breaking News, a popular real-time news alerts app and website that shut down in 2016, are launching a new company called Factal to deliver relevant and credible news alerts to businesses.
Cory Bergman, the company's former general manager, said that after NBC News closed down Breaking News, people on security teams at large companies reached out to say they had relied on the app.
"We noticed dozens of companies that said they were using Breaking News for all different kinds of use cases, but primarily to learn about things that were happening around the world that were impacting their employees, their facilities, their supply lines," Bergman told BuzzFeed News. "They were using us as a way to learn about it really quickly and then to respond."
Factal, the new product, notifies customers in real time about incidents anywhere in the world that could pose a risk to company facilities and employees. If a shooting, natural disaster, or civil unrest erupts near an address deemed important to a client, Factal's technology will surface that information. Then its team of journalists will verify the incident, add relevant context, and notify the customer in the product's dashboard.
Bergman said Factal will track and notify clients of "anything that poses a risk" to its personnel, facilities, or ongoing operations. More than that, he said Factal has "a public service mission to help protect people around the world from harm."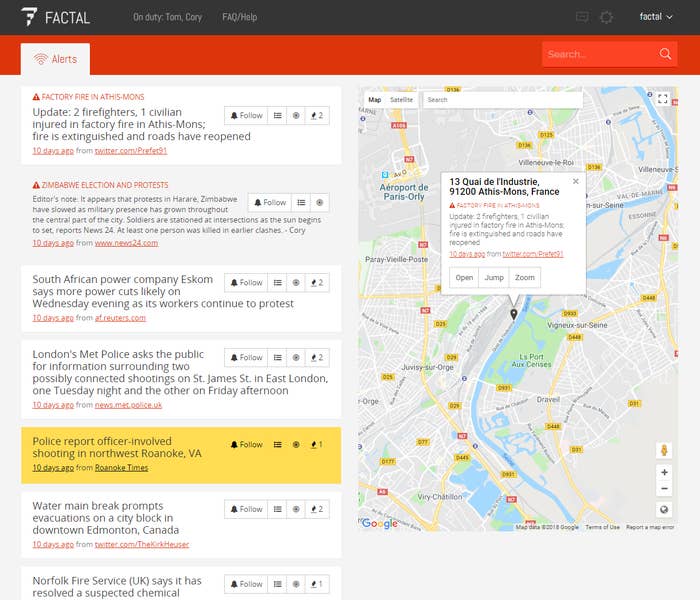 Charlie Tillinghast, Factal's CEO, said the company expects to charge clients roughly four figures per month for access to the service. He said a "handful" of Fortune 500 companies have agreed to sign on when the service launches next month. The company announced today that it has raised the majority of a $1.2 million seed round led by SeaChange Fund in Seattle, where the team is based.
Factal is trying to find the middle ground between automated detection of newsworthy signals from social media offered by companies such as Dataminr and the 24/7 breaking news operations found in large newsrooms. Services such as Dataminr offer real-time alerts of incidents and news events around the world and use machine learning and other technologies to quickly surface them and notify customers. It's one of several incident alert products that target corporate security teams.
Factal argues it's different in part because it makes journalists a key part of its process. The company has three former Breaking News editors on staff with plans to hire more.
Factal's use of journalists to produce data for corporate customers bears some similarity to NewsGuard, another startup made up of news veterans. Its goal is to fight online misinformation by using a team of journalists to produce "reliability" ratings for the 7,500 top English language websites in the US. NewsGuard hopes its ratings will be used to shape buying decisions by advertisers and integrated into social and search platforms to reduce the spread of false and low-quality information.
Like Factal, NewsGuard says its use of journalists is a key differentiator.
"Our goal is to help solve this problem now by using human beings — trained, experienced journalists — who will operate under a transparent, accountable process to apply basic common sense to a growing scourge that clearly cannot be solved by algorithms," said Steven Brill, cofounder of NewsGuard, in a March press release announcing the company. Brill is an award-winning journalist and author, and the founder of Court TV, among other ventures.
Bergman said that the key for Factal is to combine technology with journalists.
"What's unique about us is the verification piece," he said. "So you've got tools that are [news] aggregators that are just kind of taking what exists out there and spinning it back around without any data, and they're typically slow. Then you have signal detection, which has no verification. We're in this middle ground where we have fast signal detection because we've built our own signal detection … and then we have journalists on duty who are verifying in real time."
As for Factal's ability to automatically detect incidents for its journalists to verify, Ben Tesch, its vice president of technology, declined to detail how the system works. "We've done a lot of really interesting and smart things about the sources that we look at and how we find the potentially interesting signals," he said.
Bergman said Factal enables customers to identify specific addresses of offices and other places of interest for monitoring and alerts. This comes in addition to a feed of alerts along with major incidents around the world that could affect a company's interests.
"If you're a retailer, then it's obvious for you to have store locations [provided to Factal]," Bergman said. "Or let's say you have executives going to a conference, you could put the conference location in for a period of time."
The company's initial focus is business customers, but the founders said they envision Factal's data being integrated into consumer offerings.
"Why doesn't Alexa or Google Home tell me when something's a threat to the house or the property or the people in it? These things are a data problem but there's also a trust problem. And so we're approaching both of those in parallel," Bergman said.
The trust problem, as Bergman put it, is one reason why Factal developed a code of ethics that draws from codes used by the Society of Professional Journalists, the Bill & Melinda Gates Foundation, and the American Civil Liberties Union.
One section of the Factal code, for example, is titled "Regard all lives with equal value":
Some of the world's poorest and most oppressed populations are often discounted in the calculus of attention. At Factal, we believe that all lives have equal value. We strive to help protect people who live, work and travel in these regions by supporting and amplifying high-risk reporting, seeking out ethical sources of local data and enforcing equality in our algorithms.
"Ethics should apply to both human decision-making and algorithmic decision-making," Bergman said.