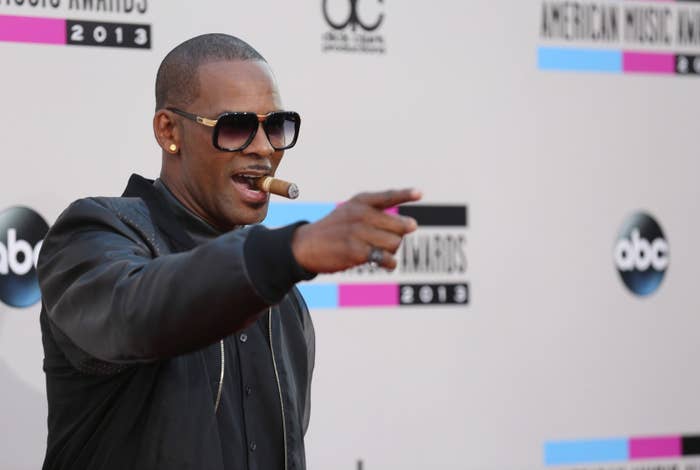 A 20-year-old woman who claims she entered a relationship with R. Kelly in 2017 has filed a lawsuit against the singer, accusing him of sexual battery, false imprisonment, and "deliberately" giving her a sexually transmitted infection during their one-year involvement.
The charges are the latest in a string of sexual misconduct accusations against Kelly, whose alleged abuse of teenage girls dates back decades. Though Kelly has repeatedly denied the claims — and for years largely escaped public scrutiny of his behavior — he now faces a growing backlash against his alleged treatment of women, led by the organization Time's Up and a viral #MuteRKelly campaign.
Monday's suit, filed by Texas resident Faith Rodgers, nods at this history, calling it "a run-of-the-mill R. Kelly sexual abuse case." The allegations made by "eerily similar" to others made against the singer, the suit states, and "routinely outline R. Kelly's modus operandi."
In the complaint, Rodgers said she first met R. Kelly when she was 19, following one of his performances in San Antonio, Texas. Rodgers said they exchanged phone numbers and that Kelly began to contact her regularly. Two months after their initial encounter, Rodgers said, Kelly flew her to New York to spend time with him after a show.
It was during that visit, Rodgers said in her complaint, that Kelly disregarded her statements telling him she was not ready to have sex, and initiated oral and vaginal intercourse without her consent. Rodgers called the sex "non-permissive, painful and abusive" and said that, afterward, Kelly immediately insulted her and criticized her "lack of participation," according to the suit.
In an interview for a BBC Three documentary, to be released this week, Rodgers said Kelly called her at 6 am on the trip, then came to her hotel room and told her to undress. She said at this point she "froze up" and told him she was "not really ready for sex."
"Sex is not something I just do with somebody I'm engaging with for my first time," she told the interviewer. "And he shrugged his shoulders and then he responds, 'Well, I'm at my best when I'm wanted.'"
According to Rodgers, he then began rubbing her back like he was "rubbing a countertop" and continued to initiate sex despite her having established her discomfort.
"It hurts," she said. "And he just kept going."
Rodgers said Kelly referred to himself as "Daddy" and her as his "little doll."
When the encounter was over, Rodgers said Kelly said he would "help her work on it," since she hadn't responded to him sexually the way he had wanted. She said Kelly would say he wanted to "train" her.
"I want to teach you and show you how to be a woman," she said he told her.
Rodgers also claimed that prior to initiating the sexual encounter, Kelly failed to tell her that he had herpes.
The suit alleges that prior to meeting Kelly, Rodgers was screened for sexually transmitted infections and was "found to be disease-free." In March 2018, however, she learned she had contracted herpes, after receiving a call from a relative of another woman Kelly was involved with who suggested Rodgers get tested for the STI, according to the complaint.
The suit claims that Kelly was aware he had herpes before engaging in unprotected sex with Rodgers and did not inform her, in violation of New York public health law.
In the filing, Rodgers said that Kelly was regularly mentally, sexually, and verbally abusive toward her over the course of their year-long relationship, and routinely recorded her during sex without her consent.
"He turned on all the lights and pulled out his iPad and he told me get naked and he was demanding me to just do stuff on camera that I wasn't comfortable doing whatsoever," she told BBC Three.

She said the singer also locked her in rooms for extended periods of time as punishment for failing to please him sexually. At one point, he wanted her to sign a contract, she said in the BBC documentary, which she refused.
Rodgers said Kelly describe a circle of women he controlled as his "family," and the women referred to him as "Daddy."
"He's the master and they're his slaves," she said.
Representatives for Kelly did not respond to request for comment from BuzzFeed News or BBC Three.

Rodgers is seeking unspecified damages and is also asking the court to issue an order requiring Kelly to disclose his herpes diagnosis before engaging in any future sexual activity.
"There is another side of the story that this man is going around and transmitting STDs to people, [and] nobody is telling that story," she told BBC Three. "If I knew that I probably wouldn't even have got involved with him, that's a big deal. That's something you just don't skip over."

Rodgers told the outlet that she was "devastated."
"I think the hardest part was coming clean to my family about everything," she said. "And you kind of feel bad, you beat yourself up about it. I blame myself a lot."
The suit comes amid growing outrage over Kelly's behavior, sparked in part by BuzzFeed News investigations into the singer's alleged sexual abuse, and by a viral campaign to boycott Kelly's music.
The backlash intensified this month, after Time's Up called on Kelly's record label, RCA Records, as well as TicketMaster, Spotify, and Apple Music, to cut ties with the singer. Spotify has since announced that it would remove Kelly's music from its proprietary playlists and recommendations.