Landscape photographer Matthew Dippel was shooting in Yosemite earlier this month when he captured in the distance what appeared to be a wedding proposal. Shortly after taking the magical photo of the couple at Taft Point, Dippel became determined to track them down.
Dippel posted the image on his Facebook and enlisted his followers on social media to help him find the two people in it.
"Alright Internet I need your help," Dippel said in the post. "Help me find these two. This was taken at Taft Point, in Yosemite National Park on October 6th, 2018. I took this photo and would love for them to find it!"

The photo went viral; it was shared more than 20,000 times on Facebook and received more than 1,000 likes.
It wasn't until days later that Charlie Bear happened to scroll through a local news station's Instagram feed and saw the picture, realizing it was of him and his now-fiancé, Melissa Ngo.
Bear said he was "totally in shock and awe" when he learned that so many people had been searching for them. He reached out to Dippel himself to reveal his identity and solve the mystery.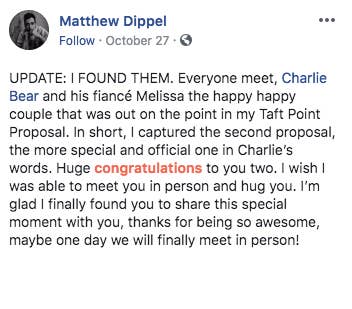 While the viewpoint proposal was majestic, Bear, 34, told BuzzFeed News that it was actually his second proposal to Ngo, 31. He said he originally proposed to her in February to placate her 82-year-old grandmother.

"I decided to do it earlier so that we could tell her grandma, since she always tells us 'Better get married so I'm still around,'" said Bear.
But Bear said he also wanted to do a special proposal for his fiancé.
"The Taft proposal was for Melissa, being more personal and meaningful, because I always knew she wanted an epic proposal at an amazing location," Bear said.
The couple plans to get married in April 2019.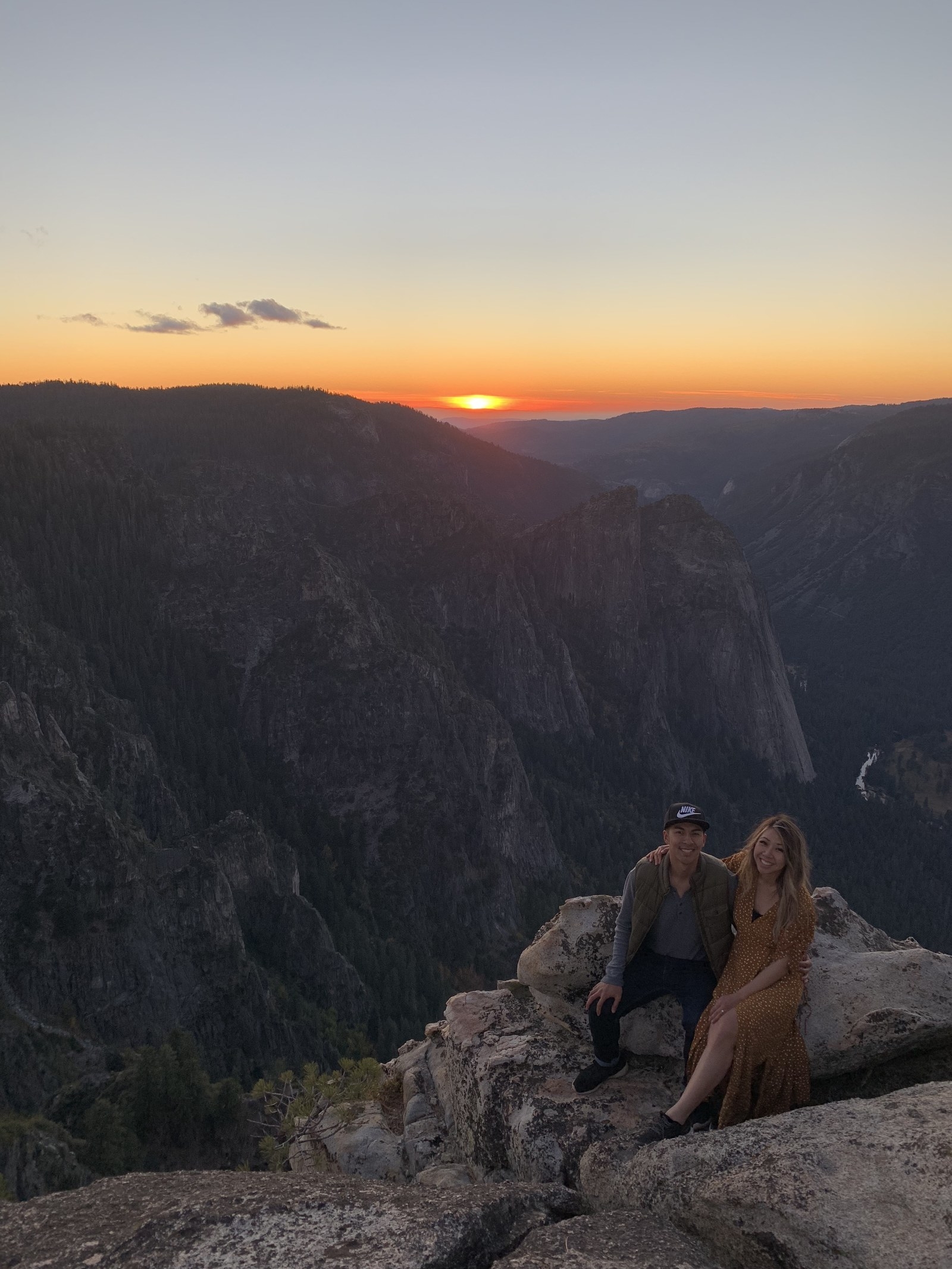 He said they both love traveling, hiking, and adventure, so Yosemite made sense for the second proposal spot. He chose Taft Point, he added, because of its obviously epic scenery.
The viewpoint, though, has also been the site of a recent tragedy. Last week, National Park Service officials discovered that a man and woman plummeted from the viewpoint to their deaths. Their bodies have been recovered, but park officials are still not releasing their names or details about how they fell 800 feet.