Washington School Shooter Lured Victims To Lunch Via Text, Sheriff Says
Jaylen Fryberg, 15, texted five classmates to sit with him at lunch before he shot them, the Snohomish County Sheriff's Department said. Two of the students have died, three others were wounded, and Fryberg killed himself.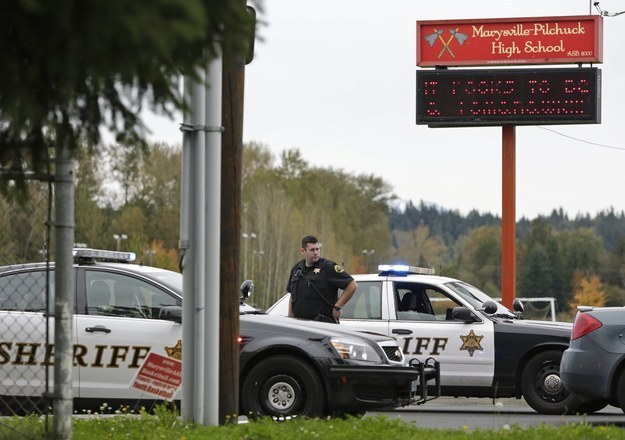 The 15-year-old shooter who killed two classmates and wounded three others at a Washington high school first invited them to lunch via text message, authorities said Monday.
In a press conference, Snohomish County Sheriff Ty Trenary said the five victims were sitting together at a Marysville-Pilchuck High School lunch table before Jaylen Fryberg shot at them on Friday. Fryberg had arranged the meeting, Trenary said.
"It's our understanding he did so via texting," Trenary said.
The handgun, a .40-caliber Beretta, was legally purchased and registered to a family member, Trenary said. Authorities are still investigating how the teen, who killed himself at the scene of the shooting, came to be in possession of the gun.
Zoe Galasso, 14, died at the scene, and Gia Soriano, also 14, died Sunday at a hospital from her injuries, King 5 reported. Shaylee Chuckulnaskit, 14, and Andrew Fryberg, 15, remained in critical condition on Monday. The condition of the third injured teen, 14-year-old Nate Hatch, was upgraded to satisfactory, a hospital spokeswoman told the Seattle Times. Jaylen Fryberg and the two injured boys were cousins.