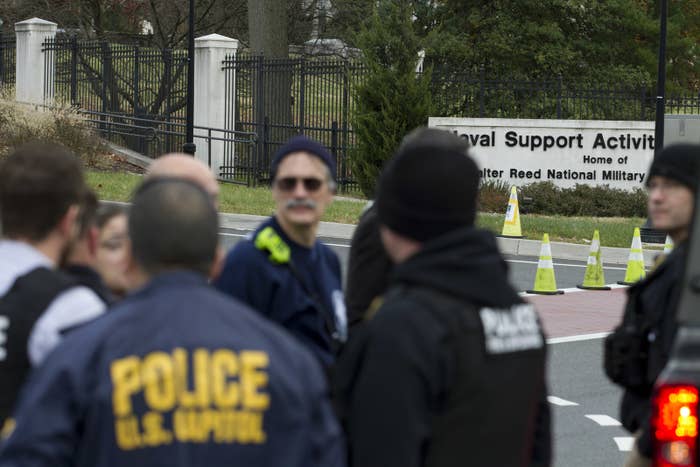 People at Walter Reed National Military Medical Center were locked down for about an hour Tuesday after a report of an active shooter, followed by conflicting messages from officials about whether the whole thing was actually a drill.
Hours later, the US Navy said a unit on the Maryland base had mistakenly set off a mass notification system as they were preparing for an upcoming active shooter drill. An alert then went out about an active shooter without specifying that it was a drill, and people who received it called base security officers, who then put the campus on lockdown while they investigated the reports.
During that time, local law enforcement and a US representative, as well as people at Walter Reed and the surrounding base, were left confused and, in some cases, panicked.
Katherine Bomkamp and her husband, a Marine, were in a pediatric exam room with their 2-year-old daughter when they began to hear announcements in the hospital hallway. They opened the door, and nurses rushed them and other families into an occupational therapy room, where they turned the lights out and locked the doors.
"We realized one of the doors in the room didn't lock, so my husband stood in front of the door with another man," Bomkamp told BuzzFeed News.

Hospital staff tried to keep the children quiet and entertained with Play-Doh and graham crackers. After about 30 minutes, after regular messages that it was not a drill, they began to hear voices.
"We all dove over the kids to shield them, except for my husband who stayed by the door," she said.
The voices turned out to be police, who were checking each hospital floor for a gunman. As they cleared the floor, Bomkamp said a message on a hospital computer said the alert had ended and families began to leave. But then they were told there was still an active shooter.
"At that point, everyone panicked and we just grabbed children and hustled them back into the room, and dove to the floor again," she said.
It was over an hour before Bomkamp and other families learned there was no such threat.
"The terror was extremely real," she said, adding she believed they could be killed. "We were all on the phone with loved ones, trying to get text messages through."
An Army major who was at Walter Reed for an appointment also got swept into a room without a lock along with other patients and family members. The only uniformed personnel in the room, he said he tried to keep others calm while sticking to the instructions coming from hospital staff and via announcements.
"I put myself up against the door and jammed my foot against it," he told BuzzFeed News.
He said he didn't feel like he was in danger — there were no sounds of gunshots or sirens — and he commended hospital staff for taking the situation seriously.
"What are you going to do, are you going to panic or just deal with it?" he said.
The experience was more frightening for civilians in the room, he acknowledged. One woman was separated from her adult daughter during the lockdown; when they were reunited, she began to sob, he said.
"You don't know it's a false alarm until you know it's a false alarm," he said.
Outside the hospital, loudspeakers at Naval Support Activity Bethesda broadcast that the situation was not a drill, prompting people to shelter in place starting around 2:15 p.m. By 3:30 p.m., Lt. Col. Audricia Harris of the Department of Defense said the event was an "exercise," and a Navy spokesperson said it was an "ad hoc drill by tenant command."

Around 4 p.m., the base said they received a call about an active shooter that ended up being unfounded, but it wasn't until 6 p.m. that the Navy explained the cause of the mix-up.
Even after getting the all-clear notice Tuesday afternoon, Lauren Patton's adrenaline was pumping. A local with a military family, her mother had stopped at the base to use a Navy Federal Credit Union ATM while running other errands.
"I think the drills are important — that's not my issue," she told BuzzFeed News. "But for 45 minutes to an hour, I truly believed I could have lost my mom at any point."
When the first notifications of an active shooter came in, Patton's mother was in a parking garage adjacent the medical center. She texted and called Patton at work, and for the next hour, Patton tried to keep her mother calm on the phone as she hid in the backseat, while also notifying other family members of the emergency.
"She said it was probably the most scared she'd ever been," Patton said.

Afterward, Patton said she was angry on behalf of everyone affected, particularly the recently deployed service members who receive care at Walter Reed.
"This is the place to make it clear that it's a drill," she said. "People have actual combat experience and trauma."

Syenna Barnes, 19, was at the hospital with her mother and grandparents to pick up a prescription. They had stopped in the food court afterward, where staff told them they couldn't leave because of an active shooter.
Around 100 people were stuck there for more than an hour, waiting for information from staff, TV news, and Twitter, but getting no answers about what was happening, Barnes told BuzzFeed News.
She recalled one woman worrying about her husband in another part of the base. The mood was generally calm, she said, but she wondered if she'd become one of the latest victims of a mass shooting.
"I was scared," she said. "We were by windows. I thought maybe they'll shoot through the windows."
Rep. Dutch Ruppersberger was also at Walter Reed on Tuesday and spent the lockdown in a conference room with about 40 other people. At no point was there any indication the report was part of a drill, he said, and people treated it as a serious threat.

"People were scared and upset. Drills are important and today was a valuable learning experience for me, but training exercises must be properly communicated," he wrote on Twitter. "I will be following up to see what went wrong and how the process can be improved for the future. I'd like to thank law enforcement for their quick and professional response."
The false alarm also caused concerns for the surrounding area. Adam Korengold, a contractor at the National Institutes of Health, said he and coworkers were first told that Rockville Pike, the road dividing his office from the base, was closed because of the police presence. Word then began to spread that there was a report of an active shooter at the base, he said.
He told BuzzFeed News he was concerned about the people on the base, and knew the limited information in media reports could panic his family and friends. Korengold put up a message on social media that he was safe.
"I was more concerned that others were going to worry about me," he said.