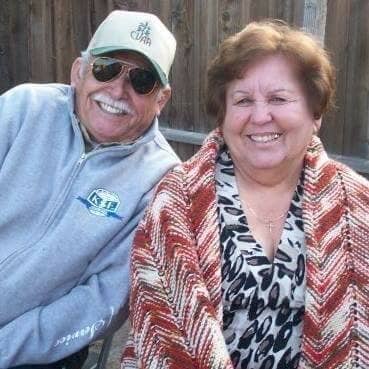 An unarmed 73-year-old man in the early stages of dementia was carrying a crucifix early Monday when he was shot multiple times by a police officer in Bakersfield, California, authorities said.
Police received a call just after 12:30 a.m. Monday reporting a man with a gun in a residential area of the central California city. When police arrived, an officer fired seven times at 73-year-old Francisco Serna as he walked toward officers with a hand in his pocket, said Lyle Martin, Assistant Police Chief of the Bakersfield Police Department.
No weapon was found at the scene. Instead, Sgt. Gary Carruesco said Wednesday that a coroner found a crucifix on Serna. The crucifix was described as plastic, but made to look like wood.
Serna's son said his father was in the early stages of dementia and often took walks at night to help him sleep, but police said residents reported a man acting bizarre and keeping a hand in his pocket, raising suspicions he was carrying a firearm.
A neighbor said she was taking items out of her car in front of her home when a man, later identified as Serna, stood behind her and asked why she was at the residence. The woman then went inside her home and told her boyfriend, who called police and reported a man on the street with a revolver, Martin said.
Police received a call earlier in the day also reported a man banging on the door of a neighbor's home. That man was later identified as Serna, Martin said.
When officers arrived at about 12:37 a.m., Serna was not in the area, he said. However, one of the residents yelled out, "that's him," when Serna began walking out of his home.
"Officers yelled commands to take his hand out of his jacket and to stop," Martin said.
Serna crossed his front yard, a sidewalk and the street as officers continued to yell commands at him that were ignored.
"When Mr. Serna got within 15 to 20 feet of [Officer Reagan] Selman, Officer Selman fired seven rounds at Mr. Serna," Martin said.
The officer believed Serna might have been armed when he fired the shots, Martin said.

He was pronounced dead at the scene.

About 20 to 30 seconds passed from the moment that Mr. Serna was recognized by the neighbor to when the first shots were fired, he said.
Despite Serna's condition, Martin said officers did not have any information about his health at the time and could not have made an evaluation.
"It's kind of tough to address that in 20 seconds," Martin said.
Selman, who has been in the Bakersfield Police Department since July 2015 was placed on administrative leave while the incident is under review, Martin said.

"My dad was not armed," Roy Serna said.

Roy Serna questioned why officers had not used a Taser or other force that was not lethal. His father was also a grandfather and great-grandfather, he said. The family held a candlelight vigil for Tuesday night.

"He was taken from us sooner than expected, not from a sickness but from senseless police," Roy Serna said.
"I ain't got nothing against the police, but this needs to stop against innocent people," he added. "Enough is enough already."