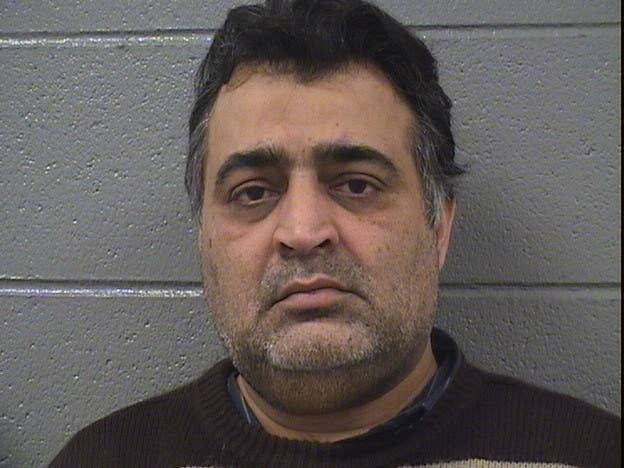 A driver for Uber X is accused of sexually assaulting a male passenger in Chicago, authorities said.
Adnan Nafasat, 46, was charged with criminal sexual assault, unlawful restraint and kidnapping, Lisa Gordon, a spokesperson for the Cook County State Attorney's Office, told BuzzFeed News. It was the second time in a matter of weeks that an Uber driver was accused of sexual assault in Chicago.
According to prosecutors, a man used the Uber app to request a ride on July 31 in the 700 block of West Cornelia Avenue. He was picked up by an Uber X driver, who told him to get in the passenger seat of the car because the back was dirty and broken.
Nafasat then started grabbing the passenger inappropriately through his clothing and tried to kiss him, Gordon said. The man asked to be released or driven home.
But Nafasat kept going, Gordon said, and told the passenger that he wasn't going home. Nafasata drove too fast for the man to get out of the car, and when the car stopped in traffic, he grabbed the man by his throat. At one point, the man, who weighs about half of what the driver does, almost passed out, Gordon said.
Nafasat drove south into a neighborhood the passenger didn't recognize, Gordon said, and then stopped the car. There, the driver tok off his pants, exposing himself, and tried to force the man into a sex act. The man pushed him off, and the driver then drove him to his destination.
The man filed a police report, Gordon said, bringing a phone screenshot containing the driver's first name and photo to authorities. Police used the screenshot as well as records from Uber to identify Nafasat as the driver, Gordon said. The passenger also positively identified him from several photographs, she said.
Once in custody, Nafasat allegedly admitted to authorities that he touched the passenger and exposed himself, Gordon said.
Nafasat is being held in lieu of $150,000 bond and is expected in court Feb. 3.
An Uber spokesperson said the company learned of the allegations on July 31 and immediately removed Nafasat as a driver and reached out to police.
"Our thoughts are with the victim of this horrible incident," Uber spokeswoman Jennifer Mullin said in a statement. "We immediately removed the driver from our platform upon learning of the allegations and have been assisting authorities with the investigation."