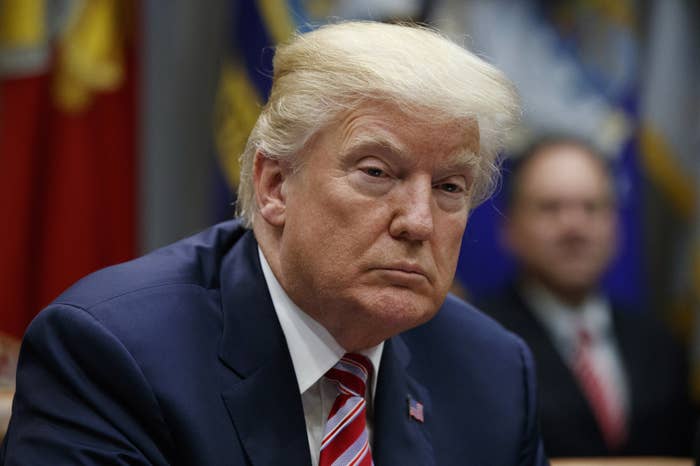 The morning after a suspected terrorist attack in New York on Tuesday left eight people dead and at least 11 injured, President Trump called for "tougher" immigration laws and slammed the Diversity Visa Lottery Program, which is how the suspected terrorist received his legal status.
Hours later, New York Gov. Andrew Cuomo said Trump's tweets were "not helpful" and said he doesn't think they were factual.
The suspect in the attack was reported to be a 29-year-old man from Uzbekistan who came to the US legally in 2010. He was shot and injured by a New York police officer and taken into custody on Tuesday.
Trump also criticized Senate minority leader Chuck Schumer for being an early supporter of the green card visa lottery.
Trump tweeted that "the terrorist came into our country through what is called the 'Diversity Visa Lottery Program'" and called for only "merit-based" immigration laws.

At a news conference later Wednesday, Cuomo initially refused to criticize Trump — but when asked again about his tweets, he laid into the president.
"The president's tweets, the president's tweets, I think, were not helpful. I don't think they were factual. I think they tended to point fingers and politicize the situation," Cuomo said. "He was referring back to an immigration policy that dealt with a lottery and blaming people who passed that immigration policy. His tweet wasn't even accurate, as far as I'm concerned. That was a bipartisan law that was passed that had basically no relevance to the facts of this situation."

"As I said before, you play into the hands of the terrorists to the extent you disrupt and divide and frighten people in this society. And the tone now should be the exact opposite. By all officials on all levels. This is about unification. This is about solidarity. This is about normalization. This is about protection. And the last thing it's about is politics, period," Cuomo added.
Trump, speaking before a Cabinet meeting at the White House, said, "we need to get rid of the lottery program as soon as possible."
He also called the suspect in the New York truck attack an "animal" and vowed to "take all necessary steps to protect our people."
He also said that he would call on Congress to terminate the Diversity Immigrant Visa Program as well as end chain migration. He alleged that the suspect was responsible for or associated with the entry of 23 other individuals.
"We're going to quickly as possible get rid of chain migration and move to a merit program," he said.

The Diversity Visa Lottery Program was first introduced in 1986 to offer a legal pathway to citizenship for undocumented Irish immigrants living in Boston.

As the program developed in the early 90s, it offered one of the few paths to citizenships for people living in Africa and parts of Europe and the Carribean. Each year, 50,000 green cards are available for randomly-selected applicants who must pass stringent application rules.

"We are fighting hard for Merit Based immigration, no more Democrat Lottery Systems. We must get MUCH tougher (and smarter)," tweeted Trump on Wednesday.

Trump continued his tradition of tweeting while watching Fox and Friends, Fox News' morning TV show, quoting guest Tony Schaffer slamming Schumer and adding that "we will stop this craziness!"
In a statement tweeted by his spokesperson, Schumer said:
I have always believed and continue to believe that immigration is good for America. President Trump, instead of politicizing and dividing America, which he always seems to do at times of national tragedy, should be focusing on the real solution — anti-terrorism funding — which he proposed cutting in his most recent budget.
In 2013, Schumer said that because the program had become a political pawn in the immigration argument and that it didn't really work to diversify immigration, that "we decided we couldn't continue it."

On Wednesday morning, Schumer also noted the irony of Trump, who criticized those who called for stricter gun control after the Las Vegas shooting on Oct. 1, calling for stricter immigration laws immediately after the attack in New York.
On Tuesday night, Trump said he ordered the Department of Homeland Security to step up its "extreme vetting" of people entering the US.

"I have just ordered Homeland Security to step up our already Extreme Vetting Program," Trump tweeted Tuesday night. "Being politically correct is fine, but not for this!"

Tyler Houlton, a spokesman for the Department of Homeland Security, declined to comment on whether Trump had contacted the agency, referring all questions to the White House. The White House did not respond to questions about how vetting would be expanded. Trump also did not elaborate on what he had ordered.
Since taking office, Trump has sought to ban travel into the US from eight countries, most of which have large Muslim populations. As of this month, the ban has been temporarily put on hold by a judge — who said it "plainly discriminates based on nationality."
Even if it were in effect, it would not have applied to legal green card holders, according to previous administration explanations of the ban.
The terror suspect, 29-year-old Sayfullo Habibullaevic Saipov was a legal permanent resident after coming to the US under the Diversity Visa Program, ABC News reported. In 2010, around 4,000 people from Uzbekistan came to the US under the program.
In 2016, Saipov paid a fine after failing to appear in court for a traffic violation, court records showed. He did not immediately appear to have any other criminal record, which could have threatened his immigration status.
Saipov isn't the only Uzbeki who won a green card in the diversity lottery and later allegedly plotted an ISIS-inspired terror act in New York City.
Last Friday a Brooklyn federal judge sentenced Abdurasul Juraboev to 15 years in prison after he pleaded guilty to providing material support to a foreign terrorist organization.
Juraboev is part of a group of six Uzbeki men who lived in Brooklyn and were charged over their financial support of ISIS, and online discussion of a possible terror attack at Coney island.

Juraboev was first charged in 2015 after he bought a ticket to Turkey, in order, according to recorded conversations, to escape into Syria and join ISIS. He'd also threatened to kill President Obama.
The 27-year-old citizen of Uzbekistan, Juraboev, won the diversity visa program in 2011, after his brother entered him in it. He moved to Brooklyn soon after.
The day before the attack, White House chief of staff John Kelly discussed the administration's views on extreme vetting. In an interview with Fox News' Laura Ingraham, Kelly said the goal was to make sure people weren't coming into the US under a false identity.
"Extreme vetting is, we simply interview people and have to satisfy ourselves that the person we're talking to is indeed the person who they claim," Kelly said.
"It's very tough to do in some cases, there are no records," Ingraham replied.

Supporters of the travel ban have argued it should bar refugees from Syria and other conflict zones, who cannot provide birth certificates or other records proving their identity.
"And frankly impossible to do in some cases," Kelly said.
Grace Wyler contributed reporting.