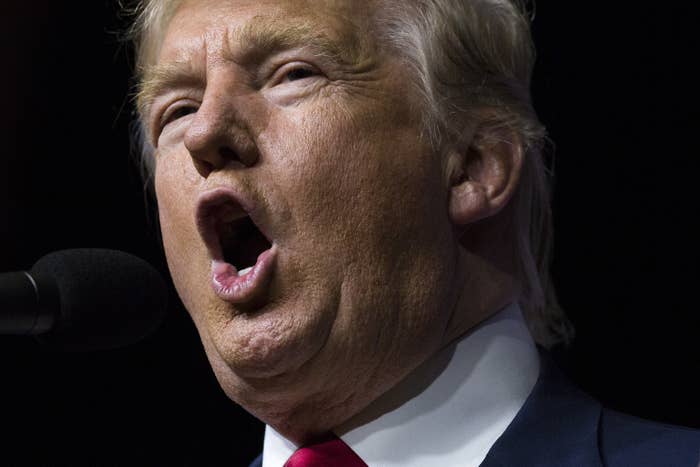 Donald Trump on Monday attributed his personal success to successfully navigating the tax system, days after the New York Times revealed he may not have paid federal income taxes for 18 years.

"My understanding of the tax code gave me a tremendous advantage over those who didn't have a clue about it, including many of my competitors who lost everything they had, never to be heard from again," he said.
The leaked tax documents from 1995 reveal that Trump declared a loss of $916 million, which would have legally allowed him to avoid paying income taxes for almost two decades. Trump has not released any of his tax returns, prompting attacks from opponent Hillary Clinton that he has failed to pay his fair share of taxes.
At a rally in Pueblo, Colorado, on Monday, Trump did not say how much he did or did not pay in taxes, but he attributed his knowledge of the tax system to getting him out of the financial straits in the 1990s that took down many other real estate developers.
"I have legally used the tax laws to my benefit and the benefit of my company, my investors, and my employees," Trump said. "I have brilliantly used those laws."
The Times report did not say Trump had broken the law; rather he leaned on tax benefits unavailable to average Americans.
Trump said that his knowledge of the tax code in the '90s and access to lawyers and accountants led to his success at a time when others failed.
"I was able to use the tax laws of this country and my business acumen to dig out of the real estate mess, you would call it a depression, when few others were able to do what I did," he said.
He attributed the unfairness to the power of special interests over politicians in creating a ridiculous, complex and unfair system.
"Fixing our broken tax code is one of the main reasons I'm running for president," Trump said.
Trump also described the recession of the early 1990s as almost as bad as the Great Depression and worse than the Great Recession of the 2000s.
"Some of the biggest and strongest people and companies went absolutely bankrupt," he said. "Which I never did, by the way. Are you proud of me?"
Trump has never declared personal bankruptcy, but his companies have declared bankruptcy at least four times. On Monday, he described his business as more successful than ever, in spite of those losses.
"I knew myself, I knew my business, I knew the financial system, I knew the tax code, and most importantly, I knew how to fight," Trump said of his turnaround in the '90s. "I'm a fighter. I'm now going to fight for you. I'm not fighting for me anymore, I'm fighting for you."
Meanwhile, in Akron, Ohio, Clinton again said it should be required of presidential candidates to release their tax returns. She criticized Trump's $916 million loss reported by the Times.
"What else does he want us to do?" she asked a crowd of supporters. "Pay him to lose money?"
Trump described the losses as a result of having taken out loans to grow his business. When the economy turned in the early '90s, he said he still had a large amount of debt.
"That stayed the same, but the value of the assets plummeted," he said.
"I was young, and you have to learn," Trump said. "And I learned."