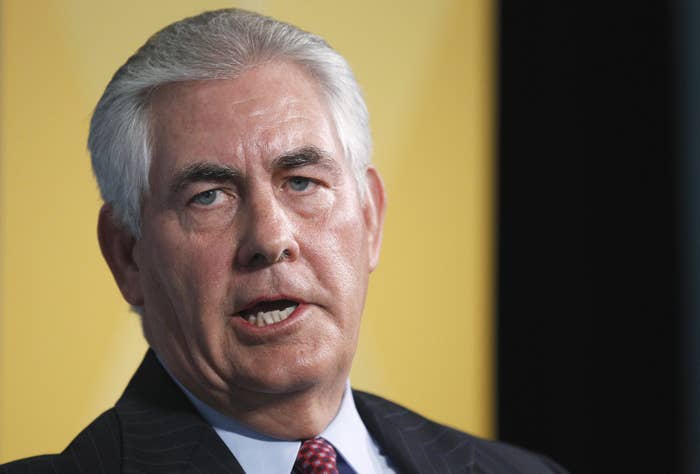 After weeks of hinting at names of various political allies and opponents, Donald Trump announced Tuesday he will nominate oil executive Rex Tillerson as secretary of state.
Tillerson, has since 2006 been chairman and CEO of Exxon Mobil, one of the world's largest companies. The Texas oilman is known for his work in Russia and was in 2013 awarded the Russian Order of Friendship by Vladimir Putin. The company has been dogged with allegations of complicity in environmental degradation and human rights abuses in countries from Nigeria to Indonesia, though a number of these scandals took place before Tillerson was at the company's helm.

"Rex Tillerson's career is the embodiment of the American dream. Through hard work, dedication and smart deal making, Rex rose through the ranks to become CEO of ExxonMobil, one of the world's largest and most respected companies," Trump said in a statement issued by his transition team on Tuesday morning.

"His tenacity, broad experience and deep understanding of geopolitics make him an excellent choice for Secretary of State. He will promote regional stability and focus on the core national security interests of the United States."

A short while later, Trump tweeted that Tillerson was "one of the great business leaders of the world."

Tillerson's tied to Russia are already an issue among some elected officials — including Republicans — and those in the diplomatic corps.
One Western diplomat voiced deep worry about the nomination to BuzzFeed News, describing it as a breach of norms within the diplomatic corps because Tillerson has not pursued a traditional public service path and because he comes directly from the corporate world.
"America is in for a bumpy ride and the integrity of the country will likely be questioned for the coming years." said the diplomat, speaking on condition of anonymity. "You're bringing someone who is programmed to make profit for himself and his company. You could say he wants to same for the US. If you're a politician, you're used to building a consensus to build something for your constituency. But what is his constituency?"
Tillerson was expected to retire from his role as CEO next year, as he turns 65.
His nomination comes after the Trump transition team said he was considering a variety of people for the role of the United States' top diplomat. Chris Christie, Rudy Guiliani, and David Petraeus had all been considered as potential nominees. Trump met with Mitt Romney for dinner, and Romney later told reporters they had an "engaging" discussion on global affairs.
On Monday, Romney — who had sharply criticized Trump as a fraud and conman during the primary — wrote on Facebook it was an honor to have been considered for the post and that he had high hopes for the Trump administration.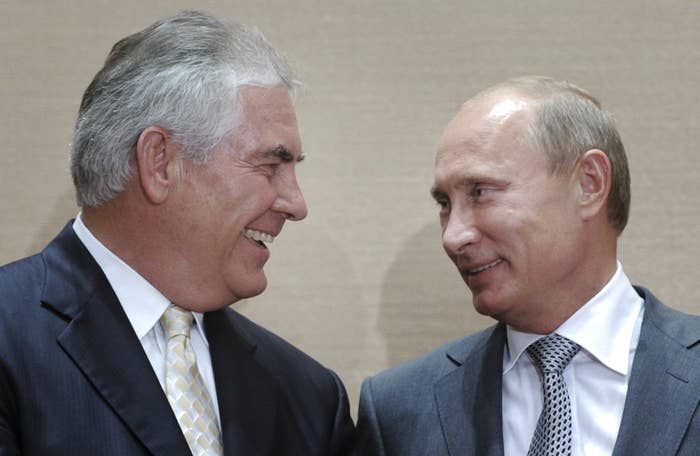 Tillerson joined what was then Exxon Company, U.S.A. in 1975 and rose through the ranks. For years, he oversaw the company's oil holdings in Russian territory and in 2011, the company signed a $500 billion deal with a state-owned Russian oil company.
That deal was put on hold because of US sanctions related to Russia's annexation of Crimea and accused support of rebel actions in Ukraine. Tillerson has said Exxon Mobil generally finds sanctions to be ineffective and does not support them.
Tillerson's nomination signals an end of US sanctions on Russia, diplomatic observers told BuzzFeed News last week.
Though Tillerson lacks experience as a civil servant, his work at Exxon has required him to negotiate with foreign governments as well as US officials. The 2012 book Private Empire by Steven Coll likens Exxon Mobil to a state within a state, with its own corporate foreign policy.
In a 2015 column for Fortune, Tillerson — a longtime volunteer with the Boy Scouts of America — said he was most driven by integrity.

"For leaders at all levels, it is also important to remember that integrity is universally valued," he wrote. "In a global economy, integrity crosses cultures and enables visionary international partnerships and joint ventures to advance and succeed."
The nomination was opposed by some environmentalists, who feared Tillerson would use the position to quell global initiatives on climate change and the environment.
"President-elect Trump's reported intention to nominate ExxonMobil CEO Rex Tillerson to be Secretary of State is his latest and most egregious step in turning the federal government, and stewardship of the global environment, over to a cabal of corporate extremists with proven disdain for science, stewardship, public service, and the common good," said Bradley Campbell, president of the Conservation Law Foundation, in a statement. "Every American should tremble for our country."

Tillerson has acknowledged climate change as a global issue, but in public statements he has pointed to energy efficiency and scientific problem-solving as the ways to address it.
"I think there are much more pressing priorities that we as a -- as a human being race and society need to deal with," Tillerson said at the Council on Foreign Relations speaker series in 2012. "There are still hundreds of millions, billions of people living in abject poverty around the world. They need electricity."