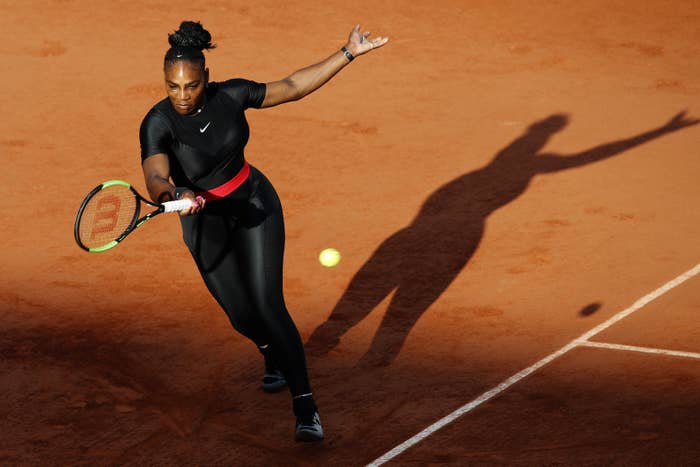 Serena Williams' black compression bodysuit went "too far," a top tennis official said, and it won't be allowed at future French Opens.
French Tennis Federation president Bernard Giudicelli told Tennis magazine that the French Open would be instituting a dress code for future tournaments.
"I think that sometimes we've gone too far," he told the magazine, according to the Associated Press.
Giudicelli specifically referenced Williams' skintight black suit, which the star wears to promote blood circulation and prevent blood clots.
"It will no longer be accepted," he said, according to the AP. "One must respect the game and the place."

A French Tennis Federation spokesperson didn't immediately answer questions about what Giudicelli took issue with in Williams' outfit or offer details on what a future dress code would entail.
Williams pulled out of this year's French Open after injuring a chest muscle.
In May, the tennis star told reporters the suit had been designed to help prevent blood clots, an ongoing medical issue that nearly killed her after she gave birth to a daughter last September.
"I had a lot of problems with my blood clots. God, I don't know how many I've had in the last 12 months," she said.
Though the suit had been created with that functionality in mind, she added she loved its similarity to the superhero costume in Black Panther.
"I feel like a warrior in it, like a warrior princess kind of queen from Wakanda maybe," she said. "I've always wanted to be a superhero, and it's my way of being a superhero."
The suit was designed before the movie came out, and Williams wore it during her win in the French Open's first round.
"I've been wearing pants a lot in general when I play so I can keep the blood circulation going," she told reporters. "It's a fun suit, but it's also functional so I can play without any problems."
Reacting on Twitter on Saturday, tennis legend Billie Jean King said, "the policing of women's bodies must end."