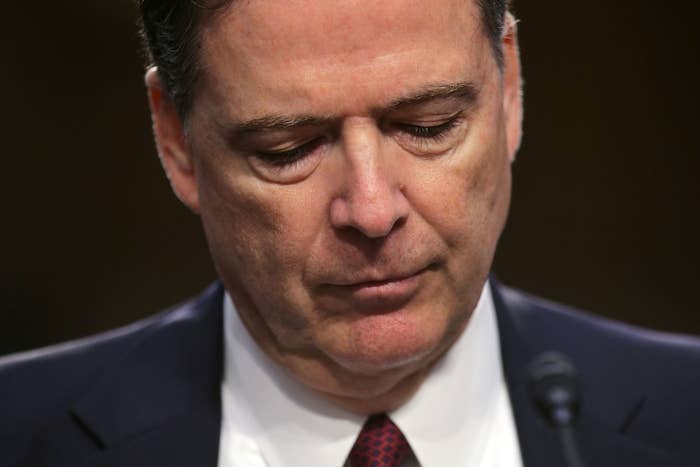 The FBI will not release memos written by former director James Comey on his interactions with President Trump because they're part of a "pending or prospective law enforcement proceeding."
BuzzFeed News requested the memos under the Freedom of Information Act. At least one of the memos is unclassified. But, the FBI said, the memos' release could "reasonably interfere with enforcement proceedings," and it declined to release any of the memos — including the one that's unclassified.
Comey discussed the unclassified memo he wrote during Senate testimony last week. Over the past two days, CNN and the New York Times have filed lawsuits under the Freedom of Information Act for the documents. In his testimony, Comey told senators that he began detailing his interactions with Trump after meeting the then-president-elect at Trump Tower.
"Creating written records immediately after one-on-one conversations with Mr. Trump was my practice from that point forward," Comey said in a written statement. "This had not been my practice in the past."
During the Senate hearing, Comey said he made the memos because he thought Trump might lie about their interactions.
"I was honestly concerned he might lie about the nature of our meeting, so I thought it important to document. That combination of things I had never experienced before, but it led me to believe I gotta write it down and I gotta write it down in a detailed way."
Later, Comey said he also wrote memos as a way to keep a record to defend himself, as well as the FBI as an institution.
"I knew there might come a day where I might need a record to defend not just myself but the FBI, and our integrity," Comey said.
If an FBI investigation is focusing on interactions between Trump and Comey, withholding the memos is consistent with the intentions of FOIA, said Steven Aftergood, director of the Project on Government Secrecy at the Federation of American Scientists.
"It would be fascinating, of course, to see the Comey memos," he said. "But I think this is exactly the sort of circumstance that this FOIA exemption was designed for. That is, to protect records that are at the center of an unfolding investigation where disclosure of the records could compromise leads or prejudice the investigation. That also means, however, that once the investigation is concluded or the special counsel has moved on, the justification for withholding would evaporate and the memos should be released."
The former FBI director testified that he believed Trump was trying to create a patronage-type relationship with him and requested him to pledge his loyalty. At a later meeting, Trump said he hoped Comey and the FBI would "let go" of the investigation into former National Security Adviser Michael Flynn's ties to Russia.
While he was FBI director, Comey several times assured Trump that the president wasn't personally under investigation. But that changed after Trump fired Comey.
Reports this week suggested that Trump was under investigation if his statements to Comey amounted to obstruction of justice. On Friday, the president confirmed that he was under FBI investigation.