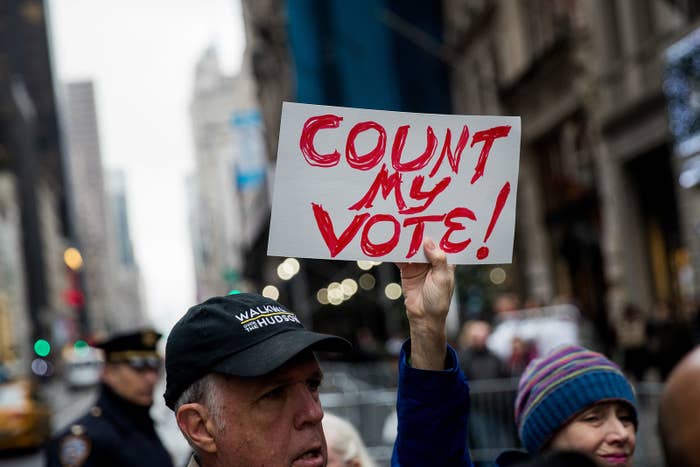 After a campaign to recount ballots in key swing states went viral last month, the efforts ended on Monday with little change to the official results.
Election officials in Wisconsin on Monday announced Donald Trump's victory margin over Hillary Clinton increased by 131 votes following a recount. Pennsylvania's recount effort was stopped Monday by a federal judge for a number of reasons, including that there was no credible evidence of a hack of election systems.
Michigan's recount had already ended last week after decisions by state and federal courts. A recount in Nevada also ended last week after elections officials found no signs of problems in a sample of precincts.
"This recount was never about changing the outcome; it was about validating the vote and restoring confidence in our voting system to Americans across the country who have doubts," Green Party candidate Jill Stein said in a statement on Monday.
Stein raised $7.3 million from donors to fund recounts in Wisconsin, Pennsylvania, and Michigan after some elections experts said it was possible presidential election results could have been manipulated or hacked. Filing fees alone for the recounts topped $5 million, and her campaign said other money would cover legal costs and the recount campaign's operational costs.
"These recounts are part of an election integrity movement to attempt to shine a light on just how untrustworthy the US election system is," Stein's campaign said.
The recount in Nevada was requested and paid for by independent candidate Rocky De La Fuente.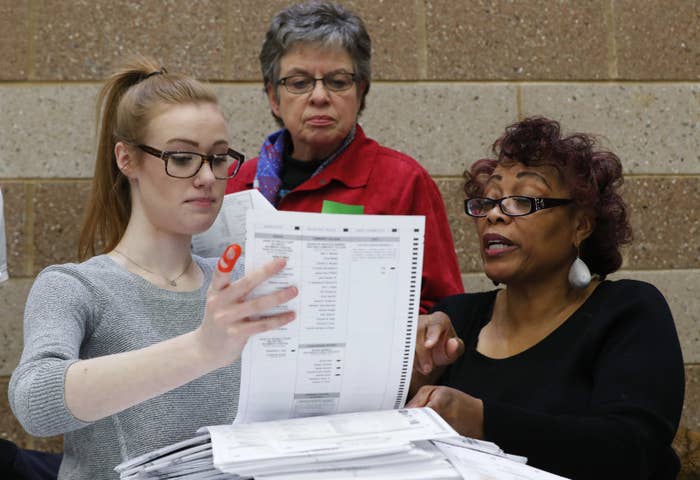 Critics of the recount effort described it as frivolous. Michigan's attorney general, Bill Schuette, filed a lawsuit to block Stein's recount, describing it as a waste of taxpayer money. The state's court of appeals found Stein unqualified to file for a recount in the first place, since she was not an "aggrieved candidate" who could have won if not for problems with the vote count. A federal judge agreed the recount had no basis to proceed — there was simply no evidence of significant fraud or mistakes, he said.

In Pennsylvania, a federal judge on Monday stopped Stein's request for a recount from going further for a variety of reasons.
"Most importantly, there is no credible evidence that any 'hack' occurred, and compelling evidence that Pennsylvania's voting system was not in any way compromised," Judge Paul Diamond wrote.
In a statement, Stein said she was disappointed by the decision to forego a hand recount of paper ballots and a forensic audit of voting machines.
"PA voters have no way to find out if their votes count," she wrote on Twitter. "We can't hide democracy inside a black box."
Wisconsin completed its recount and certified results on Monday, showing little change to original counts — which should give voters confidence, officials said.
"Completing this recount was a challenge, but the real winners are the voters," Wisconsin Elections Commission Chair Mark Thomsen said in a statement. "Based on the recount, they can have confidence that Wisconsin's election results accurately reflect the will of the people, regardless of whether they are counted by hand or by machine.

The recount awarded Trump 1,405,284 votes instead of his original 1,404,440. Clinton earned 1,382,536 instead of the original 1,381,823.
Stein applauded the work of the Wisconsin recount, but she also said she was disappointed not every county had used a full hand recount.
"The recount in Wisconsin raised a number of important election integrity issues that bear further assessment and serious action to ensure we have integrity and confidence in our electoral system," she said.
Meanwhile, Trump wrote on Twitter that the recount campaign was a scam.