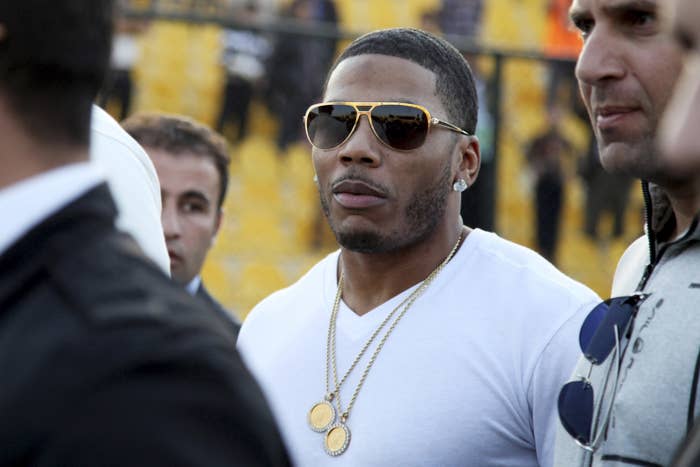 The woman who accused Nelly of rape earlier this month has asked police to drop their investigation into the rapper because she "believes the system is going to fail her."
In a letter dated Friday, the woman's attorney said she regretted calling 911 and reporting that the rapper had raped her on his tour bus after a concert in Auburn, Washington, on Oct. 7. Nelly was arrested shortly after she called 911 at 3:48 a.m. and booked into jail on suspicion of sexual assault. He was released from custody as the investigation continues, and no charges have been filed.
In the letter, attorney Karen Koehler said the woman stands by everything she told police. But, she said she will not be testifying in any criminal case, and she asked authorities to halt proceedings.
"We do not live in a society where a 21-year-old college student can feel safe enough to pursue criminal charges against a celebrity for an alleged rape," Koehler wrote.
The Auburn Police Department will continue to investigate if any crime took place, Commander Steve Stocker told BuzzFeed News.
"As soon as we're done with the investigation, we'll be referring it to the prosecutors," he said, adding that could take place next week. "The detectives have been working very hard on it."
Koehler described what happened to the woman after she called 911: She was interviewed and detained, then taken to a hospital for a rape kit. When she returned home, she was "besieged" by text messages and news articles detailing the incident, Koehler said, then she was called by a reporter.
"As she cries alone in her apartment with mounting hysteria, she will learn that the celebrity and his lawyer are issuing public statements that her 'allegation is devoid of credibility and is motivated by greed and vindictiveness.' That her agenda is 'money, fame and notoriety,'" Koehler said.
In addition to statements from Nelly's attorney, the rapper personally denied he raped the woman in a series of tweets.
The woman also felt police had compromised her privacy during the investigation, Koehler said. On Monday, she met with police and the prosecutor's office to give her statement. Though a detective assured her that the meeting would not be disclosed until the investigation was over, the Auburn Police Department said in a statement on Tuesday that she had met with police and prosecutors.
"People are saying horrible things already," Koehler said. "She cannot handle this. She is about to break. She wants to close the door. She wants this to end. She just cannot bear it."
Nelly's lawyer Scott Rosenblum said the woman's decision was a welcome one, but he believed she owed Nelly a public apology — reiterating the rapper's statement that the allegations were completely untrue. He added Nelly was considering other legal action against the woman.
"Her reckless accusation, once investigated thoroughly, was exposed for what it was — a fabrication," Rosenblum told BuzzFeed News. "A fabrication that has caused Nelly and his family to suffer emotionally and financially. It is not enough. This type of reckless allegation is an affront to women who are real victims of sexual assault."
Koehler added that she hopes someday it won't take reports from dozens of women for allegations of assault to be believed, possibly alluding to scandals surrounding Bill Cosby and Harvey Weinstein. For now, her client will be trying to get back to her life.
"She never wanted notoriety. She never wanted a dime from that man," Koehler said. "She wants to go back to school and to graduate. And this she cannot do if she remains hidden in her room, crying her heart out."