The Golden State Killer's Prolific Spree Started Even Earlier With A Murder In The 1970s, Officials Say
In the mid-1970s, the previously unidentified Visalia Ransacker terrorized a central California community.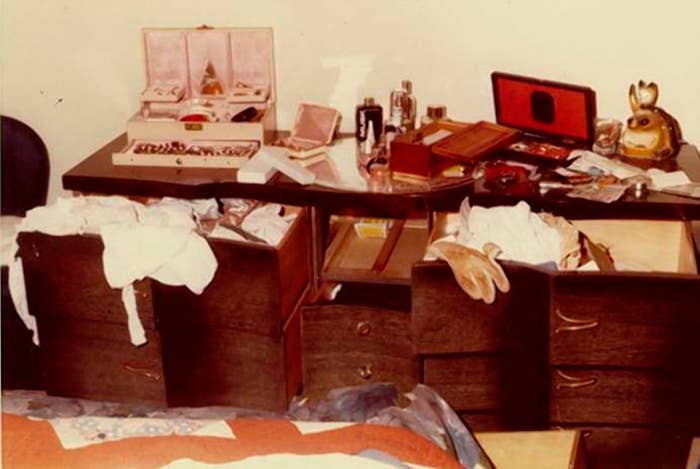 For 20 months in the mid-1970s, residents in Visalia, a small city in central California's valley, were terrified.
An unknown man was prowling around the quiet neighborhoods of ranch houses and bungalows. He'd pry open a window or door, rifle through possessions, sometimes stopping to eat in the kitchen. He'd leave the valuables, and instead take something personal: photographs, a keepsake, a single earring. Known as the Visalia Ransacker, the man was suspected of committing 100 burglaries between April 1974 and December 1975.
In one instance, his consistent, careful pattern of behavior escalated.
On Sept. 11, 1975, the Ransacker killed 45-year-old Claude Snelling in his home. Snelling had woken up to a noise around 2 a.m. and found his 16-year-old daughter being taken away by a masked man. Snelling charged at the man, who shot him, then ran away.
On Monday, authorities formally identified the mystery man who had terrorized Visalia more than four decades earlier. Joseph DeAngelo, the 72-year-old former police officer who has already been accused of 12 other killings across California, was charged with first-degree murder in Snelling's death.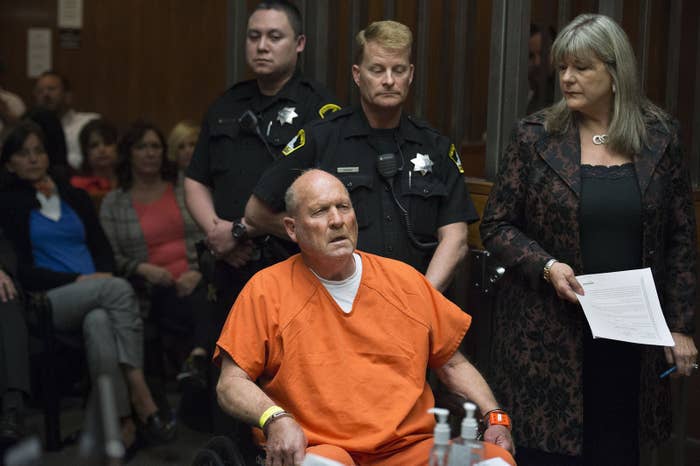 "In doing so, I hope that we can take what is really our first step in not only holding him accountable for the crime here in Visalia, but really providing justice not only to the victim's family but the community as a whole," Tulare County District Attorney Tim Ward said at a press conference.
DeAngelo has been in custody in Sacramento County since he was arrested in April and accused of being the Golden State Killer. For decades, investigators around the state had worked to identify the alleged rapist and murderer who had been linked to a series of crimes through DNA and other evidence.
Investigators had long suspected the killer — also known as the Original Night Stalker and the East Area Rapist — was responsible for the string of burglaries in Visalia. The pattern of his crimes — the way he'd learn his victims' habits and how he broke into their homes — was similar. The timeline also made sense.
Since DeAngelo was identified as the alleged Golden State Killer via familial DNA and an online ancestry database, investigators in Visalia had been trying to prove their long-held hunch. They learned DeAngelo had worked as a police officer in the nearby town of Exeter during the years the Visalia Ransacker was active. They tracked down victims and witnesses to the 1970s crimes who were still alive. And on Monday, Visalia Police Chief Jason Salazar said they were convinced they'd found their man.
"There is some physical evidence we have that can link him to these crimes, although we do not have DNA," Salazar told reporters.
Because of the statute of limitations, Ward said he could not charge DeAngelo for the burglaries, attempted kidnapping, or for a December 1975 incident in which he fired a shot at a police officer working a surveillance detail in the hunt for the Ransacker.
But DeAngelo would face charges in the killing of Claude Snelling, Ward said. It appears to have been the first murder committed by one of California's most prolific serial killers.
"To think that these crimes that now we see from the charges filed across the state may have originated in our quaint, quiet, wonderful little town is quite startling," Ward said.
In 1976, DeAngelo moved from Tulare County to the Sacramento area to take a job with the police department in Auburn, California, and the Visalia Ransacker's crime spree stopped. Shortly after, a series of violent rapes began near Sacramento, followed by murders in Southern California.
On Monday, Ward said he hoped the new charge against DeAngelo would bring closure for Visalia residents. The investigation into the Ransacker had never been closed, and members of the community had submitted more than a thousand tips over the years about the man who'd terrorized their streets — and sometimes homes — 40 years ago.
"Those wounds never healed," Ward said. "And the community was never given justice, and the victim's family was never given justice."