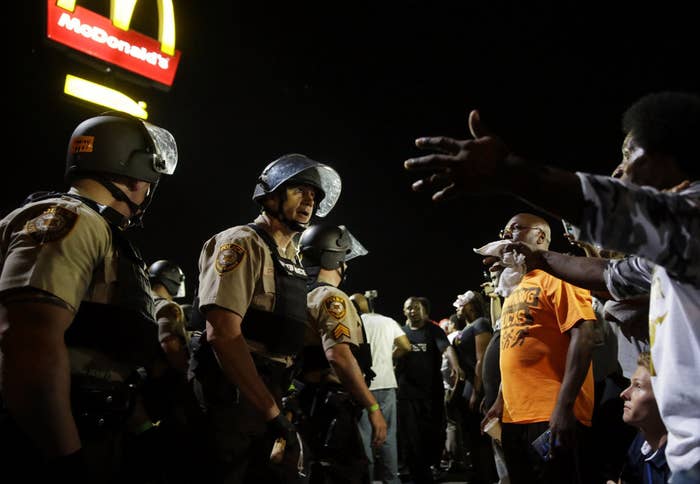 What We Know So Far
Local authorities called a state of emergency Monday afternoon, following gunfire Sunday evening.
Ferguson city officials said any violent protest would not be tolerated.
"Approximately 23 people" were arrested Monday night, police said. However, there were "no shootings, shots fired, burglaries, lootings, or property damaged."
More than 100 people gathered for peaceful, civil disobedience Monday outside a federal courthouse in St. Louis. Officials said 57 were arrested.
About 60 others were arrested after stopping traffic on Interstate 70.
Canadian broadcaster CTV said Tuesday one of its reporters was facing charges related to last August's coverage of unrest in Ferguson.
Los Angeles bureau chief Tom Walters recently received a summons that he was charged with interfering with a police officer, CTV reported. The company said Walters was arrested after he attempted to ask a police officer a question following an order to disperse during protests last year.
"Almost a year ago, Tom was arrested and detained for eight and a half hours for simply doing his job," news president Wendy Freeman said in a statement. "As an organization that covers news both in Canada and internationally, CTV News is unwavering in its commitment to defending the rights of all journalists."
Reporters from the Huffington Post and Washington Post were informed this week that they would also face charges related to arrests last year as they were covering protests.
Local alderman Antonio French also said two of his staffers were facing prosecution.
Authorities said Harris shot at an unmarked police car on Sunday, the one-year anniversary of the death of Michael Brown.
St. Louis police used a red arrow to highlight the man they identified as being Harris in the footage.
After officers returned fire, Harris was taken to a hospital, where he remained on Tuesday, according to the St. Louis Post-Dispatch.
Harris has been charged with four counts of assault on law enforcement in the first degree, five counts of armed criminal action, and one count of discharging or shooting a firearm at a motor vehicle.
The St. Louis County Police Department on Tuesday released an updated list of the 85 people arrested between the night of Aug. 10 and the following morning "in reference to last night's highway incident and the events on W. Florissant."
The highway incident resulted in 63 arrests, and events that took place on West Florissant Ave. resulted in 22 arrests.
A majority of the arrests, more than 70, were for interfering with officers. Some were charged with interference along with resisting arrest, and unlawful assembly.
St. Louis County police said "approximately 23 arrests" were made during Monday night's protests on West Florissant Ave.
As protests began to wind down early Tuesday morning, armed civilians from a group known as the Oath Keepers began appearing along West Florissant Ave.
Some at the protest questioned whether the Oath Keepers carrying guns violated the State of Emergency in operation in Ferguson.
The Oath Keeper was also filmed answering questions on whether he believed President Obama was "a secret Muslim."
Police made more arrests just before midnight Tuesday after protesters allegedly blocked traffic on West Florissant Ave.
At least nine people were arrested Monday night for resisting or interfering with an arrest during protests in Ferguson, police said.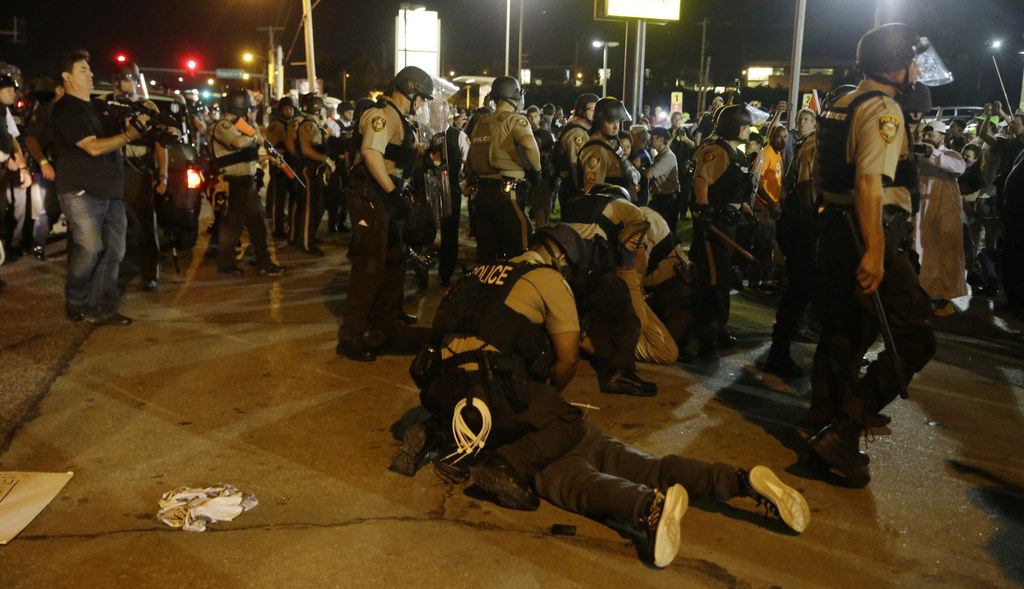 Officials also disputed social media reports that a woman taken into custody was 12 years old, stating that she was actually 18.
St. Louis County Police declared an unlawful assembly Ferguson around 10 p.m. local time.
Anyone who did not comply with police orders would be arrested, authorities said.
The declaration came after some in the crowd threw rocks and frozen water bottles, police said.
Reporters and protesters at the scene saw at least one arrest as police began to use mace on the crowd.
The Washington Post's Wesley Lowery and the Huffington Post's Ryan Reilly were notified Monday they would face charges of trespassing and interfering with a police officer related to their arrests last summer at a Ferguson McDonald's.
In a statement, Huffington Post editors said they fully support Reilly in fighting the charges.
"A crime was committed at the McDonald's, not by journalists, but by local police who assaulted both Ryan and Wesley Lowery of the Washington Post during violent arrests," the editors said.
"At least we know St. Louis County knows how to file charges. If Wesley Lowery and Ryan J. Reilly can be charged like this with the whole country watching, just imagine what happens when nobody is."
Washington Post Executive Editor Martin Baron said Lowery should never have been arrested and called the incident an abuse of police authority.
"Charging a reporter with trespassing and interfering with a police officer when he was just doing his job is outrageous," Baron said in a statement. "You'd have thought law enforcement authorities would have come to their senses about this incident."
A St. Louis Post-Dispatch reporter who was assaulted Sunday night on West Florissant Avenue has been released from the hospital.
A group of protesters holding hands shut down Interstate 70 during Monday evening's rush hour.
As drivers honked, protesters chanted for democracy and Michael Brown.
Highway Patrol officers cleared the group from the roadway after about 25 minutes. About 60 people were arrested, St. Louis County police said.
Ferguson city leaders released a statement Monday evening, calling violent protests counterproductive and saying they would not be tolerated:
Today, the City of Ferguson would like to thank the Police Department and its First Responders for their hard work and dedication pertaining to protecting our citizens and our residents. Our officers have exemplified respect, community engagement, and professionalism under extremely difficult circumstances. Their hard work and dedication to the City of Fergsuon is appreciated. We would also like to thank the surrounding law enforcement agencies who assisted with protecting our community.

We are deeply disappointed with the violence that took place last night. This kind of behavior from those who want to cause disruption nd destroy the progress from this past year will not be tolerated. We are asking for our citizens and businesses to be diligent and to be watchful for those who want to cause harm to our community.

As we work with St. Louis County Police, who will now assume responsibility over any protest-related incidents, to include those occurring within the City of Ferguson, we are asking for peace as we strive to once again become a community of choice for everyone.

We want to reassure our residents and businesses that the Ferguson Police department will continue to answer calls from our citizens. They will continue to provide services in a timely and professional manner.

Our officers have exemplified great strides in community policing and community engagement through professionalism and respect.

This kind of behavior is counterproductive, and cannot be tolerated if we want to continue bettering the community for all our residents.
Federal and local authorities arrested 57 faith leaders and activists gathered outside the St. Louis federal courthouse on Monday as part of planned campaign of civil disobedience to mark the first anniversary of the death of Michael Brown.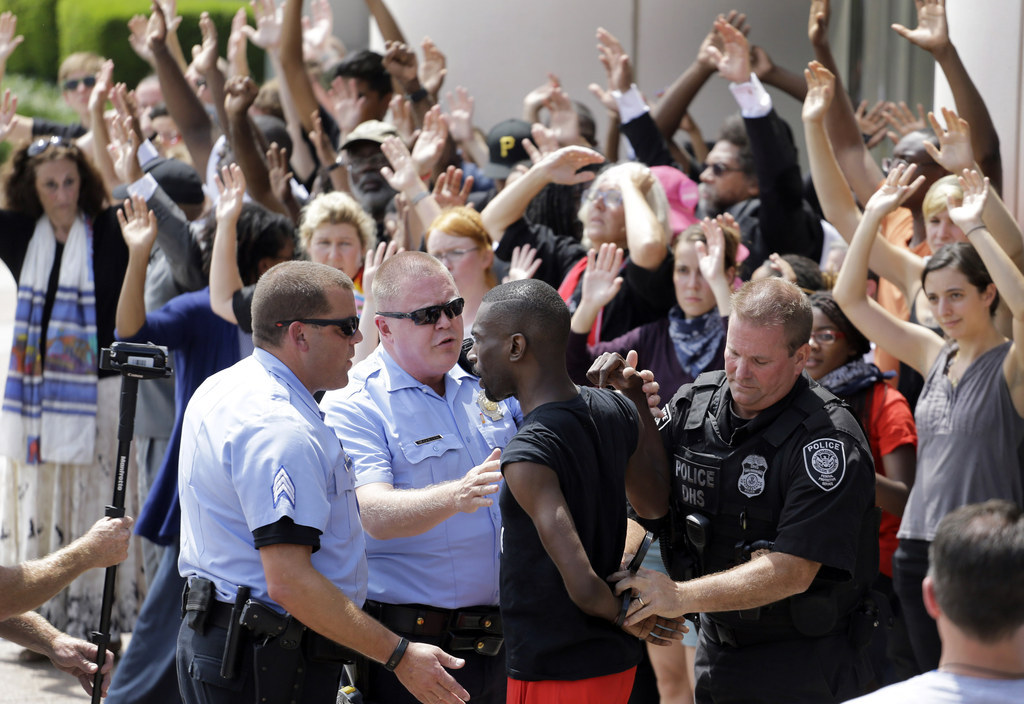 Reporters and protesters at the scene said those arrested include the academic Cornel West, as well as black activists DeRay Mckesson and Johnetta Elzie.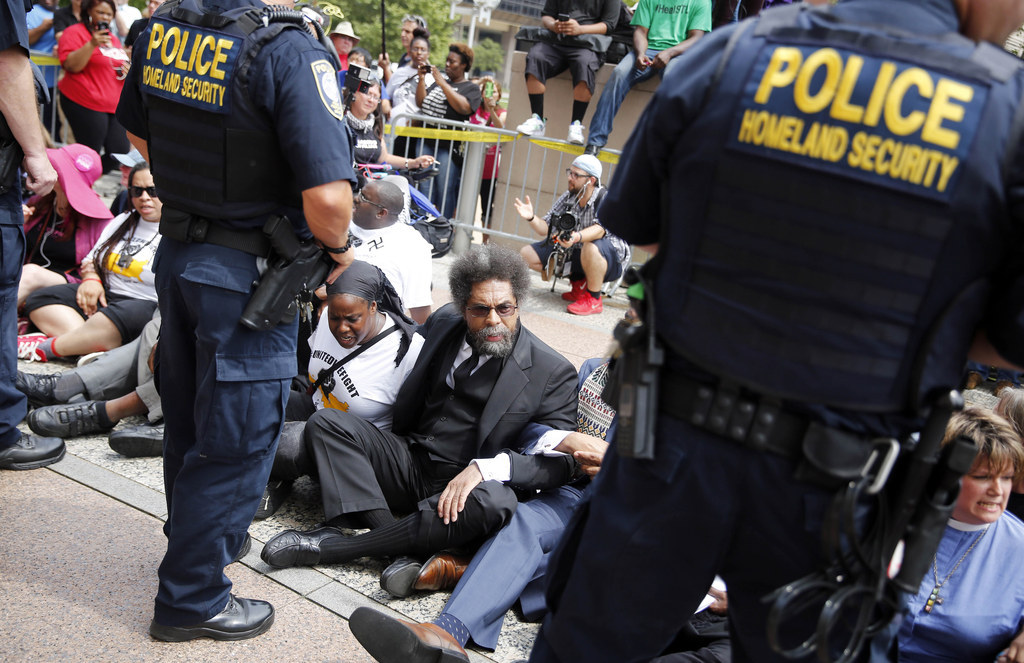 According to the U.S. Attorney's office, 57 people were arrested in connection with obstructing the courthouse's main entrance.
The day's activities began with civil disobedience training at Christ Church Cathedral, which was followed by a silent march to the courthouse.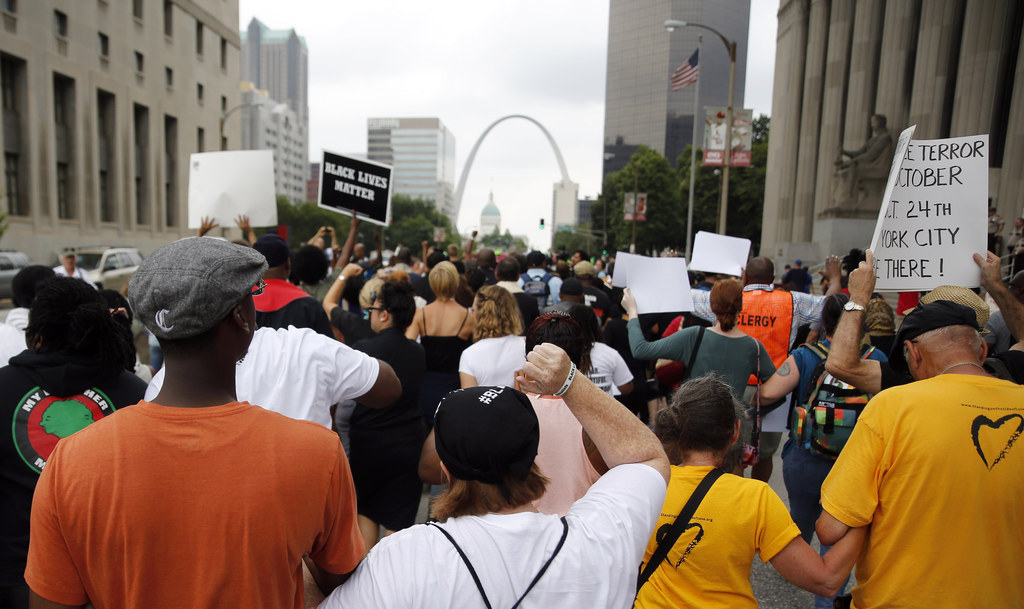 Monday's protest at the courthouse came after gunfire broke out Sunday night in Ferguson, with a teen charged for allegedly firing at police. Eighteen-year-old Tyrone Harris Jr. is in a critical condition in hospital after police said they returned fire.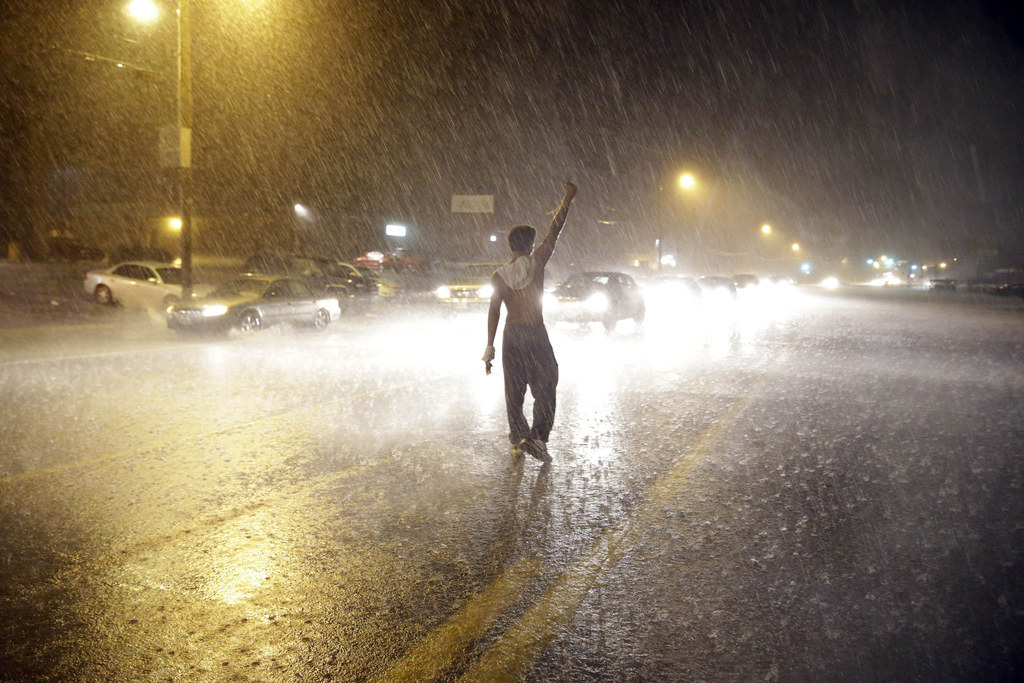 In response to the renewed unrest in Ferguson, St. Louis County leaders declared a state of emergency on Monday.
In response, the Hazelwood School District canceled Monday's afternoon and evening activities, saying:
"For the safety of our students and staff, the Hazelwood School District has cancelled all after-school and evening activities for Monday, August 10, 2015. We will update you as soon as additional information is available to us regarding this matter."
The state of emergency empowered county police to take over law enforcement duties around any potential protests Monday night.
This is a developing news story. Check back for updates or follow BuzzFeed News on Twitter.