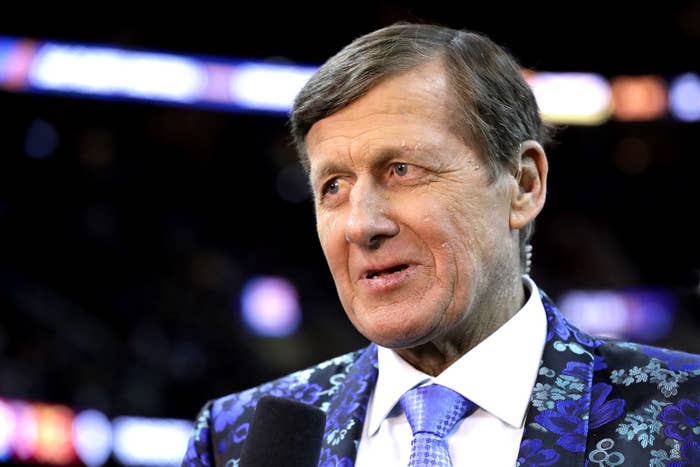 Craig Sager, the NBA sideline reporter famous for his colorful suits, died Thursday after having cancer for years. He was 65.
"Craig Sager was a beloved member of the Turner family for more than three decades and he has been a true inspiration to all of us," Turner Broadcasting President David Levy said in a statement.
Sager, a longtime face on TNT, stood out on the sidelines with his flashy suits.
"While he will be remembered fondly for his colorful attire and the TNT sideline interviews he conducted with NBA coaches and players, it's the determination, grace and will to live he displayed during his battle with cancer that will be his lasting impact," Levy continued. "Our thoughts and prayers are with Craig's wife, Stacy, and the entire Sager family during this difficult time. We will forever be Sager Strong."

In addition to his wife, Sager is survived by his five children.
Sager had been open about his 2014 diagnosis of acute myeloid leukemia, and in 2015 he took time off for treatment. When he returned to the air in December 2015, Gregg Popovich, the notoriously difficult coach of the San Antonio Spurs, offered a touching welcome back.
"I can honestly tell you this is the first time I've enjoyed doing this ridiculous interview we're required to do," Popovich said. "That's because you're here and you're back with us."
NBA Commissioner Adam Silver said Sager was widely respected for his insightful reporting, as well as the courage he showed in the face of his illness.
"Craig Sager was as vital to the NBA as the players and coaches," Silver said in a statement. "A true original and an essential voice on Turner Sports' NBA coverage for 26 seasons, Craig chronicled some of the most memorable moments in league history and was a ubiquitous presence with his splashy suits and equally colorful personality."
In July, Sager was honored with the Jimmy V Award for Perseverance at the ESPYs. He reflected on his life in sports, and the effect being diagnosed with a terminal disease had on him.
"I will never give up, and I will never give in," Sager said. "I will continue to keep fighting, sucking the marrow out of life as life sucks the marrow out of me. I will live my life full of love and full of fun. It's the only way I know how."
Vice President Joe Biden, who has led a federal push for cancer research, presented Sager with the award.
On Thursday, Biden praised Sager for his courage in face of cancer.
"Craig Sager died as he lived — with courage, passion, perseverance," Biden tweeted. "Fearless and hopeful, a real hero."