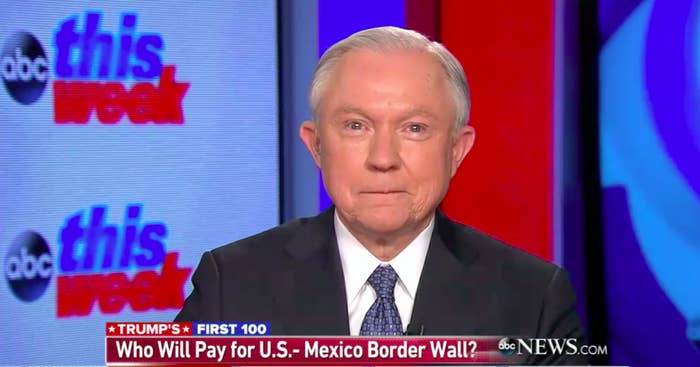 US Attorney General Jeff Sessions said Sunday that DREAMers, like "everyone that enters the country unlawfully," are "subject to deportation" — signaling a break not only with an Obama administration policy that protected undocumented young arrivals, but also with recent comments made by President Donald Trump.
In an interview with the Associated Press on Friday, Trump said that DREAMers — people brought to the US illegally as children who are now protected by the Deferred Action for Childhood Arrivals program — should "rest easy" about his immigration policies.
His administration is "not after the dreamers, we are after the criminals," Trump told the AP. "That is our policy."
Two days later, Trump's attorney general struck a different tone. In an interview with ABC's This Week, Sessions was asked about the president's commitment to shield DREAMers from deportation. "Well, we'll see," he replied. "I believe that everyone who enters the country illegally is subject to being deported."
He did confirm, however, that the administration's has focused its resources on deporting people with criminal records.
"We don't have the ability to round up everybody and there's no plans to do that," Sessions told ABC. "But we're going to focus first, as the president has directed us, on the criminal element and we've got to get that under control."
The comments come on the heels of a lawsuit filed last week on behalf of a DREAMer who was arrested and deported hours later. Lawyers for the young man, Juan Manuel Montes, said he had been granted permission to live and work in the US under DACA and was deported without cause. The Department of Homeland Security has said Montes violated the terms set by DACA and therefore lost his status.
Asked about the case in an interview with Fox News last Wednesday, Sessions said, "The policy is that if people are here unlawfully, they're subject to being deported."
"We can't promise people who are here unlawfully that they're not going to be deported," he added.