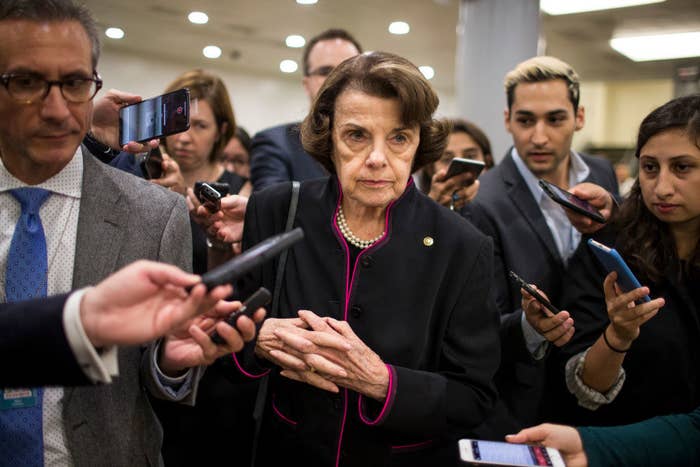 A group of children met with Sen. Dianne Feinstein on Friday, calling on the California Democrat to cosponsor the Green New Deal and commit to drastic changes identified by scientists as necessary to fight climate change. But they got a cold hard dose of political reality when Feinstein, mincing no words, told the group she wouldn't be meeting their demands.
"I've been doing this for 30 years. You come in here and say it has to be my way or the highway. I don't respond to that," she said in a video of the exchange. "I've gotten elected. I just ran. I was elected by almost a million-vote plurality."

The video was released Friday by Sunrise Movement, the activist group started by young people who say by fighting climate change, they're fighting for their futures. Members have taken part in sit-ins to draw attention to the Green New Deal — a nonbinding resolution of proposed economic stimulus programs to address climate change and other issues — and Friday, about a dozen of Feinstein's constituents, ages 7 to 16, visited her office to personally ask for her support.
Feinstein later said in a statement that she wanted the children to know she heard their message.
"I have been and I remain committed to to doing everything I can to enact real, meaningful climate change legislation," she said.
A tweet with a truncated version of the video provoked mixed reaction on social media Friday night, with some people criticizing the senior senator for being harsh, and others praising her bluntness. The complete 15-minute video of the encounter, however, was posted on Facebook. In it, a boy begins by telling the senator, "We are trying to ask you to vote yes on the Green New Deal."
Feinstein pointed to her own drafted resolution, which she said she believed had a better chance of passing Congress. But she said she couldn't support the nonbinding resolution backed by activists and progressive lawmakers, such as Rep. Alexandria Ocasio-Cortez.

"There's no way to pay for it," Feinstein tells the boy.
"We have tons of money going to the military," a girl interjects.
Over the next 10 minutes, the children advocated for taking ambitious steps against a massive problem. One girl pointed to the UN scientists who predicted the world has just over a decade to get climate change under control.
"Well, it's not going to get turned around in 10 years," Feinstein replied.
Another girl said Feinstein should feel accountable to the kids in the room as voters. But Feinstein asked her age, and pointed out she was too young to vote. Feinstein added it was necessary to find a compromise in the Senate to get anything done, since Democrats were in the minority.
"That resolution will not pass the Senate. And you can take that back to whoever sent you here," she said. "It doesn't have a single Republican vote."
"Why can't you try?" a young boy pipes up.
Afterward, some members of the group said they were disappointed by Feinstein's lack of support.
"I can't believe our senator just looked a room full of children in the eyes and told them that she does not support the only plan that will provide them a livable future," 24-year-old Morissa Zuckerman said in a statement released by Sunrise Movement.

Feinstein's office did not immediately respond to a request for comment.

While Feinstein made clear she didn't agree with the kids, she again asked them to consider her legislation as they were ushered out. One teen took the moment to ask for an internship.
"She can have an internship," Feinstein said, introducing the girl to her staff.