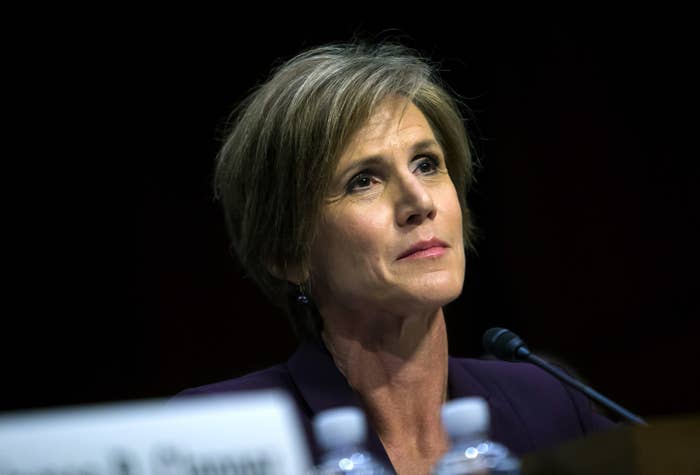 Former acting attorney general Sally Yates said no one from the Trump administration consulted with the Department of Justice on its disruptive travel ban, which is now being challenged in federal court.
Yates said the Department of Justice learned about the policy — derided by some as a Muslim ban — from media reports as it was rolled out.
"Not only was the department not consulted, we weren't even told about it," Yates said Monday during a Senate hearing on Russian meddling in the 2016 election. "I learned about this from media reports."
Yates added that the administration failed to work with not only her, but also experts in national security who could have offered insight into the policy.
Trump's executive order, which banned Syrian refugees from entering the US as well as people from seven Muslim-majority countries, caused chaos at airports and drew protests around the country. It was challenged in court and Yates ordered Justice Department lawyers not to defend it.
"I certainly was not convinced that it was constitutional, and given the import of this, I couldn't in good conscience send Department of Justice lawyers to defend it," she said on Monday.
For her decision, Yates was fired. A second version of the travel ban was then put out by the White House, and it too is now on hold as it faces court challenges.
Yates added that to defend the original ban in court, lawyers would have had to argue that it had nothing to do with religion and was not an attempt to discriminate against Muslims. That was not grounded in the truth, Yates said.
Sen. John Kennedy, a Republican from Louisiana, pushed her on when an act of Congress or an executive order became constitutional — and whether her opinion of a policy's constitutionality was enough.
"Who appointed you to the United States Supreme Court?" he asked.
Yates responded that she took the decision seriously, as well as her responsibilities to the people, the law, and the Constitution.
"I believe that it is the responsibility of the attorney general, if the president asks him or her to do something that he or she believes is unlawful or unconstitutional, to say no," she said. "And that's what I did."