After Donald Trump pushed back against the parents of a fallen Muslim American soldier, Republican politicians spoke up to defend the sacrifices of the Khan family.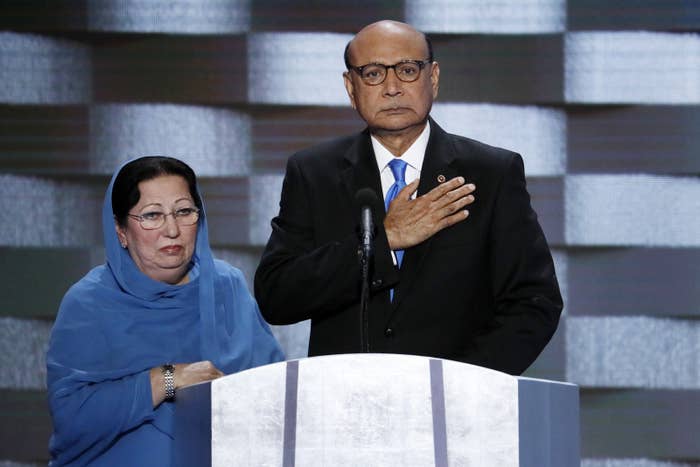 Khizr Khan, the father of US Army Capt. Humayun Khan, delivered a powerful speech Thursday at the Democratic National Convention and questioned Trump's ability to defend the Constitution.
In a statement, Trump said Khan had no right to speak against him. In an interview, he also questioned whether his wife, Ghazala Khan, was prevented from speaking on the stage because of her religion.
In response, she wrote a piece published in the Washington Post Sunday about the pain she still feels at the loss of her son.
On Monday, Republican National Committee Chairman Reince Priebus said it would be up to Trump on whether to apologize. However, he added that Gold Star families should be "off limits."
On Sunday, Ryan praised the Khans' sacrifice and disavowed any use of religion to deny people entry into the US. He declined to respond directly to Trump.
America's greatness is built on the principles of liberty and preserved by the men and women who wear the uniform to defend it. As I have said on numerous occasions, a religious test for entering our country is not reflective of these fundamental values. I reject it. Many Muslim Americans have served valiantly in our military, and made the ultimate sacrifice. Captain Khan was one such brave example. His sacrifice — and that of Khizr and Ghazala Khan — should always be honored. Period.
Khizr Khan also called on Senate Majority Leader Mitch McConnell and House Speaker Paul Ryan to repudiate Trump for the sake of American values.
"If your candidate wins and he governs the way he has campaigned, my country, this country, will have constitutional crises [like] never before," Khan told MSNBC.
"There is so much at stake, and I appeal to both of these leaders: This is the time. There comes a time in the history of a nation where an ethical, moral stand has to be taken regardless of the political costs. The only reason they're not repudiating his behavior, his threat to our democracy, our decency, our foundation, is just because of political consequences."
McConnell also called Khan a hero, but he did not speak on Trump.
Sen. Lindsey Graham, who has called on fellow Republicans to take back their endorsements of Trump, said Trump's newest statements were beyond unacceptable.
Sen. John McCain said in a statement Monday that he "disagrees" with Trump's statements and said Trump's nomination "is not accompanied by unfettered license to defame those who are the best among us."
The Republican Party I know and love is the party of Abraham Lincoln, Theodore Roosevelt, Dwight D. Eisenhower, and Ronald Reagan.
I wear a bracelet bearing the name of a fallen hero, Matthew Stanley, which his mother, Lynn, gave me in 2007, at a town hall meeting in Wolfeboro, New Hampshire. His memory and the memory of our great leaders deserve better from me.
In recent days, Donald Trump disparaged a fallen soldier's parents. He has suggested that the likes of their son should not be allowed in the United States — to say nothing of entering its service. I cannot emphasize enough how deeply I disagree with Mr. Trump's statement. I hope Americans understand that the remarks do not represent the views of our Republican Party, its officers, or candidates.
Make no mistake: I do not valorize our military out of some unfamiliar instinct. I grew up in a military family, and have my own record of service, and have stayed closely engaged with our armed forces throughout my public career. In the American system, the military has value only inasmuch as it protects and defends the liberties of the people.
My father was a career naval officer, as was his father. For hundreds of years, every generation of McCains has served the United States in uniform.
My sons serve today, and I'm proud of them. My youngest served in the war that claimed Captain Khan's life as well as in Afghanistan. I want them to be proud of me. I want to do the right thing by them and their comrades.
"Humayun Khan did exactly that — and he did it for all the right reasons. This accomplished young man was not driven to service as a United States Army officer because he was compelled to by any material need. He was inspired as a young man by his reading of Thomas Jefferson — and he wanted to give back to the country that had taken him and his parents in as immigrants when he was only two years old.
Captain Khan's death in Iraq, on June 8th, 2004, was a shining example of the valor and bravery inculcated into our military. When a suicide bomber accelerated his vehicle toward a facility with hundreds of American soldiers, Captain Khan ordered his subordinates away from the danger.
Then he ran toward it.
The suicide bomber, striking prematurely, claimed the life of Captain Khan — and Captain Khan, through his selfless action and sacrifice, saved the lives of hundreds of his brothers and sisters.
Scripture tells us that 'Greater love hath no man than this, that a man lay down his life for his friends.'
Captain Humayun Khan of the United States Army showed in his final moments that he was filled and motivated by this love. His name will live forever in American memory, as an example of true American greatness.
In the end, I am morally bound to speak only to the things that command my allegiance, and to which I have dedicated my life's work: the Republican Party, and more importantly, the United States of America. I will not refrain from doing my utmost by those lights simply because it may benefit others with whom I disagree.
I claim no moral superiority over Donald Trump. I have a long and well-known public and private record for which I will have to answer at the Final Judgment, and I repose my hope in the promise of mercy and the moderation of age. I challenge the nominee to set the example for what our country can and should represent.
Arizona is watching. It is time for Donald Trump to set the example for our country and the future of the Republican Party. While our Party has bestowed upon him the nomination, it is not accompanied by unfettered license to defame those who are the best among us.
Lastly, I'd like to say to Mr. and Mrs. Khan: thank you for immigrating to America. We're a better country because of you. And you are certainly right; your son was the best of America, and the memory of his sacrifice will make us a better nation – and he will never be forgotten.
McCain's fellow Republican senator from Arizona, Jeff Flake, said Trump's comments about the Khan family were "completely inappropriate" and called on Trump to apologize.
"I would hope that he would just come out and just say, 'I am sorry. The statements I made against this man and his family are inappropriate. I shouldn't have made them, I'm gonna move on.' Also, he has never apologized to John McCain for that statement, or to other POWs, or people who were captured. People that simply won't admit that they've made a mistake and move on, there's something wrong there."
Sen. Kelly Ayotte, whose husband is an Iraq war veteran, said she was appalled by Trump's comments.
There is no greater sacrifice than to lay down one's life for their country, and that's the sacrifice that Captain Humayun Khan made fighting to defend our freedom and our constitutional rights. He was a true American hero. The Khan family deserves nothing less than our deepest support, respect, and gratitude, and they have every right to express themselves in any way they choose. I am appalled that Donald Trump would disparage them and that he had the gall to compare his own sacrifices to those of a Gold Star family.
Rep. Mike Coffman, a Marine Corps combat veteran, said he was offended. Coffman has not endorsed Trump.
"Having served in Iraq, I'm deeply offended when Donald Trump fails to honor the sacrifices of all of our brave soldiers who were lost in that war," he said in a statement.
Ohio Gov. John Kasich called Khan a hero and said his parents deserve honor and respect.
On Monday, Gov. Nikki Haley of South Carolina said the Khans "have the standing to say whatever they want in the political process and should not face criticism for it."
Sen. Ron Johnson said fallen service members deserve respect and gratitude.
Captain Humayun Khan, and all the Americans who have made the ultimate sacrifice for our country, deserve our deepest respect and gratitude. I will always work to serve our nation's service members and veterans, and honor those who gave their lives to defend our freedoms.
Others said Trump did support the Khan family and defended his plans to suspend immigration from countries "compromised by terrorism."
Trump's running mate, Indiana Gov. Mike Pence, released a statement Sunday evening.
"Donald Trump and I believe that Captain Humayun Khan is an American hero and his family, like all Gold Star families, should be cherished by every American.
"Captain Khan gave his life to defend our country in the global war on terror. Due to the disastrous decisions of Barack Obama and Hillary Clinton, a once stable Middle East has now been overrun by ISIS. This must not stand.
"By suspending immigration from countries that have been compromised by terrorism, rebuilding our military, defeating ISIS at its source and projecting strength on the global stage, we will reduce the likelihood that other American families will face the enduring heartbreak of the Khan family.
"Donald Trump will support our military and their families and we will defeat the enemies of our freedom."
Sen. Jeff Sessions, a Trump campaign adviser, told CNN earlier in the day that he believed Trump supported Khan's sacrifice for his country.
"He did his duty. He gave his life for America and that deserves to be celebrated," Sessions said.
The senator added that "millions" of Americans support Trump's plan to halt immigration from countries with a history of terrorism.
This post will be updated as more Republicans respond to Trump's comments.