Pharrell Williams sat down at his laptop to create the groove for "Blurred Lines" with country music on his mind, he told a federal court on Wednesday.
He'd been working with Miley Cyrus earlier in the studio, he said, and he was interested in creating a song around a chorus with close harmonies.
"My mind was already in that bluegrass harmony, yodely thing," he said.
In a later interview, he'd describe the record-breaking hit as his attempt to capture the feel of Marvin Gaye, if the soul superstar had gone to Nashville. But in court, Williams testified that as he was initially writing the song, '70s soul and, specifically, the song "Got To Give It Up" were nowhere near his thoughts.
"As a creator, you get a kick out of bringing new things into the ether," he said.
At no point in the song writing or production process did Williams think he was infringing on Marvin Gaye's copyright, though he admitted the songs have a similar feel.
"He's one of the ones we look up to so much," Wiliams said on the witness stand. "This is the last place I want to be right now."
Williams and his collaborator, Thicke, originally filed a federal lawsuit against Gaye's descendants in August 2013 after the family raised questions about the similarities between "Blurred Lines" and "Got To Give It Up." In Williams and Thicke's claim, they said the Gaye family overstepped by calling common musical elements between the songs an infringement of copyright.
"Being reminiscent of a 'sound' is not copyright infringement," the claim says. "In reality, the Gaye defendants are claiming ownership of an entire genre, as opposed to a specific work."
Music critics agreed the songs sounded alike — the keyboards, the cowbell, the falsetto vocals.
None of those, however, are recorded in the paperwork Gaye filed in 1977 with the U.S. Copyright Office. Still, the family has persisted that the songs share "defining compositional elements" — and that the songwriters of "Blurred Lines" made no secret that "Got To Give It Up" was the song's inspiration.
In a number of interviews in 2013, Thicke said he asked Williams to create a song that sounded like "Got To Give It Up," and the pair then wrote "Blurred Lines" together.
"Thicke publicly (admitted) 'Got To Give It Up' was used in creating 'Blurred Lines' in order to take advantage of the legend and utmost credibility of Marvin Gaye and to drive sales," Gaye's family said in their counterclaim.
Thicke later testified that he was drunk and high during those interviews, and he had lied to try to take credit for more of the songwriting process than he had actually contributed to.
On Wednesday, Williams said Thicke was not present during most of the songwriting process.
Instead, Williams and recording engineer Andrew Coleman said they were working alone in the studio for most of the evening. Williams said he completed the instrumentals, then stepped outside to clear his head and write the melody.
"You look for that melody that feels good," he explained.
Thicke arrived once most of the lyrics were written, Williams said, but he couldn't recall when.
"You're in a different state when you're making music," he said. "You kinda don't know when you're starting something."
They went into the vocal booth together, "talking, hooting, and hollering," Williams said.
"(We're) bumping and dancing to it," he said. "It was a cool night."
After they finished, Williams said the song was played over and over in the studio.
"That's the litmus test," he said. "That tells you if you have something that feels good to you."
The rap verse featuring T.I. was added later — a process Williams said he was not involved in.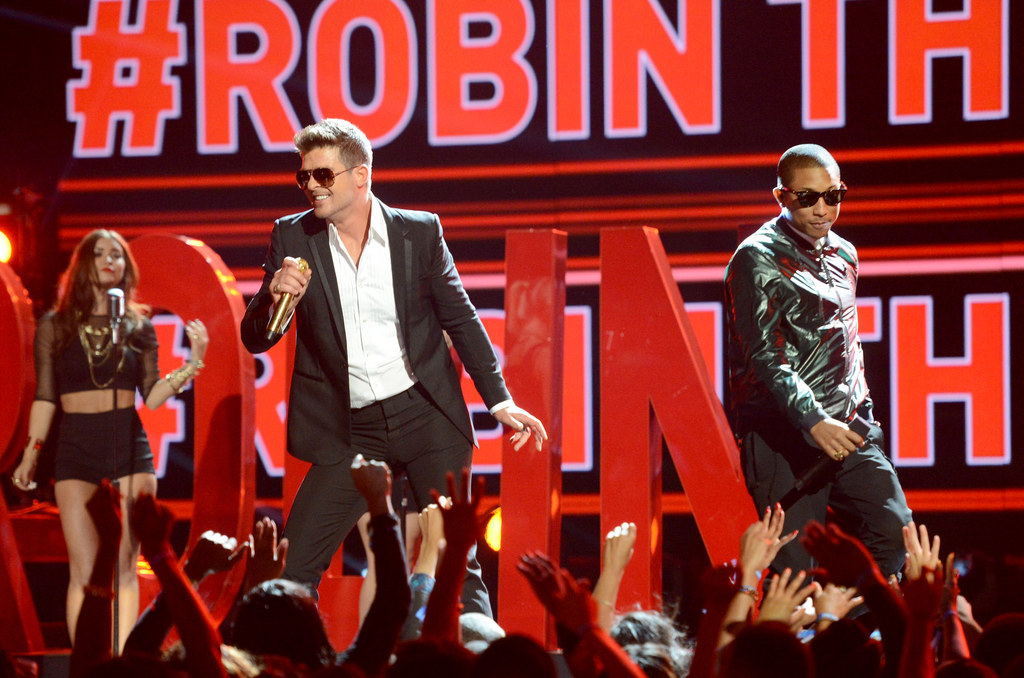 An accountant testified earlier this week that "Blurred Lines" earned about $16.7 million in profits.
More than $8 million of that was derived from publishing, of which the Gaye family is claiming at least 50% because of the use of compositional elements from "Got To Give It Up." Copyright holders also claim what are called "mechanical royalties" from sales, as well as fees for live performances.
Experts for Williams and Thicke disputed that the massive success of the song had much to do with its composition. Universal Music Group spent about $3 million marketing the song, and its video went viral.
"That copyright alone doesn't generate revenue or profit," said Doug Bania, an intellectual property expert.
"Are you truly telling us music doesn't sell a song?" Gaye family attorney Richard Busch asked. "Does Mr. Williams agree with you?"
On the stand, Williams described his success in terms of the happiness his music brought to people.
To experts who credited marketing and social media to making "Blurred Lines" a hit, Busch asked another question.
"Would there be one sale of 'Blurred Lines' if there was no song?"