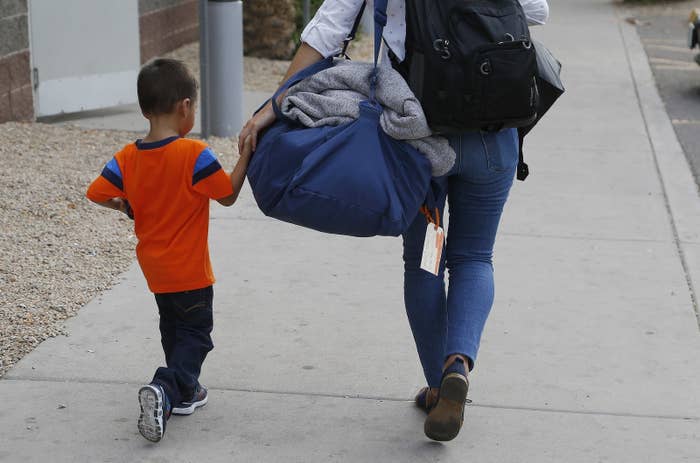 While hundreds of families separated at the US–Mexico border under the Trump administration's "zero tolerance" policy remain apart, a Michigan woman has inspired people to help reunite loved ones by donating their frequent flyer miles.
Beth Wilensky, a professor at the University of Michigan Law School, tweeted on Tuesday that her donation had brought a 3-year-old boy detained in Michigan and his father back to their family.
"My husband travels a lot," she wrote. "Downside: he's gone a lot. Upside: frequent flyer miles. We just used some to fly a 3-year-old and his dad, who had been separated at the border, from Michigan (where the son had been taken) to their extended family."
In just a few days, her tweet was shared more than 30,000 times, and Wilensky urged anyone with extra airline miles to donate. She had donated to Michigan Support Circle, a group working locally to reunify families, as well as provide them with essentials during what can be a drawn-out, bureaucratic process. Wilensky also directed people to Miles 4 Migrants, a group that reunites refugees around the world with family they'd been separated from because of conflict and persecution.
Already, Miles 4 Migrants has received 5.8 million donated airline miles.
"The families are government-approved for relocation. So when the cases come to us, everything's good to go," said Nick Ruiz, one of the founders of the nonprofit. "The only thing holding them back is the cost of the flight."
The idea for the group was born after Ruiz met a Pakistani Christian pastor who had fled to Italy as a refugee without his family. Desiring to help, Ruiz took his plans to donate his personal frequent flyer miles to Reddit's /r/churning, a community dedicated to maximizing credit card points and perks.

"Once we saw this work on a small scale, we tried to think about the bigger picture," Ruiz said.
The New Jersey–based artificial intelligence researcher founded Miles 4 Migrants in 2016 with fellow redditor Seth Stanton, an optometrist in Louisiana, and Andy Freedman, an executive at a digital health startup based in Massachusetts who was also interested in helping refugees cover resettlement costs.
Since then, they've arranged flights for 151 people from 57 families. With this week's donations, they expect to be able to help 390 more, and they're in touch with nonprofit groups that are already working with families separated by the Trump administration's policies at the US–Mexico border.
Miles 4 Migrants didn't expect to encounter a family separation crisis so close to home. But, Ruiz said, he's encouraged to see so many new donors stepping up.
"We're really encouraged people want to work with us," he said. "Together we can make this happen."
The spike in website traffic and donations came as a surprise, he added, but it's easy to feel empathy for people separated from their loved ones.
"What would you do if you were separated from your family?" he said. "[Donors] see this as something very simple and a very tangible way to make a difference."