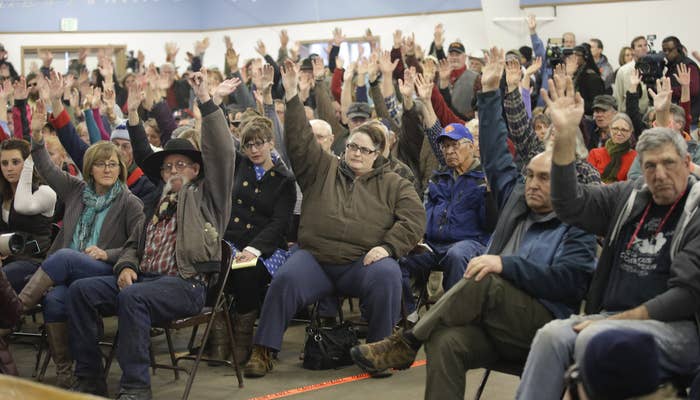 BURNS, Oregon — When an Oregon sheriff asked residents Wednesday night at a community meeting if they wanted the armed occupiers at the Malheur National Wildlife Refuge to go home, almost every hand in the room went up.
Most residents at the meeting said they didn't condone the tactics of Ammon Bundy and his followers, or the armed takeover of the refuge.
Yet the message and grievances espoused by Bundy and the men at the refuge have resonated among many in the community, many who include ranchers and farmers who have fought federal agencies over land use. Too much land is controlled by the federal government, the timber industry has been driven out, and ranchers feel squeezed by regulations even when they do secure grazing rights from the government, locals and militia members have said.
Nevertheless, most seemed to agree it was time for the group to go.
"I can't say I don't appreciate that they've gotten the ball rolling," Rodney Johnson, a rancher, said. "They've done their job, and we can take it from here."
About 500 people stood shoulder to shoulder inside the hall at the county fairgrounds for the meeting called by Harney County Sheriff Dave Ward. The sheriff told residents he shared many of their frustrations, but he said, change must come through appropriate, legal channels.
"There's a lot of things I disagree with in this world, but we can work through it like adults," Ward said.
Bill Winn, whose family has lived in Harney County since the 1800s, became emotional as he spoke.
"I don't agree with the way that this has all turned out, with taking over the headquarters at the refuge," he said. "But on the other hand, I do appreciate this being put before America."
A number of residents said they had gone to speak personally with the men at the wildlife refuge. The occupiers were polite, kept the area clean, and didn't seem to pose a threat, they said.
Even so, it was time for them to go home, Rodney Johnson said.
"They've done their jobs, and we can take it from here," he said.
Merlin Rupp said he was glad the occupiers had brought more attention to the 5-year prison sentences of Steve and Dwight Hammond — who got the "rottenest deal that ever was" for burning around 100 acres of federal land.
"[The occupiers] ain't hurting a damn thing down there," he said. "They're waking people up."
Speaking to the residents, Ward said he understood the grievances of the community, but said things had gotten out of hand and that what was supposed to be a peaceful protest in support of the Hammonds had been "highjacked" by a small group.
Since the group arrived, Ward said some of his deputies had been followed home by unknown individuals, while other law enforcement families left town as a precaution — including his wife.
There was a noticeable presence of law enforcement during the meeting, including uniformed deputies and state troopers, as well as plain-clothes officers who stood among the crowd.
One officer revealed himself when a man shouted at a speaker, and warned him he would be removed if it happened again.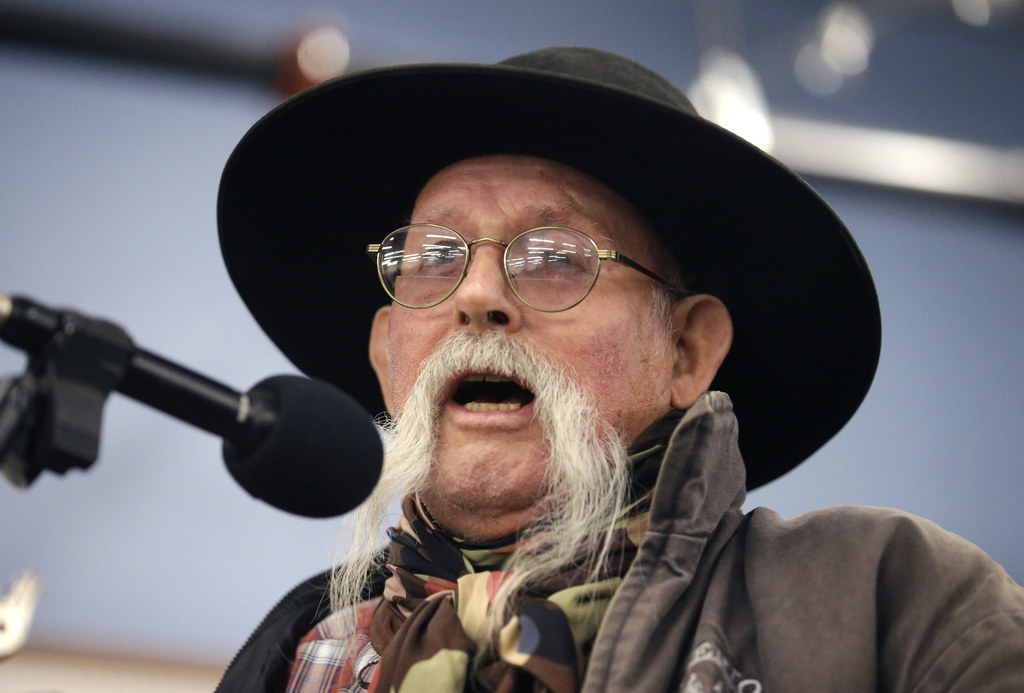 Other residents said that they believed the men's actions were wrong and gave their community a bad name.
Sheriff Ward was also praised for his actions during the occupation, and residents shouted down a heckler when he said the sheriff needed to "stand up."
"Go to the mic," one resident yelled back at the man. "That's right, he can't. He's not a resident."
Longtime rancher Georgia Marshall spoke vehemently about the cooperation that had been achieved in recent years between ranchers and federal land authorities.
"I have seen the progress that we have made in this community compared to the shit we went through years ago, when you could not stand and talk to a [federal wildlife] manager," she said. "Now we have been making some progress. Granted, it is not a lot of progress, but it is coming."
Marshall praised the efforts of the High Desert Partnership. Other residents urged their neighbors to write to their representatives in Congress, to vote, and to get involved in community groups.
"We don't need outsiders to bring public attention," Kate Marsh said. "We can do that ourselves."