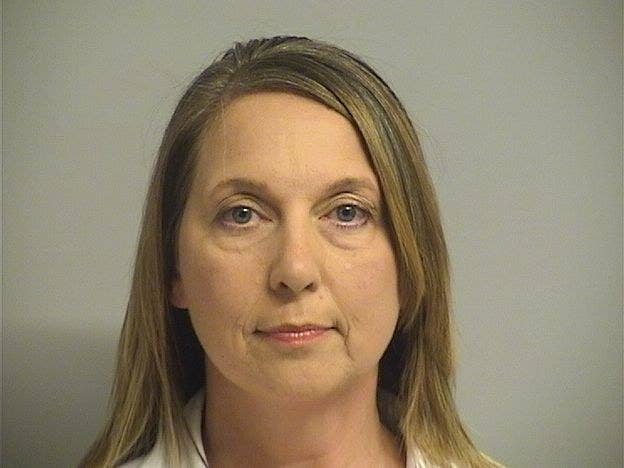 The Tulsa police officer who shot an unarmed black man turned herself in early Friday after being charged with manslaughter, prosecutors said.

Officer Betty Shelby, a white woman, fatally shot Terence Crutcher after his car stalled on Sept. 16. The shooting was captured on dashcam and aerial video, and the Tulsa police chief called it "very disturbing."
Shelby surrendered to authorities around 1:11 a.m. and was released on $50,000 bond about 20 minutes later, the AP reported.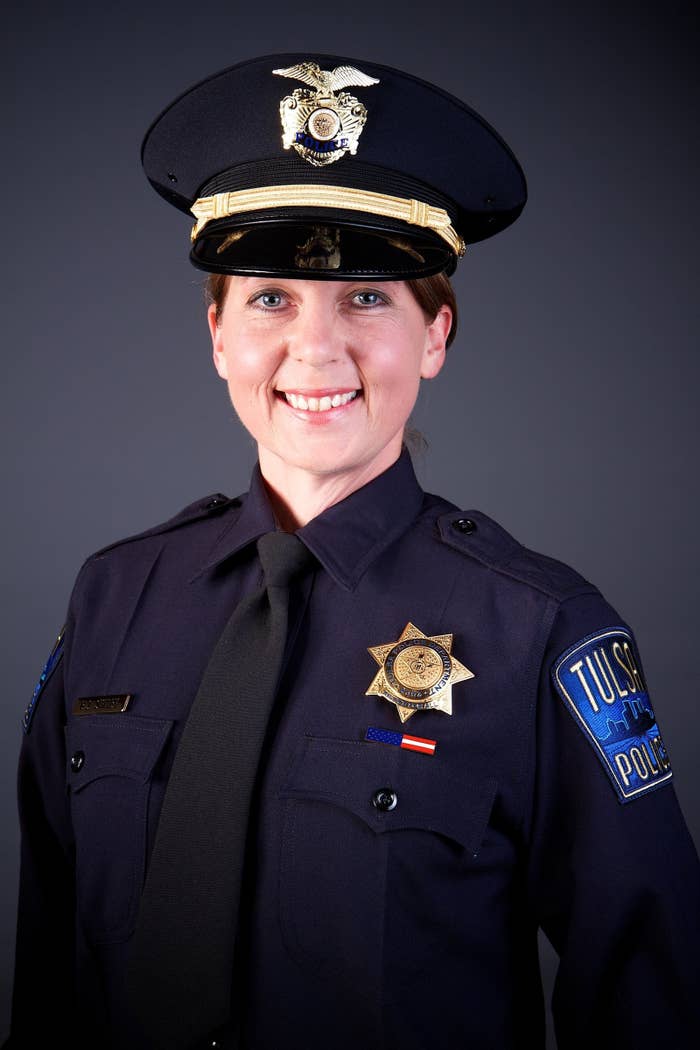 District Attorney Steve Kunzweiler said Thursday that a warrant had been issued for Shelby's arrest and that she was charged with first-degree manslaughter.
"Despite the heightened tensions felt by all, which seemingly beg for an emotional response and reaction, our community has consistently demonstrated a willingness to respect the judicial process," he said at a news conference.
If convicted, Shelby faces a minimum sentence of four years in prison.
According to an investigative affidavit in support of the charge, Shelby came across Crutcher and his stopped vehicle as she was responding to another call. Crutcher did not answer her questions, the affidavit said, and at one point he began walking toward the vehicle with his hands up as she told him to stop.
Shelby followed him with her gun drawn as another officer arrived, according to the affidavit. The officer told Shelby he had his Taser ready, the affidavit states, and as Crutcher reached into the vehicle's driver-side window, he deployed the Taser.
Shelby fired her gun.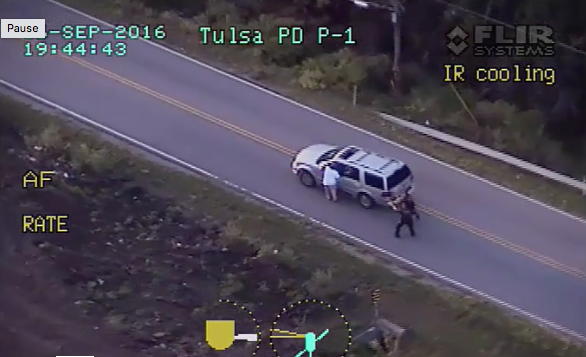 "Officer Shelby reacted unreasonably by escalating the situation from a confrontation with Mr. Crutcher, who was not responding to verbal commands and was walking away from her with his hands up, becoming emotionally involved to the point that she overreacted," the affidavit states. "Although Mr. Crutcher was wearing baggy clothes, Officer Shelby was not able to see any weapons or bulges indicating [a] weapon was present."
Under Oklahoma law, first-degree manslaughter includes the killing of another person "perpetrated without a design" and in the heat of passion — but in a "cruel and unusual manner" or with a dangerous weapon.
The US Department of Justice is also investigating the use of force by police.
Attorneys for the Crutcher family said they believed the charges were appropriate based on the facts, and they added that only a vigorous prosecution and conviction would amount to justice.
"Nothing will bring Terence back," attorney Damario Solomon-Simmons said. "We know that while this may be a day where justice has begun, it's still a sad day."
Crutcher's twin sister, Tiffany Crutcher, said the family was thankful for support from the community, as well as police and city leaders for quickly investigating the shooting.
"Today, we choose to celebrate Terence's life, a life he lived to the fullest every single day," she said.
He is survived by his mother and four children, in addition to other family members.
The family will continue to push for accountability and transparency in Tulsa, as well as in other cities around the country, Tiffany Crutcher said. The family is also seeking body cameras for all Tulsa police officers and annual implicit bias training. In audio of one police video, someone can be heard calling Crutcher a "big, bad dude."
Tiffany Crutcher said the family is planning a peaceful protest for Tuesday, and she asked people across the community join them.
"We're going to break the chains of injustice, we're going to break the chains of police brutality," she said. "The chain breaks right here, in Tulsa, Oklahoma."