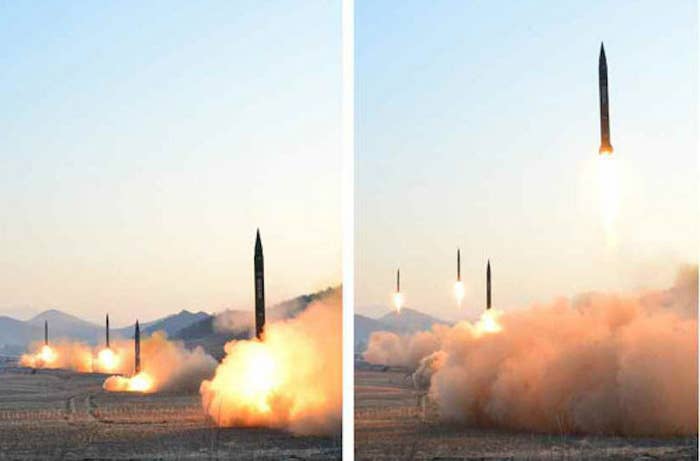 The US on Tuesday began deploying a missile defense system to South Korea a day after North Korea launched several missiles that flew about 1,000 kilometers before falling into the waters between it and Japan.

A South Korean defense official said the banned intercontinental ballistic missiles could be capable of reaching the continental US, South Korean media reported.
After the missile launches, the US said it had deployed the first elements of the Terminal High Altitude Area Defense (THAAD) system to South Korea. South Korean Prime Minister and acting President Hwang Kyo-ahn had urged the US to deploy the system hours earlier.
"North Korea's accelerating program of nuclear weapons tests and ballistic missile launches constitute a threat to international peace and security, and are in violation of multiple United Nations Security Council resolutions," US Pacific Command said in a statement.

Video posted to YouTube showed the system arriving in South Korea.
White House Press Secretary Sean Spicer called the launches a "very serious threat" but said that the THAAD deployment had already been planned and was not in response to the missiles.

President Trump spoke with both Hwang and Japanese Prime Minister Shinzo Abe Monday to emphasize "the United States' ironclad commitment to stand" with their countries, the White House said. Trump agreed to continue working with Japan and Korea "to demonstrate to North Korea that there are very dire consequences for its provocative and threatening actions."
The missiles were fired around 7:30 a.m. Monday from a launch facility near North Korea's border with China, from which they traveled across North Korea and fell into the waters in the Sea of Japan. The launch appeared to be a protest of joint military drills by South Korea and the US.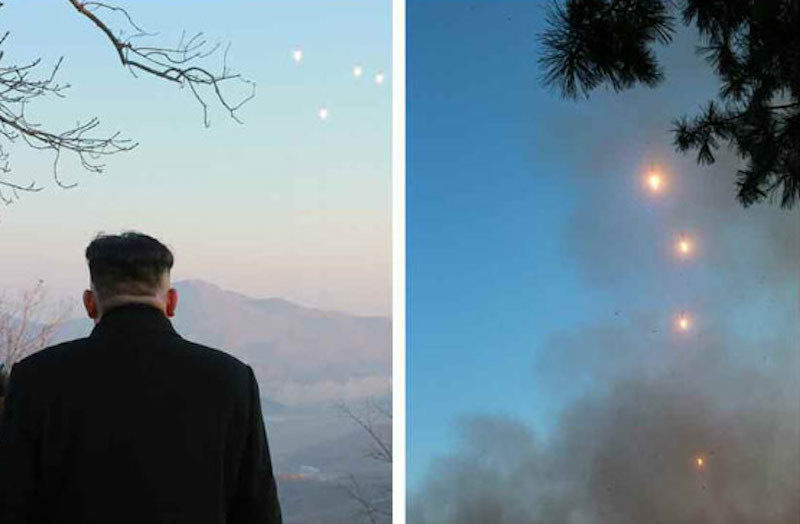 Four missiles were fired, three of which landed within waters under Japanese control, Reuters reported.

Hours after the missile launch, North Korean ambassador to the United Nations Ja Song Nam threatened a war and "nuclear disaster" over joint US-South Korean exercises, which he described as "the most undisguised nuclear war maneuvers," the Associated Press reported.
"It may go over to an actual war," Ja wrote, "and, consequently, the situation on the Korean Peninsula is again inching to the brink of a nuclear war."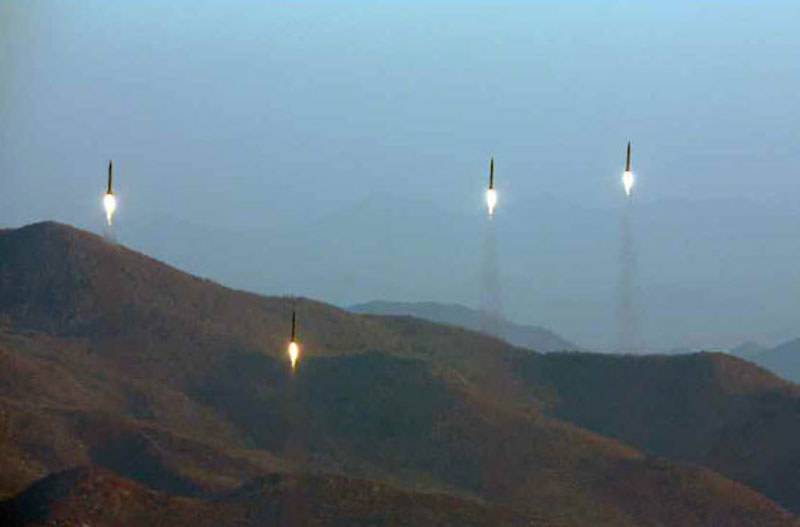 A statement issued by South Korea's joint chiefs of staff said the missile launch had been made from the Tongchang-ri area, in the country's northwest — a similar location to other recent prohibited long-range missile launches, which had been conducted from the North's Sohae facility, according to AP.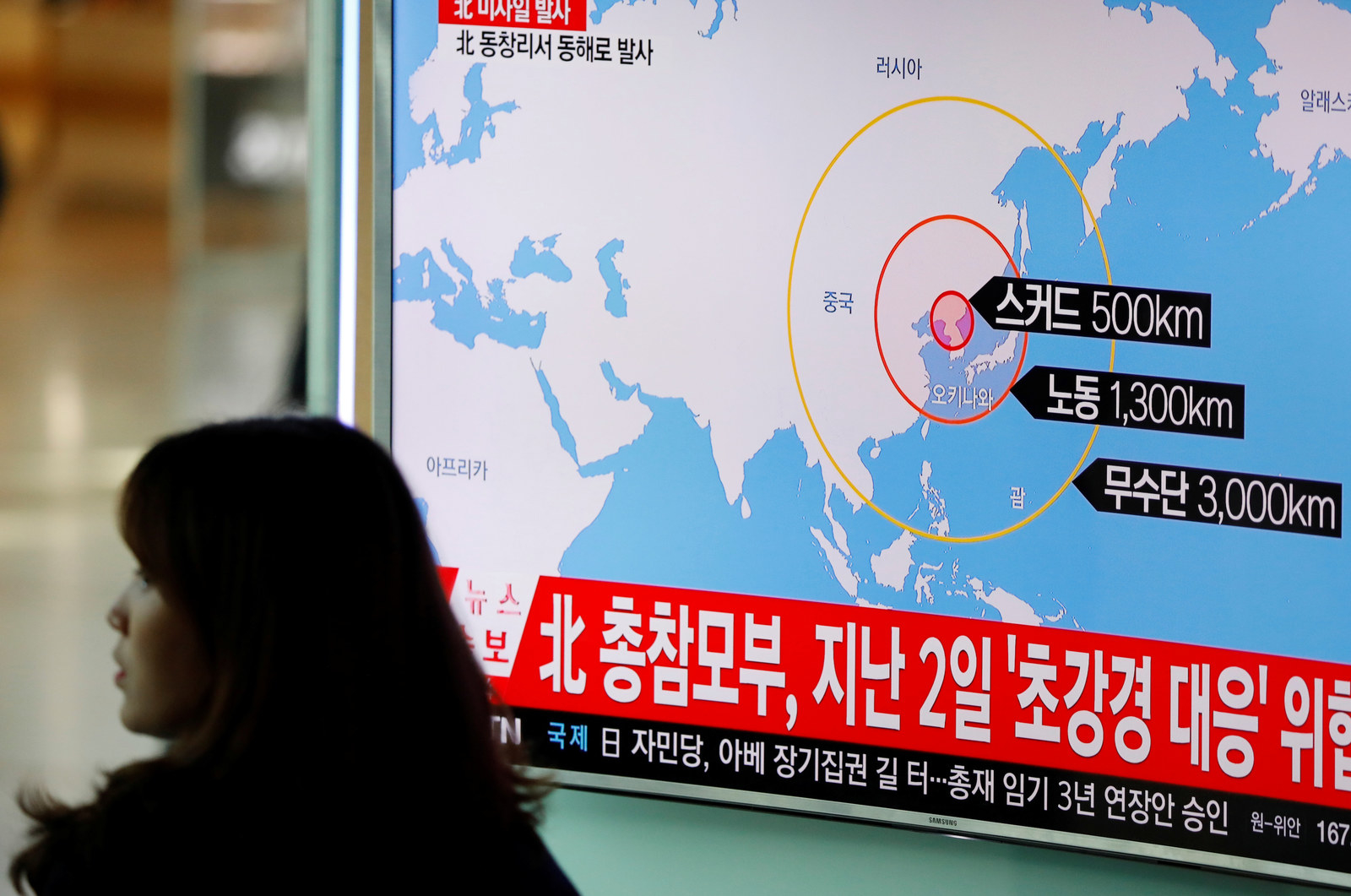 Abe discussed the threat with lawmakers on Monday, Reuters reported.
"The launches are clearly in violation of Security Council resolutions. It is an extremely dangerous action," he said.
US and South Korean national security advisers H.R. McMaster and Kim Kwan-jin discussed the missile launches via telephone. They condemned North Korea's actions and agreed to boost cooperation to implement more effective sanctions, AP reported.
On New Year's Day, North Korean leader Kim Jong Un praised the advances the country had made in its missile program. As sanctions by the US against North Korea have increased, he has vowed to develop a intercontinental ballistic missile that can deploy a nuclear weapon to the US.
North Korea last launched a ballistic missile on Feb. 12, prompting the condemnation of the UN Security Council.