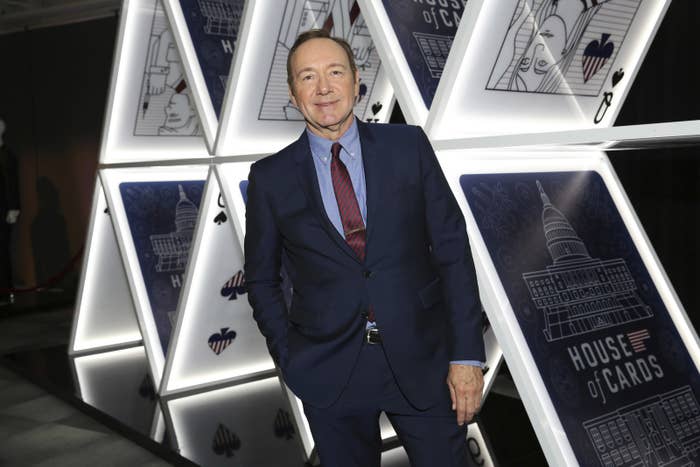 Netflix has cut ties with actor Kevin Spacey after a series of allegations of sexual misconduct.
The streaming service said Friday night it would no longer be involved in House of Cards, one of its first original hits, if the series continues to include Spacey. Netflix said it will also not be involved in an upcoming movie featuring Spacey.
"Netflix will not be involved with any further production of House of Cards that includes Kevin Spacey," it said. "We will continue to work with MRC during this hiatus time to evaluate our path forward as it relates to the show. We have also decided we will not be moving forward with the release of the film Gore, which was in post-production, starring and produced by Kevin Spacey."
House of Cards production company, Media Rights Capital, said Spacey has been suspended from the set, effective immediately, and the company hoped to continue to partner with Netflix on the series.
"While we continue the ongoing investigation into the serious allegations concerning Kevin Spacey's behavior on the set of House of Cards, he has been suspended, effective immediately. MRC, in partnership with Netflix, will continue to evaluate a creative path forward for the program during the hiatus."
Netflix's ultimatum comes after allegations of sexual misconduct were brought to light in a BuzzFeed News investigation in which actor Anthony Rapp accused Kevin Spacey of making a sexual advance toward him after a party at the star's home when Rapp was 14 years old. Since then, other men have also come forward.
After the news broke, Spacey issued a statement in which he came out as a gay man — which some believed to be a form of deflection — and apologized for his alleged behavior toward Rapp, saying, "I honestly do not remember the encounter, it would have been 30 years ago. But if I did behave then as he describes, I owe him the sincerest apology for what would have been deeply inappropriate drunken behavior and I am sorry for the feelings he describes having carried with him all these years."
Production on Season 6 of House of Cards was already underway when the Rapp interview was published, though after the news of Spacey's alleged sexual misconduct, the company halted production of the show and confirmed to BuzzFeed News that the season would be the show's last. Netflix declined to say what specifically prompted its decision to end the show.
More men have come forward accusing Spacey of sexual misconduct in the week since the Oct. 29 report was published and on Thursday a source confirmed to BuzzFeed News that the actor had been dropped from his agency and parted ways with his publicist Staci Wolfe.
On Friday, BuzzFeed News also revealed three new accusers: a 16-year-old boy with an interest in acting, a journalist, and a military adviser who worked on the set of one of Spacey's movies. Each of the men described a pattern in which Spacey played his closeted status against their desire to tell others of his actions.
"It has occurred to me since then that there's this weird way that Spacey had discovered that the closet would shield other things," the journalist said. "Being closeted has for him enabled him to use this privacy claim as a shield against anybody looking closely at his actual behavior. And then it may have served as this strange, protective mechanism, to say, 'My whole sexual life is off limits because of my sexuality.'"