Louisiana Flooding Leaves 13 Dead In Worst US Natural Disaster Since Hurricane Sandy
More than 30,000 people have been rescued from water-logged homes and cars, officials said. President Obama declared a major disaster in the state.
At least 13 people have died and tens of thousands of others were rescued after historic rains caused unprecedented flooding in Louisiana, a natural disaster officials are calling the worst in the US since Hurricane Sandy devastated the East Coast four years ago.
The storm, which dumped more than 30 inches of rain on parts of southern Louisiana through the weekend — enough to fill 10.4 million Olympic pools — has caused flooding damage to some 40,000 homes and required the rescue of 30,000 people.
President Obama declared a major disaster as the state continued to be pounded by rainfall over the weekend. The declaration opened up federal resources for 21 parishes, including some of the hardest hit areas of East Baton Rouge, Livingston, St. Helena, and Tangipahoa, according to the declaration.
On Tuesday, eight additional parishes were added to the declaration, Gov. John Bel Edwards said.
"Thousands of people in Louisiana have lost everything they own and need our help now," said Brad Kieserman, vice president of Disaster Services Operations and Logistics for the Red Cross, said in a statement. "This disaster is the worst to hit the United States since Superstorm Sandy and we anticipate it will cost at least $30 million, a number which may grow as we learn more about the scope and magnitude of the devastation."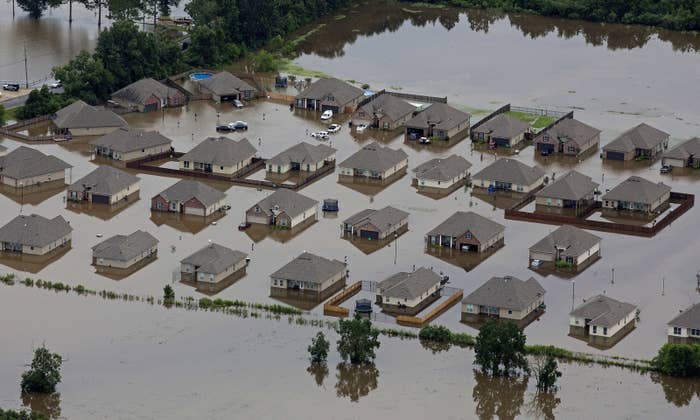 The flooding forced more than 110 state highways to remain closed on Wednesday, as well as many more local roadways.
At least 70,000 people registered for FEMA disaster assistance, White House spokeswoman Jennifer Friedman said Wednesday.
On Friday the governor declared a state of emergency for the entire state as a result of the severe weather.
"The rain continues to fall in the areas that have been most impacted already," Edwards said, calling the flooding "historic" and "unprecedented."
The rains prompted the National Weather Service to issue a flood warning for much of southeastern Louisiana as an area of low pressure with tropical characteristics slowly moved west and across the state late last week and over the weekend.
Officials urged residents to heed evacuation warnings and continue to stay off wet roads, if possible.
By Saturday morning, search and rescue operations were in effect and the National Guard had deployed high-water vehicles, boats, and helicopters.
Several bodies were recovered from the waters across the region, some inside submerged vehicles, while others were swept away in the torrential flood.
The Louisiana Department of Health reported five deaths in East Baton Rouge Parish, three in Tangipahoa Parish, two in St. Helena Parish, two in Livingston Parish, and one in Rapides Parish.
In Livingston Parish, one of the hardest-hit areas, an official estimated that 75% of the homes were a total loss, the Associated Press reported. Many of the residents in the region lacked flood insurance.
It was the third weather-related disaster in Louisiana this year. In March, severe flooding left several people dead and forced thousands to evacuate.
James Lane, whose home in the town of Sorrento was inundated with floodwaters, said he was beginning the clean up effort Wednesday.
"I can't even think about what to do, just got to go with it as it comes in," Lane told the Associated Press. "We actually lost everything in Katrina, came here 10 years later, lost everything again."