Joan Rivers Didn't Consent To Fatal Procedure; Clinic Cited For Major Failings
A report by the Centers for Medicare & Medicaid Services found Yorkville Endoscopy violated a number of regulations during Rivers' care.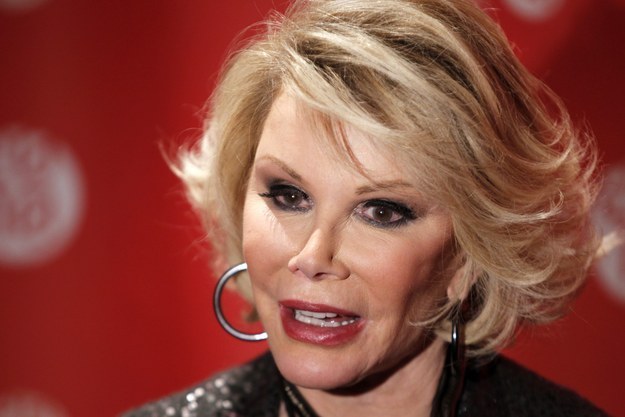 The New York clinic where comedian Joan Rivers went into cardiac arrest failed to follow a number of regulations, including gaining her written consent, following procedures for administering the sedative Propofol, and adequately monitoring her vital signs before she died, according to a report by a federal health agency.
The Centers for Medicare & Medicaid Services (CMS) found that Yorkville Endoscopy failed to meet federal safety requirements during Rivers' procedure in August. After going into cardiac arrest, she was taken to a hospital where she remained in a medically induced coma on life support until her death a week later.
According to the CMS report, Rivers was scheduled to undergo a procedure in which a scope would examine the area between her throat and upper intestine. She had consented in writing to the procedure, and it was performed by a staff member at the clinic.
But Rivers had arrived with her personal doctor, who was not a staff member at the clinic and should not have performed any medical procedure in the facility, the report added. While the 81-year-old comedian was under anesthesia, her doctor jumped in twice and used a scope to examine her nasal cavities and throat, the report said.
The medical staff "failed to identify deteriorating vital signs and provide timely intervention," the report said. Medical records also contradict by a measure of 10 minutes when Rivers began receiving life-saving measures.
The records also don't accurately show how much of the powerful sedation drug Propofol Rivers was given, the report said. One staff member reported she received 300 milligrams of the drug, but an anesthesiologist later said she only received 120 milligrams.
The report also found that normal procedures were not followed before administering the drug, which became famous for its part in Michael Jackson's death. Rivers' weight was not recorded by the clinic, the report said, even though weight is generally part of calculating the dose a patient should receive.
While Rivers was under sedation, her doctor asked a staff member to take their photo with a cell phone, the report said. "Maybe [Rivers] would like to see this in the recovery area," the doctor said.
Unless the clinic can prove it has corrected the violations by January, it will lose federal funding.
"Based on the review of medical records, documents, policies and procedures and interviews, it was determined that the facility failed to ensure that patient care services are provided in a manner that protects the health and safety of all patients," the report said.