Swastikas were spray-painted onto the home of a historically Jewish fraternity at Emory University in Atlanta over the weekend.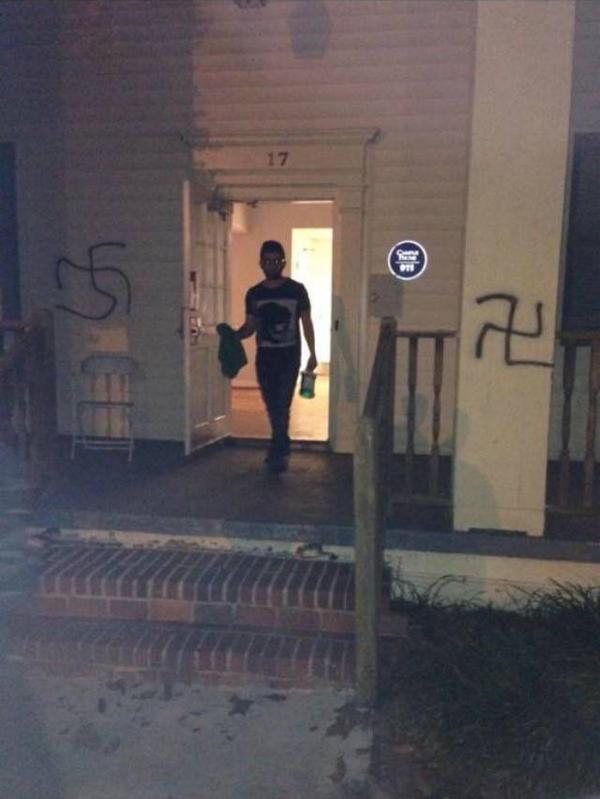 The graffiti was discovered early Sunday, shortly after Yom Kippur Saturday evening, according to the university. Yom Kippur is the holiest day of the Jewish calendar.
"This abhorrent act will not be tolerated and does not reflect the values of the Emory University community," a university statement said.
Campus police officers are investigating and will increase their patrols in the area. School officials will also meet with student leaders to determine any next steps, the university said.
Alpha Epsilon Pi prides itself on "developing leadership for the Jewish community," according to the national organization. The Emory chapter has been active since 1920 and in 2012, it had 68 members.
The prejudiced individuals who conducted this outrageous offense succeeded in the intentions of making us feel unwelcomed, ostracized, and unsafe in this"home" we call Emory University. This egregious act has not only impacted our fraternity brothers but there is no doubt that it has also distressed and frightened the entire Emory community... As anti-Semitism rises at an alarming rate on college campuses around the nation, Emory must be an influential leader in stifling the perpetuation of such acts of inhumanity.
On behalf of our community, I denounce this abhorrent act. It is an offense against a Jewish fraternity and the Jewish members of our community, and it is a repugnant, flagrant emblem of anti-Semitism. It is also an offense against the entire university. Among the many pernicious things the swastika symbolizes, in the last century it represented the most egregious and determined undermining of intellectual freedom and truth-seeking. In short, its appearance on our campus is an attack against everything for which Emory stands. Emory University will not tolerate such acts. Instead we must together pledge Emory University's continuing commitment to raise awareness and prevent all forms of violence and discrimination; to foster openness and diversity of thought, experience, spirituality, and culture; and to seek positive transformation in our community and the world. We all have a responsibility to uphold the principles we hold dear as an academic community, and to create a community that is inclusive, open, respectful, and welcoming to all.