"Rolling Stone" Retracts "Rape On Campus" Article After Independent Investigation
The review by the Columbia University journalism school was published Sunday night. Police said last month they found no evidence of a 2012 rape at a University of Virginia fraternity house as originally reported by Rolling Stone.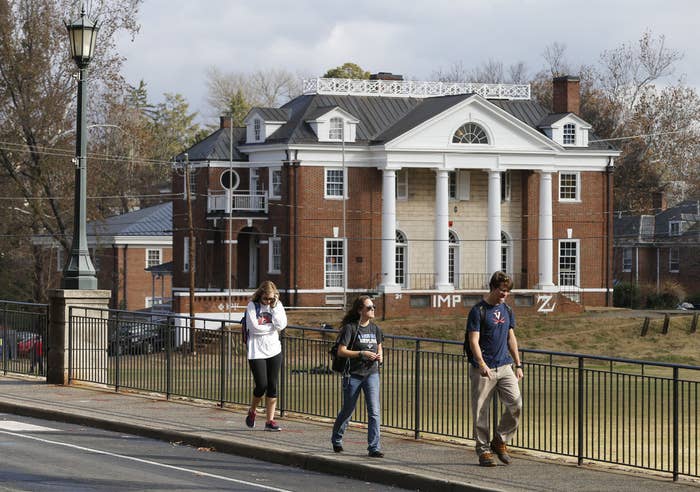 A Rolling Stone reporter, editors, and fact checkers failed to take basic steps to verify a University of Virginia's student account of being gang raped, resulting in a flawed article that harmed the university community as well as sexual assault survivors, a report by the Columbia University journalism school said.
"[The reporting failures] involve basic, even routine journalistic practice – not special investigative effort," the Columbia report said. "And if these reporting pathways had been followed, Rolling Stone very likely would have avoided trouble."
Rolling Stone on Sunday retracted its December 2014 article, "A Rape on Campus," following reports of major discrepancies, the inability of police to find evidence of a rape, and the independent Columbia investigation.
"We would like to apologize to our readers and to all of those who were damaged by our story and the ensuing fallout, including members of the Phi Kappa Psi fraternity and UVA administrators and students," managing editor Will Dana said in a statement. "Sexual assault is a serious problem on college campuses, and it is important that rape victims feel comfortable stepping forward. It saddens us to think that their willingness to do so might be diminished by our failings."
Its writer, Sabrina Rubin Erdely, also apologized for the first time Sunday to Rolling Stone, readers, the UVA community, and victims of sexual assault. She said she failed in her responsibilities as a journalist by not going far enough to verify the story of the student identified as Jackie.
"I allowed my concern for Jackie's well-being, my fear of re-traumatizing her, and my confidence in her credibility to take the place of more questioning and more facts," she said in a statement. "These are mistakes I will not make again."
But the sometimes difficult nature of interacting with victims does not explain the journalistic failures that took place before the article's publication, the Columbia report said.
"Erdely's reporting records and interviews with participants make clear that the magazine did not pursue important reporting paths even when Jackie had made no request that they refrain. The editors made judgments about attribution, fact-checking and verification that greatly increased their risks of error but had little or nothing to do with protecting Jackie's position."
The fallout from the article raised questions over journalism ethics, as well as whether or not campus culture at schools like UVA contributes to sexual assaults. As the issue of sexual assault on campus has gained national attention, the U.S. Department of Education announced an investigation into how 85 colleges handle sexual violence.
In the original article, a UVA student identified as Jackie described being brutally raped by seven men at the Phi Kappa Psi fraternity house. The article followed the reaction of her friends and classmates as well as reported failures by the university administration.
Jackie did not participate in the Columbia investigation on the advice of her lawyer, the report said. Quotations attributed to her were taken from Erdely's notes.
The publication of "A Rape On Campus" prompted protests on campus, but soon fraternity members and people who knew Jackie began to come forward disputing her account. The fraternity did not hold a party on the night in 2012 she said she was raped, and none of its members matched the description of her attacker. Her friends later told reporters their memories also didn't match up with the Rolling Stone story. The magazine never contacted them before publication, they told the Washington Post.
The Columbia report identified this failure by Erdely and her editors as the most critical.
"In hindsight, the most consequential decision Rolling Stone made was to accept that Erdely had not contacted the three friends who spoke with Jackie on the night she said she was raped," the report said. "That was the reporting path, if taken, that would have almost certainly led the magazine's editors to change plans."
Following the Post's revelations, Rolling Stone issued an apology, saying they had "misplaced" their trust in the young woman. The magazine later took responsibility for mistakes that were made, though the article remained published on its website.
In March, police suspended their investigation after finding no evidence to support Jackie's account to Rolling Stone.
"I want to be clear, that doesn't mean something terrible did not happen to Jackie," Charlottesville Police Chief Timothy Longo said at the time. "We were just not able to gather sufficient facts on what that event might have been."
The fraternity has said it is considering legal recourse for the damage the article did to its reputation.
"These false accusations have been extremely damaging to our entire organization, but we can only begin to imagine the setback this must have dealt to survivors of sexual assault," Stephen Scipione, president of the Virginia Alpha Chapter of Phi Kappa Psi, said in a statement. "We hope that Rolling Stone's actions do not discourage any survivors from coming forward to seek the justice they deserve."
UVA president Teresa Sullivan added the Rolling Stone article did nothing to fight sexual violence as it caused damage to the university's efforts. She said the university would continue to face the issue as it has done since before Erdely came to campus.
"The story portrayed University staff members as manipulative and callous toward victims of sexual assault," Sullivan said in a statement. "Such false depictions reinforce the reluctance sexual assault victims already feel about reporting their experience, lest they be doubted or ignored."
Virginia's attorney general Mark Herring said Sunday the state would remain committed to addressing the "real and urgent problem" of campus sexual assaults.
"Rolling Stone's failures have put survivors in a more difficult position, shaken a university community, and injected doubt at a moment when we are finally building national momentum around efforts to end campus sexual violence," he said in a statement.
In addition to analyzing shortcomings, the Columbia report recommended that Rolling Stone create stronger policies in several areas. The magazine should consider banning pseudonyms, or only use them rarely after "robust" discussion, the report said. In reporting and fact checking, the magazine should also share specific, derogatory details with the people from whom it seeks comment, the report said. In the article, Rolling Stone sought comment from the fraternity and university officials in a general way.
In addition to publishing the Columbia report, Rolling Stone's managing editor said the magazine would accept its recommendations. No one at the magazine will be suspended or fired for their work on the article, a Rolling Stone spokesperson confirmed to BuzzFeed News.
"We are also committing ourselves to a series of recommendations about journalistic practices that are spelled out in the report," Dana said in his editor's note, which will be published in the upcoming issue of Rolling Stone.