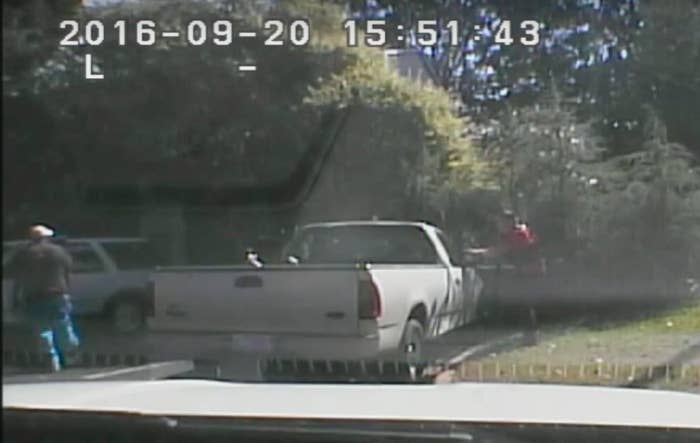 Police video of the shooting of Keith Lamont Scott shows him walking backward slowly, then falling to the ground with his hands at his side as gunshots ring out.
Charlotte-Mecklenburg police on Saturday released dashboard and body camera footage of the shooting of Scott, following days of protests in the community.
"After having a conversation with the State Bureau of Investigations…I have decided that we are at a stage where I can release additional information without adversely impacting their investigation," Police Chief Kerr Putney told reporters. "So, now it is appropriate to release this information."
Video from a police dash cam shows Scott getting out of his SUV as police have their guns drawn. The video does not show what he is holding in his hands, and he slowly moves backward.
"Mr. Scott then exited the vehicle with the gun and backed away from the vehicle while continuing to ignore officers' repeated loud verbal commands to drop the gun. Officer [Brentley] Vinson perceived Mr. Scott's actions and movements as an imminent physical threat to himself and the other officers," a police statement said. "Officer Vinson fired his issued service weapon, striking Mr. Scott."
As gunfire sounds, Scott's hands are down and he falls to the ground.
In the body camera footage, which does not have audio until about 20 seconds into the video, officers can be heard telling each other to place handcuffs on Scott as he lies face down on the ground.
He was later pronounced dead at a hospital.
"When I look at the dash cam footage, I don't see anything there, in my opinion, that would lead to him losing his life," Scott family attorney Justin Bamberg told reporters.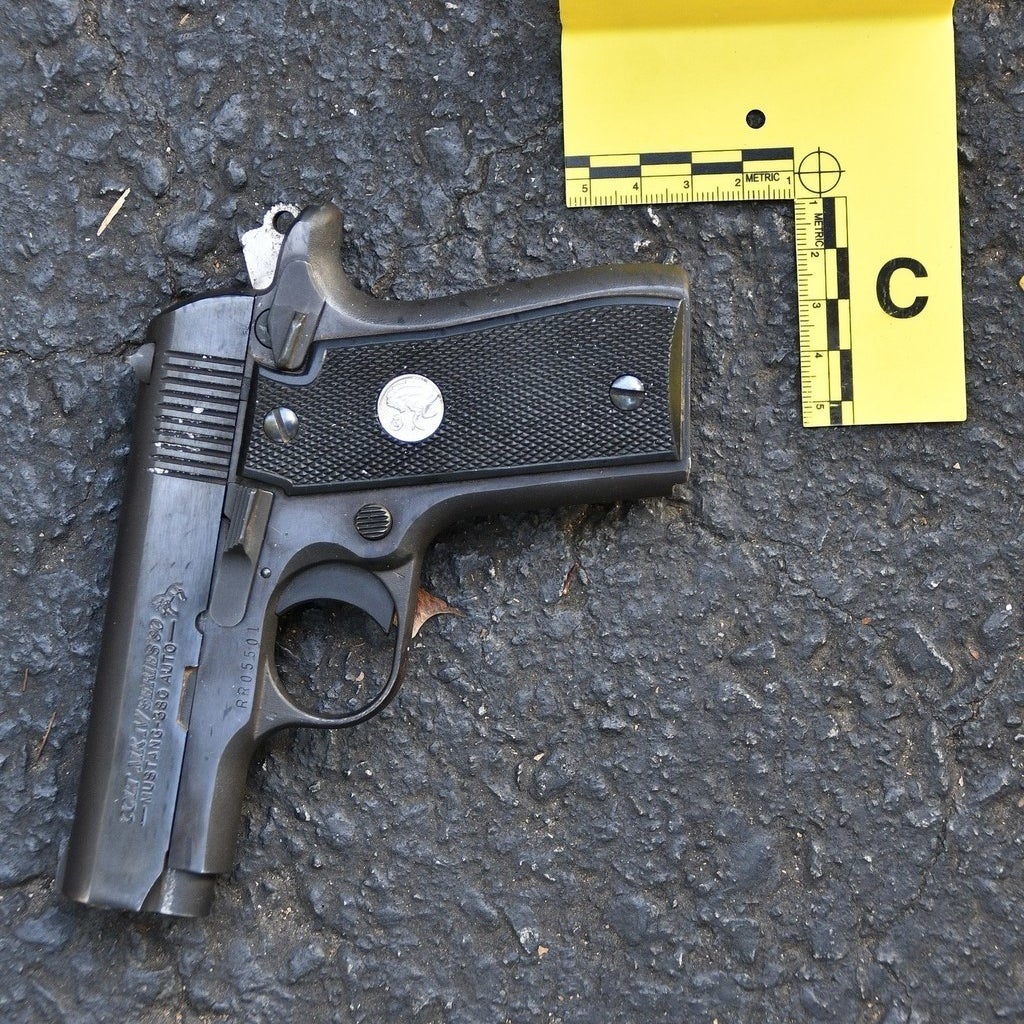 Photographs of the handgun that police said was found at the scene were also released on Saturday, in addition to pictures of a holster and marijuana blunt allegedly in Scott's possession.
According to police, plainclothes officers saw Scott rolling what they believed was a marijuana blunt and holding a gun in his SUV. They left the area to put on marked duty vests and returned, identified themselves as police officers, and told Scott to drop the gun, police said.
Lab analysis later showed Scott's fingerprints and DNA on the handgun, police said. The gun was loaded and Scott was wearing an ankle holster at the time of the shooting, police said.
Attorneys for Scott's family said Saturday night the actions taken by Scott as he gets out of the SUV show no reason for him to be fatally shot.
"He doesn't lunge at the officers. It appears he has his hands by his side. Again, there is no definite evidence in this video that there is an object in his hands or what that object is," Bamberg said.
Ray Dotch, Scott's brother-in-law, told reporters that Scott was a good husband and father, but that who he was should not matter.
"He was an American citizen who deserved better," Dotch said. "That is our position and it should be yours."
Scott's wife, Rakeyia Scott, witnessed the shooting and released cell phone video she took from the moments leading up to it.
In the clip, she can be heard saying, "Don't shoot him." Officers can be heard telling Scott to drop a gun.
An attorney for the family said Rakeyia Scott's video was released in the interest of transparency. The family is continuing their own investigation of the shooting.
So far, attorneys said they don't believe police officers were appropriately following the department's existing policy of using deadly force only against aggravated, active aggression. Attorneys questioned why officers did not try to deescalate the situation, why the officer who shot Scott did not use a body camera, and whether they appropriately took into account potential disabilities — Scott's family has said he had a traumatic brain injury.
"We are still looking into all of the facts," Bamberg said. "We're not here to hurl allegations. We're here to find out what happened and why it happened, and more importantly, we're here to ensure best we can that this doesn't happen again in the future."