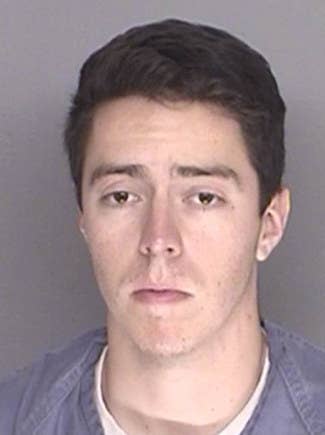 A half-naked University of California Santa Barbara student repeatedly punched a pastor in the face Saturday in what authorities have said appears to have been a random attack.
According to the Santa Barbara County Sheriff's Office, Paul Gusman, 22, knocked on the door and called for help outside the Isla Vista home of Father Jon-Stephen Hedges around 2:15 a.m.
He then began throwing himself against the door, which Hedges opened to offer assistance.
The student, who was naked from the waist down, then punched Hedges in the face around 30 times, also striking Hedges' wife on her hand, officials said.
She called 911, and when deputies arrived, Gusman was detained in the front yard.
Deputies said Gusman appeared to be under the influence of a controlled substance when he was arrested.
He was booked into jail on suspicion of assault, elder abuse, residential burglary, and dissuading a victim, and held in lieu of $500,000 bond.
Hedges was taken to a hospital with major injuries, then released after treatment.

The assault is under investigation, but it does not appear that Gusman and Hedges knew each other, authorities said.
Hedges, a longtime Isla Vista resident, is assistant pastor at St. Athanasius Orthodox Church and also a volunteer chaplain for the sheriff's office.