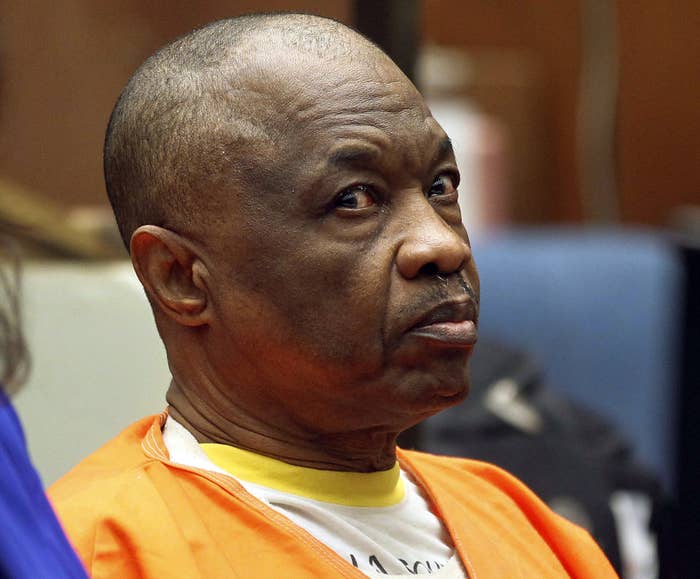 LOS ANGELES — Ten young black women, their bodies dumped "like trash" in South Los Angeles after being killed by one of the area's most prolific serial killers, the so-called Grim Sleeper.
After six years of court proceedings, prosecutors on Monday reviewed the DNA, firearms, and other evidence against Lonnie Franklin — who is accused of killing the 10 women and attempting to kill another — as they delivered their closing statements, drawing gasps and tears from those in the Los Angeles courtroom.
"Jesus," one woman said under her breath as Deputy District Attorney Beth Silverman showed that the bodies of two women had been dumped in the same alley — 20 years apart.
Prosecutors say Franklin took advantage of vulnerable women and used his ability to move under the radar through the streets and alleys of South L.A. to evade capture for decades. When he was arrested in 2010, authorities found dozens of photos inside his home — sparking fears that there may be even more victims who have not been identified, their bodies possibly dumped while Franklin was working as the driver of a garbage truck.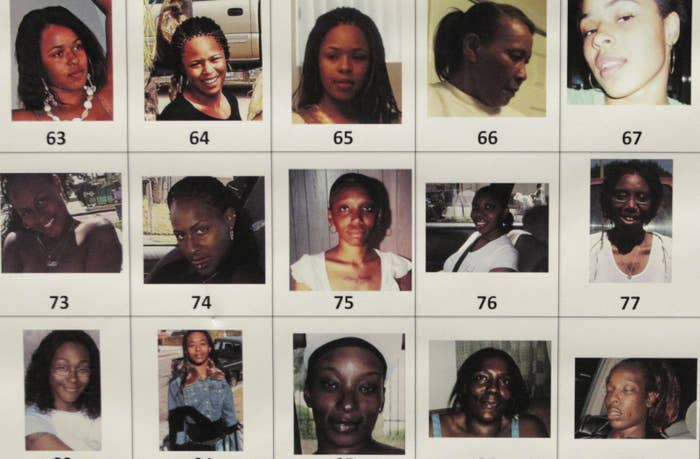 A series of killings in the 1980s stopped after one woman survived her unknown attacker's sexual assault and gunshot. In the 2000s, the killer resurfaced, claiming three more lives. The decade-long pause spawned the Grim Sleeper nickname.
"These victims were all human beings," Silverman told jurors. "Each of them deserved to be treated like human beings. None of them deserved to be murdered and dumped like trash as if their lives had no meaning."
Debra Jackson, 29, was killed in 1985. Henrietta Wright, 34, was killed in 1986. Barbara Ware, 23; Bernita Sparks, 26; and Mary Lowe, 26, were killed in 1987. Lachrica Jefferson, 22, and Alicia Alexander were killed in 1988. Enietra Washington survived a gunshot wound to the chest and sexual assault in 1988 —she would go on to testify about the attack and identify Franklin in court.
Princess Berthomieux, 15, was killed in 2002. Valerie McCorvey, 35, was killed in 2003, and Janecia Peters, 25, in 2007.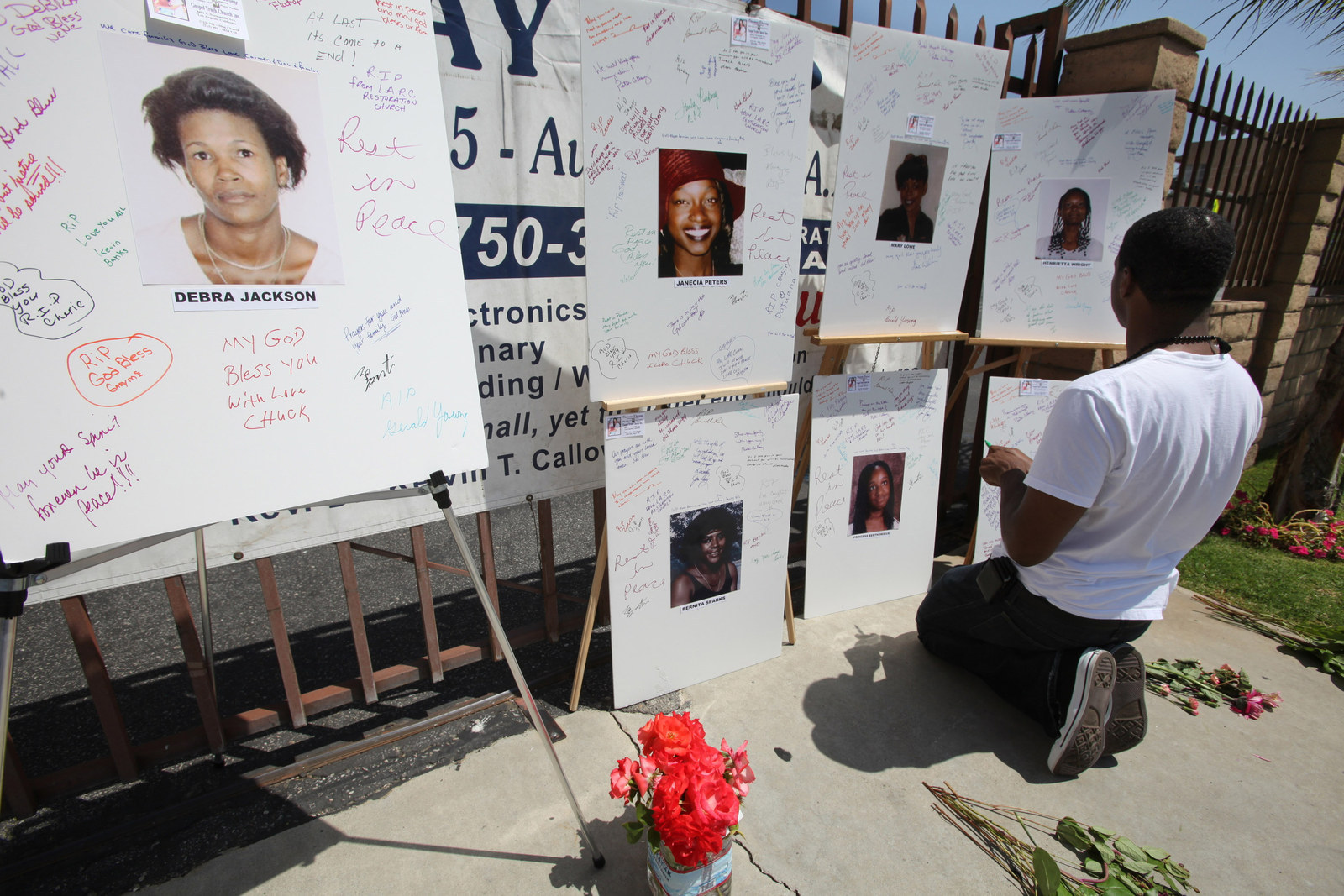 For years, investigators knew they were dealing with a single killer, but an identity eluded them.
"The defendant is a serial killer who was basically hiding in plain sight," Silverman said. "He blended in. He lived in the community."
It wasn't until 2010 that a new program to put California prisoners through familial DNA gave authorities a potential match. Franklin was identified as a suspect and put under surveillance.
In a creative turn, an LAPD detective went undercover as a busboy at a pizza restaurant where Franklin was eating lunch. Franklin's partially eaten pizza crust and napkin were tested against the killer's profile, prosecutors said. They had a match, one that prosecutors said by most recent statistics ranged from 1 in 120 trillion to 1 in 81 quadrillion.
Inside his home, police found a photo of Peters alive, with her breast exposed. Another photo, hidden behind a wall, showed Washington similarly exposed, unconscious, and with blood spattering her blouse.
The crimes were about sexual gratification, Silverman said, and Franklin kept the photos as trophies. She described his habit of cruising Western Avenue at night, an area known for prostitution. He'd lure women into his car with cocaine, alcohol, or manipulation, she said.
"If they weren't submissive enough, they were shot and killed," she said. "These crimes are about power and control."
Police also found the .25 automatic "pocket pistol" that killed Peters. The gun that killed seven other women and wounded Washington has never been recovered, but firearms experts have testified that each of the bullets recovered from those victims' bodies came from the same gun.
Two other victims were strangled. Each of the killings can be tied to Franklin through firearms evidence, DNA evidence, or both, Silverman told the jury.
"Science is the only thing that stopped this serial killer," Silverman said.

However, Franklin's attorney, Seymour Amster, has sought to cast doubt on the DNA and firearms evidence. He has also presented alternative experts, some of whose credentials have been questioned by prosecutors.
Amster urged the jury to consider what he described as reasonable alternatives. While Franklin was "obsessed" with sex and picking up women, Amster said, it's possible he left his DNA on the victims without killing them.
"You don't know where the actual crime occurred," he said. "You don't know the condition. You don't know who all else was present."
Closing arguments are scheduled to continue Tuesday before the case goes to the jury for deliberation. If Franklin is found guilty, he will be eligible for the death penalty.