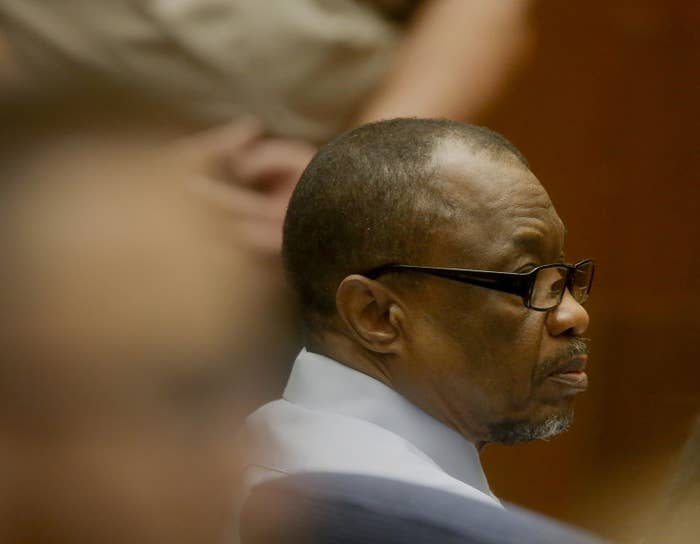 LOS ANGELES — A jury on Thursday reached a verdict in the trial of a man accused of killing 10 young black women in Los Angeles over the course of decades.
The jury was set to read their verdict in the case of Lonnie Franklin at 1:30 p.m. PT. They deliberated for about 7 1/2 hours over the course of two days.
Prosecutors say Franklin moved beneath the radar within his South L.A. neighborhood, targeting vulnerable young women first amid the crack cocaine epidemic in the 1980s. After a woman escaped one attack, prosecutors said Franklin stopped for more than 10 years before killing two additional women and a teenager in the 2000s — a pause that earned him the nickname "Grim Sleeper."
Franklin's attorney told jurors Tuesday that DNA evidence in the case was flawed and the real killer was a "mystery man."

The jury weighed testimony of the surviving woman — along with DNA and firearms evidence that prosecutors say scientifically links the killings together and to Franklin — against the claims of the defense that the killings were actually the work of a "mystery man," perhaps a younger relative of Franklin's.
"Each and every murder in this case could have been done by a mystery man with a mystery gun with mystery DNA," defense attorney Seymour Amster said.

Deputy District Attorney Beth Silverman described Amster's theory — which he had not previously brought up during months of trial — as speculation and an attempt to deceive the jury.
The amount of evidence in the case is staggering, she said, and over and over again points to Franklin as the killer. No other individual's DNA was found on multiple victims, she added.
"If there is some mystery man out there, where's his DNA?" Silverman asked.
If Franklin is convicted, the trial will move to a penalty phase to determine if he should be sentenced to death.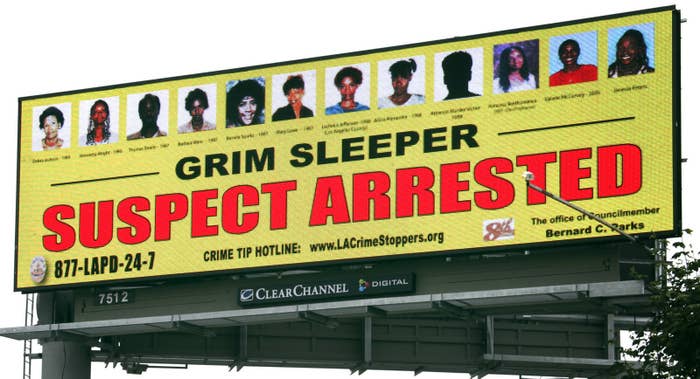 For years, police said they knew they were dealing with a serial killer because DNA and firearms evidence linked the deaths together. Billboards around the city advertised a half-million dollar reward for information leading to the killer's conviction.

Franklin wasn't known to police as a suspect until 2010, when the killer's DNA profile turned up as a partial match with Franklin's son, who was in a state database though his father was not. Testing of Franklin's DNA would later prove to fully match that found on several of the victims, prosecutors said.
In his closing argument, Amster told the jury that the evidence didn't rule out that someone else was responsible for the murders — perhaps a nephew of Franklin's.
Amster expanded his "nephew theory," hypothesizing that a younger man idolized the sex-obsessed Franklin and "Uncle Lonnie's girls," stalked the women, then killed them in anger when he was rejected.
Silverman said that scenario was as likely as if a Martian in a spaceship had come down and killed the women.
"We have the same evidence of that as some mystery nephew we've never heard of who may not exist," she said.
Over the course of the trial, Silverman described a pattern of violence aimed at sexual gratification and degrading the victims. Franklin would drive through areas known for prostitution at night, seeking to find a perfect victim, she said. He'd lure the young women into his car with drugs, alcohol, or manipulation, she said, then surprise them with either a gunshot to the chest or strangulation.
The 10 murder victims were dumped like trash, Silverman said, their bodies concealed in alleys, partially undressed or naked, and left to rot.

Enietra Washington, who survived being shot, testified earlier in the trial that she remembered Franklin getting on top of her, sexually assaulting her, and the flash of a camera. Before the assault, her attacker had told her he needed to stop at his "uncle's house," which was later identified as Franklin's house.
A photo of Washington leaning against the inside of a car door, bloodied, her breast exposed, was found inside Franklin's home after his arrest.
Amster pointed to a police sketch based on interviews with Washington.
Washington had described her attacker as a man in his 20s or early 30s, short, and with pock marks on his face. Amster pointed out that Washington and Franklin are the same height, Franklin was 36 at the time she was attacked, and he did not have acne scars.
"There's a nephew or youngster who's involved that did each and every murder, and there is not evidence to show Lonnie Franklin did that," he said.
But in an interview with police after his arrest, Silverman said Franklin had no explanation for how his DNA had turned up on several of the victims' bodies; he claimed he had never even seen them before.
"I'm not even tripping on it," he told detectives, according to Silverman.
"In other words, 'I don't care,'" she added. "Just pure arrogance."
DNA evidence from Franklin often appeared on the victims' nipples, prosecutors said. A sperm fraction was found in the mouth of victim Barbara Ware, and an analyst testified it was Franklin's by a factor of 1 in 11 quintillion unrelated individuals.
"Why are they basing all their information on a world that doesn't exist?" Amster said, questioning why statistics were not based on related individuals, again seeming to suggest a family member of Franklin's had been involved.
He disputed that the DNA could with certainty be said to belong to Franklin.
"Nature cannot be beholden to a definite set of rules," he added.
DNA analysis is an established science, Silverman rebutted, and experts called by the defense agreed with prosecution experts that Franklin had had contact with a number of the victims. Franklin has been definitely identified as the person whose DNA appears on multiple victims — not an "imaginary nephew," Silverman said.
"That's not the way DNA evidence works," she said. "If it was someone related to the defendant, we wouldn't see that in the profiles. It wouldn't match."