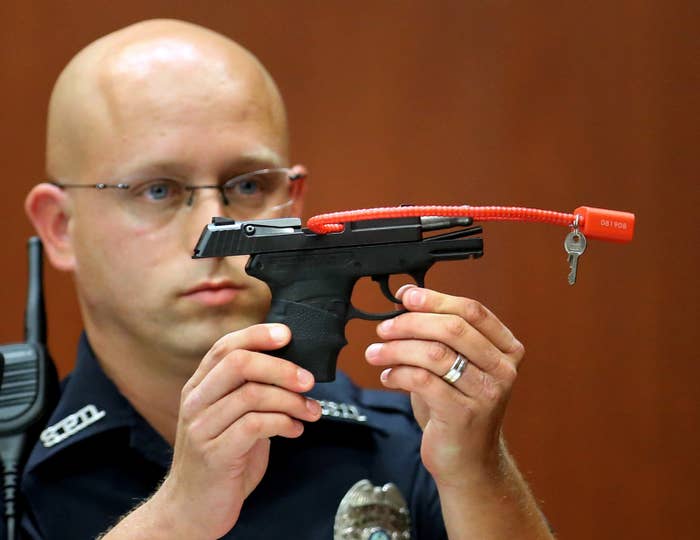 The gun George Zimmerman used to kill Trayvon Martin, an unarmed black teen, has reportedly been sold for $250,000, nearly twice the amount that had been previously reported.
The owner of a Florida bar told the Daytona Beach News-Journal he was set to buy the gun for $150,000 after entering the winning bid in the online auction Wednesday, but Zimmerman backed out of the sale after apparently receiving another bid for $250,000.

"I thought he was a man of his word," Denny Honeycutt told the newspaper.
Zimmerman was supposed to deliver the gun, but minutes before reportedly told Honeycutt the larger bid had been submitted at his attorney's office.
Honeycutt told the News-Journal the $250,000 bid was made by a woman who wanted to buy it for her son's birthday.
Zimmerman made several attempts to sell the gun online, but postponed and removed online auctions during the week after they were flooded by fake bids.
Zimmerman, who was acquitted of criminal charges in the 2012 death of Martin, first attempted to sell the Kel-Tec PF9 9mm handgun last week. The auction was called off after the initial online marketplace, GunBroker.com, said they did not want any part of the publicity the sale was receiving. The gun was then relisted with United Gun Group, which called the sale off, then back on again amid a flood of the fake accounts and bids.

Bids started at $5,000. Zimmerman in his listing described the gun as an American "icon." He posted photos of the gun as it had been seen at his trial.
"I am honored and humbled to announce the sale of an American Firearm Icon. The firearm for sale is the firearm that was used to defend my life and end the brutal attack from Trayvon Martin on 2/26/2012."
United Gun Group confirmed Wednesday the site had created two auctions for the gun — one real with pre-qualified bidders — and one fake to "troll the trolls." Zimmerman then verified the buyer's funds.
United Gun Group did not immediately disclose the final sale price. The site added they were now getting back to regular business.
"Its important to understand United Gun Group will always make all decisions solely based on the laws of the United States of America," the site said in a statement. "Having this stance ensures that every member is treated 100% equal regardless of personal opinions."