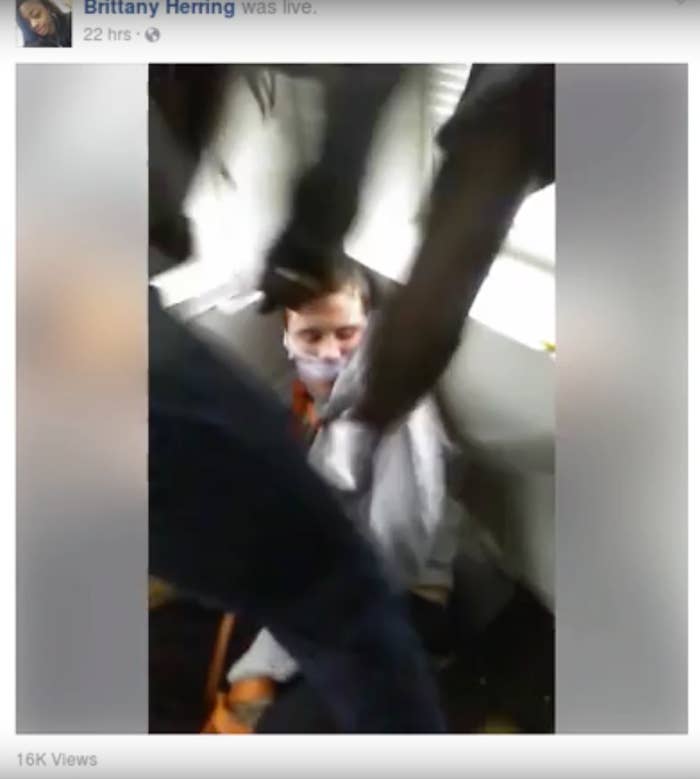 Four people were charged Thursday in Chicago with a hate crime after a Facebook Live video showed a young man being tied up, assaulted, and threatened as assailants yelled obscenities about Donald Trump.
Jordan Hill, 18, Tesfaye Cooper, 18, Brittany Covington, 18, and Tanishia Covington, 23, were all charged with aggravated kidnapping, hate crime, aggravated unlawful restraint, and aggravated battery with a deadly weapon, according to the Cook County State's Attorney's Office.
Cooper and Hill also face additional charges of residential burglary. Cook County Associate Judge Maria Kuriakos Ciesil denied the four suspects bond Friday, CBS News reported, asking during a hearing, "where was your sense of decency?"
In the video posted online Tuesday, a young white man identified as 18-year-old Austin Hilbourn is seen restrained, his mouth covered with duct tape as he sits on the ground. A young black man holding a knife also cuts his clothing and his scalp.

"Fuck Donald Trump, fuck white people," the man says.
Police Superintendent Eddie Johnson said the treatment of the young man, whom he described as having "mental health challenges," was disturbing.

"The actions in that video are reprehensible," Johnson said Thursday. "That alone, with racism, have absolutely no place in the city of Chicago, or anywhere else for that matter."
Hill picked up Hilbourn on Friday at a McDonald's in Streamwood in a stolen van, and the two, who knew each other from school, spent the next days together hanging out, police said.
According to CBS News, the beatings started while Hill and Hilbourn were still in the van.
On Tuesday, the pair met up with Cooper at the Covington sisters' home. That's where Hilbourn and Hill got into a play fight, Chicago Police Cmdr. Kevin Duffin said, but then the situation escalated.
"They get aggravated at him, and that's when they tie him up and when the racial slurs and reference to his mental capacity starts coming out," Duffin said. "That's primarily one of the reasons they were charged with a hate crime."
In one video, Cooper and Hill can be seen threatening Hilbourn with a knife until he gets on his knees, says, "Fuck Donald Trump," and kisses the floor. Another video shows him being forced to drink from a toilet.
"His diminished mental capacity, the fact that they tied him up, the obvious racial quotes that they posted live on Facebook, taken the totality of the circumstances, the state's attorney agreed with us," Duffin said. "We sought hate crime charges and they agreed."
According to CBS Chicago, HIllbourn suffers from schizophrenia and attention deficit disorder.
Just a day earlier, Johnson told reporters police did not believe the incident was politically motivated, and cautioned that the investigation was continuing into whether it qualified as a hate crime. On Thursday, however, he said the investigation was complete, and that police had requested the hate crime charges.
"There was never a question whether or not this incident qualified to be investigated as a hate crime, but as I said yesterday, we needed to base the investigation based on facts and not emotion," Johnson said.
In a roughly 30-minute video, Brittany Covington turns the camera on herself and three other alleged assailants as they smoke, laugh, and threaten Hilbourn, who is restrained in the corner.
"It appears that he was in that physical position, tied up in the corner, for about four or five hours," Duffin said.
They also sent text messages to Hilbourn's parents, telling them that they were holding Hilbourn captive, Streamwood police said. At some point, one of the suspects demanded $300 from HIlbourn's mother, CBS News reported.
Chicago police were first called around 5:15 p.m. Tuesday by the Covingtons' downstairs neighbor. The neighbor had confronted them about the noise and threatened to call police. In retaliation, Cooper and Hill kicked down the neighbor's door, police said.
When officers arrived to the building in the 3300 block of West Lexington Street, they spotted Hill outside with Hilbourn, who was wearing only shorts, sandals, and a tank top in spite of the cold.
An officer began to talk to him, then called an ambulance when he saw how disoriented and injured Hilbourn was. His condition was stable as he was taken to the hospital, but he was traumatized, police said.
"It took most of the night for him to calm down enough to talk with us," Duffin said.

On Thursday, he was back with his family and expected to fully recover, police said.
In a brief statement, family members said they were overwhelmed but happy that Hilbourn was home.
Hill, Cooper, and the Covingtons were taken into custody Tuesday evening and gave statements to police.

"They admit that they were beating him, kicking him, they made him drink toilet water," Duffin said. "And then obviously, the video where they're cutting a piece of his scalp."
The videos were removed from Facebook, but they were reposted on other platforms.
"We do not allow people to celebrate or glorify crimes on Facebook and have removed the original video for this reason," a Facebook spokesperson said. "In many instances, though, when people share this type of content, they are doing so to condemn violence or raise awareness about it. In that case, the video would be allowed."
According to Chicago police arrest records, Tanishia Covington was previously charged with criminal trespass on state land in March 2015 and with issuance of warrant in May 2015. She was most recently charged with criminal trespass to vehicles and failure to appear in court in March 2016.

Brittany Covington was charged with retail theft in October 2016.
Johnson praised the police work that led to the four suspects being taken into custody so quickly. He added their actions — and the videos — showed a brazen disregard for the law.
"It's sickening," he said. "It makes you wonder what would make individuals treat somebody like that."
Rev. Al Sharpton on Thursday said his organization pledged $1,000 to the victim's family and condemned the hate crime.