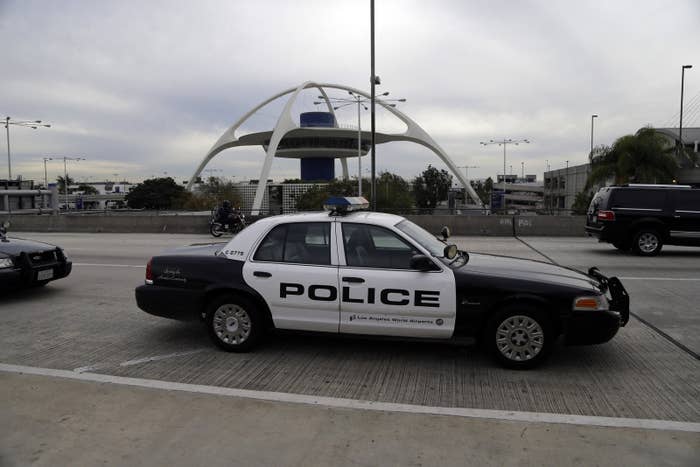 A JetBlue flight attendant who authorities said attempted to smuggle 68 pounds of cocaine onto a plane in Los Angeles was arrested Wednesday in New York.
Marsha Gay Reynolds is accused of possessing cocaine with intent to distribute, according to court documents. She surrendered to authorities at John F. Kennedy International Airport and on Friday, a federal judge in New York initially set bond at $500,000. Another judge later ruled she be held in custody until a bond hearing could be set in a Los Angeles federal court, according to the U.S. Attorney's office..
According to a TSA agent, Reynolds arrived at the security checkpoint area of Los Angeles International Airport's Terminal 4 around 7 p.m. on March 18. Reynolds was dressed in jeans and a suit jacket, and had two carry-on bags, as well as a large purse, the agent said.
After showing her badge, which identified her as a prescreened crew member, she was asked to move on to a random secondary screening. Crew members are generally not screened at LAX.
"Reynolds became nervous, and began looking around," the criminal complaint states.
She then took out her phone and made a call in a foreign language, which the TSA agent said he did not recognize. A supervisor arrived to escort her to the secondary screening area, and she continued to talk on the phone.
At the secondary screening area, the supervisor asked to see her identifying documents again. That's when she dropped her bags, kicked off her shoes — a pair of Gucci heels — ran down an upward escalator, and was seen heading toward Terminal 5, the criminal complaint states.
"[The supervisor] did not attempt to pursue Reynolds, as his primary concern was the abandoned luggage that Reynolds left behind, and the public safety issue that it potentially presented," the complaint said.
Inside her bags, police officers found 11 packages labeled BIG Ranch and wrapped in cellophane, each containing envelopes. In all, the packages contained 68.49 pounds of a substance that tested positive for cocaine, according to the complaint.