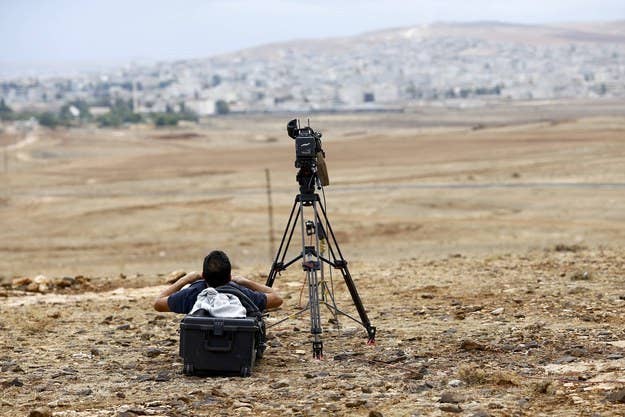 As the U.S. continues airstrikes against the Islamic State in Iraq and Syria, the Federal Bureau of Investigation is warning U.S. journalists that they could be the target of retaliation by the terrorist group.
The advisory, which was sent to a number of news organizations and journalists on Thursday, based the threat assessment on a number of statements and internet postings by members or supporters by the group.
"The FBI is providing this information to media outlets to highlight the current threat environment so that they may take appropriate steps to notify their journalists in the field," the threat advisory said.
ISIS has already killed two U.S. journalists who had been kidnapped while working in Syria. James Foley, a reporter for GlobalPost, was beheaded in August. Steven Sotloff, a freelance journalist, was beheaded weeks later.
The FBI also pointed to social media posts calling for more retaliation against the U.S. In one document posted to an ISIS-dominated forum, a writer calls on Muslims in the U.S. to commit acts of violence on a number of targets, including television reporters and anchors.
The agency said it "recently obtained credible information indicating members of an ISIL-affiliated group are tasked with kidnapping journalists in the region and returning them to Syria. Members of this group might try to mask their affiliation with ISIL to gain access to journalists."
U.S. intelligence officials contacted Global Journalist Security with a similar warning, Frank Smyth, founder of the training and consulting firm, told BuzzFeed News. Smyth recommended journalists work in teams to avoid being targeted.
"This seems credible on its face," he said. "We encourage anyone venturing into or even near ISIS territory to exercise extreme caution and report as much as possible through people leaving the area, as opposed to attempting to enter the area themselves."
The warning did not come as a surprise to those who had been watching developments in the area.
"We have been saying it all along," said Sherif Mansour, Middle East and North Africa coordinator for the Committee to Protect Journalists.
In the last three years, about 90 journalists have been kidnapped, he said. But about 60 of those have been in the last year, since ISIS rose to power, he added. Currently about 20 journalists remain in their custody, he said.
"The majority of them are local journalists," he said.
His group has called on stakeholders in the region, including governments and professional organizations, to pool their resources to maximize preparation and protection of journalists. Still, the challenges are many, and the situation on the ground is constantly changing.
"The most important thing we tell [journalists]," he said, "is they should do their homework and be vigilant at all times."