The family of Seth Rich, the Democratic National Committee staffer who was fatally shot in July, is calling on a private investigator to stop speaking publicly about the case.
Rod Wheeler, a former Washington DC homicide detective, had been working with the Rich family to solve the murder, which the Metropolitan Police Department has said appears to be a botched robbery. But conspiracy theorists have claimed the killing was ordered by the Clintons in retaliation for leaking thousands of DNC emails to WikiLeaks.
Those theories took off on social media and right-wing websites on Monday when Fox 5 in Washington DC aired an interview in which Wheeler — a Fox News contributor — said he could confirm evidence of emails between Rich and a WikiLeaks contact.
Wheeler then walked back that statement, claiming that the news station's report was inaccurate and took his statement out of context. He told BuzzFeed News he had no personal knowledge of any emails, and he'd only heard about such evidence from a FoxNews.com story citing an unnamed federal source.
On Friday, Wheeler told BuzzFeed News he's considering legal action against Fox 5. He wants the station to release the full interview, instead of the clip where he appears to confirm emails between Rich and WikiLeaks.
"It made it seem like I knew this information first-hand," he said.
The FBI is not investigating Rich's death. In any case, Wheeler's statements were included in a FoxNews.com story, and he has appeared multiple times on Fox News to discuss Rich's death.
"I don't know for sure, I don't know as a matter of fact, if the emails went out to the WikiLeaks or anybody else, but it sure appears that way," Wheeler told Sean Hannity after his original interview had been discredited by BuzzFeed and other news outlets.
Rich's family has also strongly rejected Wheeler's claims as false, and beyond that, the family has said that he was bound by a nondisclosure agreement.
On Thursday, a lawyer representing the family sent Wheeler a letter to cease and desist all statements related to Rich's death and the investigation.
The letter adds that Wheeler was aware of how traumatic Rich's death has been to surviving family members.
"Your statements and actions have caused, and continue to cause, the family severe mental anguish and emotional distress," the letter states. "Your behavior appears to have been deliberate, intentional, outrageous, and in patent disregard of the agreement and the obvious damage and suffering it would cause to the family."
The letter notes that the Rich family could take further legal action based on what Wheeler has already said.
"Your improper and unauthorized statements, many of which have no basis in fact, have also injured the memory and reputation of Seth Rich and have defamed and injured the reputation and standing of the members of the family," the letter states.
Wheeler told BuzzFeed News that he can't discuss the investigation, but he also does not feel he owes the Rich family an apology.
"I owe them a lawsuit," he said.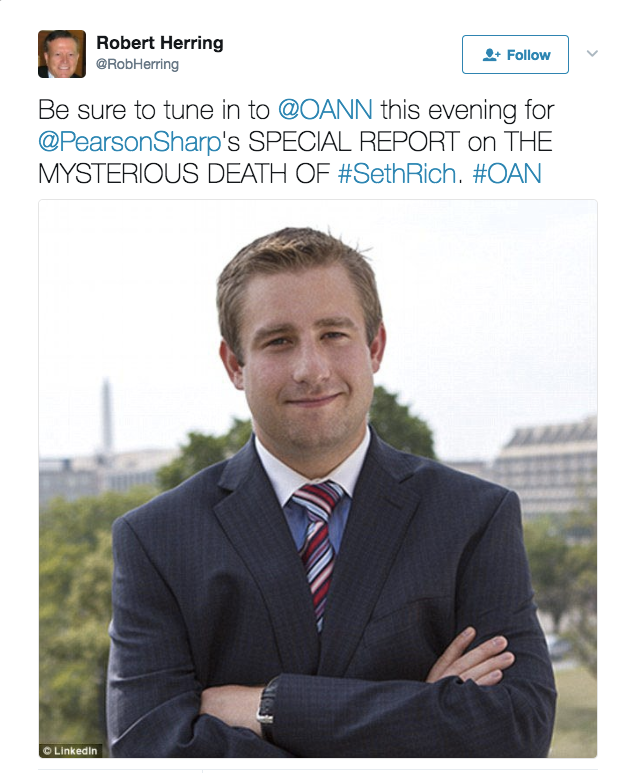 Meanwhile, Rich's death continues to draw speculation from conspiracy theorists, Fox News' Hannity, and right-wing websites. Hannity dedicated a segment of his evening program to Rich's death on Thursday. And right-wing OANN on Friday promoted an upcoming broadcast on Rich.
"Anyone who continues to push this fake news story after it was so thoroughly debunked is proving to the world they have a transparent political agenda, or are a sociopath," Rich family spokesman Brad Bauman told BuzzFeed News. "In either case, they should be taken off the air because they are either blind to the damage they are doing to a murder victims family or don't care, showing a profound lack of judgement and decency."
US officials have attributed WikiLeaks' obtainment of the DNC emails to Russian hackers. On Friday, the Russian embassy in London openly pushed the conspiracy that Rich instead leaked the emails.

Fox 5 DC has since added an editor's note to its original story, adding that Wheeler has walked back his previous statements due to what he calls a "miscommunication." FoxNews.com has updated it story to include additional statements by the Rich family and Wheeler, but it still quotes Wheeler as saying his investigation has found emails between Rich and WikiLeaks.