Ebola Vaccine That Appears Safe For Humans Could Be Breakthrough
The trials are the first step toward bringing the vaccine by GlaxoSmithKline to health care workers battling the epidemic in West Africa. So far, 5,689 people have died of the virus.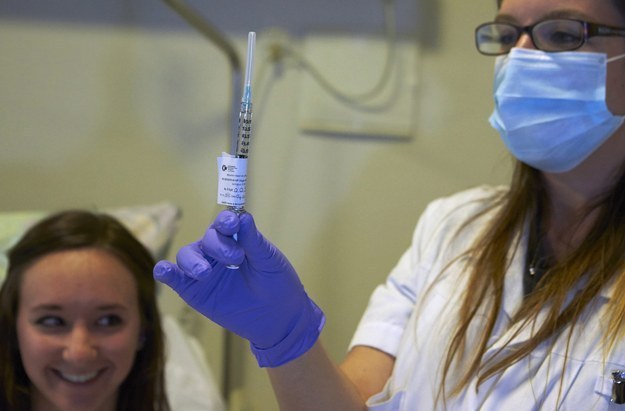 A new Ebola vaccine appears to be effective and safe for humans, researchers from the National Institutes of Health said on Wednesday.
Twenty healthy adults showed no serious side effects after the first trial of the vaccine, the Associated Press reported. More small trials will seek to confirm the results before a larger trial takes place.
The results of those smaller trials over the next several weeks will determine whether the findings are a breakthrough, GlaxoSmithKline's chief executive told the BBC. The pharmaceuticals company, which manufactured the vaccine, called Wednesday's news an "encouraging first signal."
If trials continue to show the drug to be safe, it could be distributed to thousands of healthcare workers in Liberia and Sierra Leone for its first major clinical trial.
The schedule for the safety trials was expedited in August in response to the growing epidemic in West Africa. Typically, developing new drugs can take years.
A White House statement on Wednesday praised the "aggressive" response of a number of government agencies in speeding up the safety trial process. President Obama is scheduled to visit the NIH in Maryland next week, and he will ask Congress for emergency funds to continue fighting Ebola in the U.S. and around the world.
"Today's news is another important milestone in that effort, and lays the groundwork for the critical clinical trials to follow shortly in Ebola-impacted countries to determine the safety and efficacy of Ebola vaccine candidates on a larger scale," the statement said.