5 People In Trump's Inner Circle Have Committed His Definition Of Voter Fraud
The president has pointed to duplicate voter registrations as proof of fraud — but it's relatively common and doesn't prove any sort of illegal activity.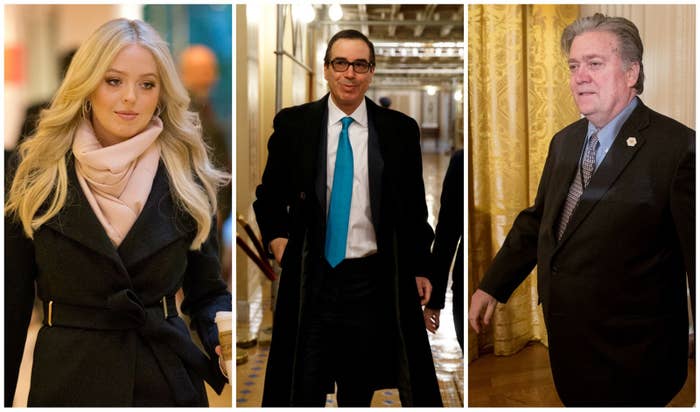 White House adviser Steve Bannon, Treasury secretary nominee Steve Mnuchin, and Donald Trump's daughter Tiffany were registered to vote in multiple states during the presidential election.
So are Jared Kushner, Trump's son-in-law and close White House adviser, and White House Press Secretary Sean Spicer, both part of Trump's tight-knit circle of insiders during the tumultuous campaign and new administration.
Literally millions of Americans are registered to vote in multiple states. It can happen when someone moves, but fails to notify voting officials. It would only be criminal if a person tried to cast multiple ballots on Election Day — something that experts agree happens extremely rarely.
And yet, President Trump continues to say that, in his opinion, millions of people voted illegally — casting multiple ballots for his opponents by being registered in multiple states.
"You have people registered in two states," Trump on Wednesday told ABC News. "They're registered in New York and New Jersey. They vote twice. There are millions of votes, in my opinion. Now, I'm gonna do an investigation."
A report by the Pew Center on the States estimates 2.75 million Americans are registered to vote in two or more states, a number that Trump often cites. But the report does not say the multiple registrations cause voter fraud — rather, it's part of an argument that voter registration systems should modernized to be more efficient.
Records reviewed by BuzzFeed News show Tiffany Trump is registered to vote in Pennsylvania and New York. She attended the University of Pennsylvania, and during April's Pennsylvania primary, she posted a photo urging others to vote. She graduated in May. Her voter registration remains active in Pennsylvania, and records show she's also now registered to vote in New York, with her address listed as an apartment in Trump Plaza.
Multiple voter registrations also exist for Steve Mnuchin, the former Goldman Sachs partner who is the president's choice for Treasury Secretary. In New York, he is listed as an active Republican voter — though it doesn't appear he has voted in elections there since 2008. In 2009, he famously purchased a mansion in Bel Air. Los Angeles County records show his voter registration status is active at that address.
More complicated is the residency status of Steve Bannon, the president's chief strategist and senior counselor, campaign manager, and former head of Breitbart News. Bannon owns a home in Laguna Beach, California, and he recently lived out of a Washington, DC, townhouse. But from 2014–2016, he registered to vote in Florida at a vacant home that his ex-wife had once rented, the Guardian reported in August. After that story published, Bannon changed his Florida voter registration to an address in Sarasota County. The address is the home of another Breitbart writer, and it doesn't appear Bannon ever lived there, the Herald-Tribune reported.

The Washington Post reported that Kushner, the husband of Trump's daughter Ivanka Trump, registered to vote in New Jersey in 1999, where he most recently voted in 2009. He was registered to vote later that year in New York, and cast ballots there in 2010.
Spicer, the Washington Post reported, had been registered to vote in Rhode Island even though he last cast a ballot there in 1998, meaning his registration should have been flagged inactive. Since 1999 he has been registered to vote in Alexandria, Virginia, according to the Post.
An active voter registration also exists for Bannon in New York, and that's where he cast his ballot for Trump on Election Day, the Guardian reported.

On Wednesday, Bannon was removed from the Florida voting rolls after officials verified his active New York registration, the Miami Herald reported. In spite of his multiple Florida voter registrations, he never voted in the state.