President Barack Obama on Saturday declared a major disaster in West Virginia, after at least 23 people were killed in flash floods that began sweeping through the state on Thursday.
At least six counties in the state have seen significant structural damage in what officials were describing as historic and destructive rains, causing widespread flooding throughout much of the state, Gov. Earl Ray Tomblin said at a press conference Friday afternoon.
"It's been a long 24 hours, and the next 24 hours may not be any easier," Gov. Tomblin said.
On Monday, state medical examiners revised the number of dead down from 24 to 23 "after two people thought to have been swept away in a camper in Greenbrier County and had been presumed dead were found alive."
The White House announced Saturday that the president had signed a declaration of major disaster in the state, releasing federal funds to the three counties.
"Assistance can include grants for temporary housing and home repairs, low-cost loans to cover uninsured property losses, and other programs to help individuals and business owners recover from the effects of the disaster," the White House said.
The hardest hit area from the torrential rain and flooding appeared to have been Greenbrier County, where at least 15 people have been confirmed dead, officials said.
There, the Greenbrier River hit a record-breaking 22 feet in Alderson, the third-highest recorded depth for the river ever.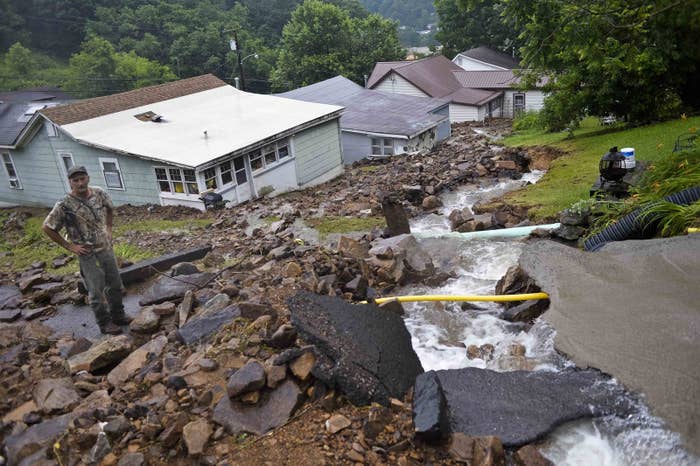 Six people were also killed in Kanawha County, one person in Jackson County, and another in Ohio County.
The deadly storms erupted across the state Thursday, devastating some areas, with Greenbrier, Nicholas, Fayette, Kanawha and Webster counties seeing the worst of it.
More than 100 homes have been heavily damaged, Tomblin said, and about 66,000 were without power as of Friday. By Saturday morning, there were still more than 32,000 homes and businesses without power.
More than 150 members of the state's National Guard have been dispatched to the most affected areas, he said, and were responding to rescue operations across the state along with first responders.
"The damage is widespread and devastating," he said. "Our focus remains in search and rescue (operations)."
In White Sulphur Springs, one woman posted a video of a burning home being swept away by high waters.
In Wheeling, an 8-year-old fell into a creek and was later found dead, WTOV reported.
An elderly man drowned Thursday night in Kanawha County, MetroNews reported, and homes in the area were also significantly damaged.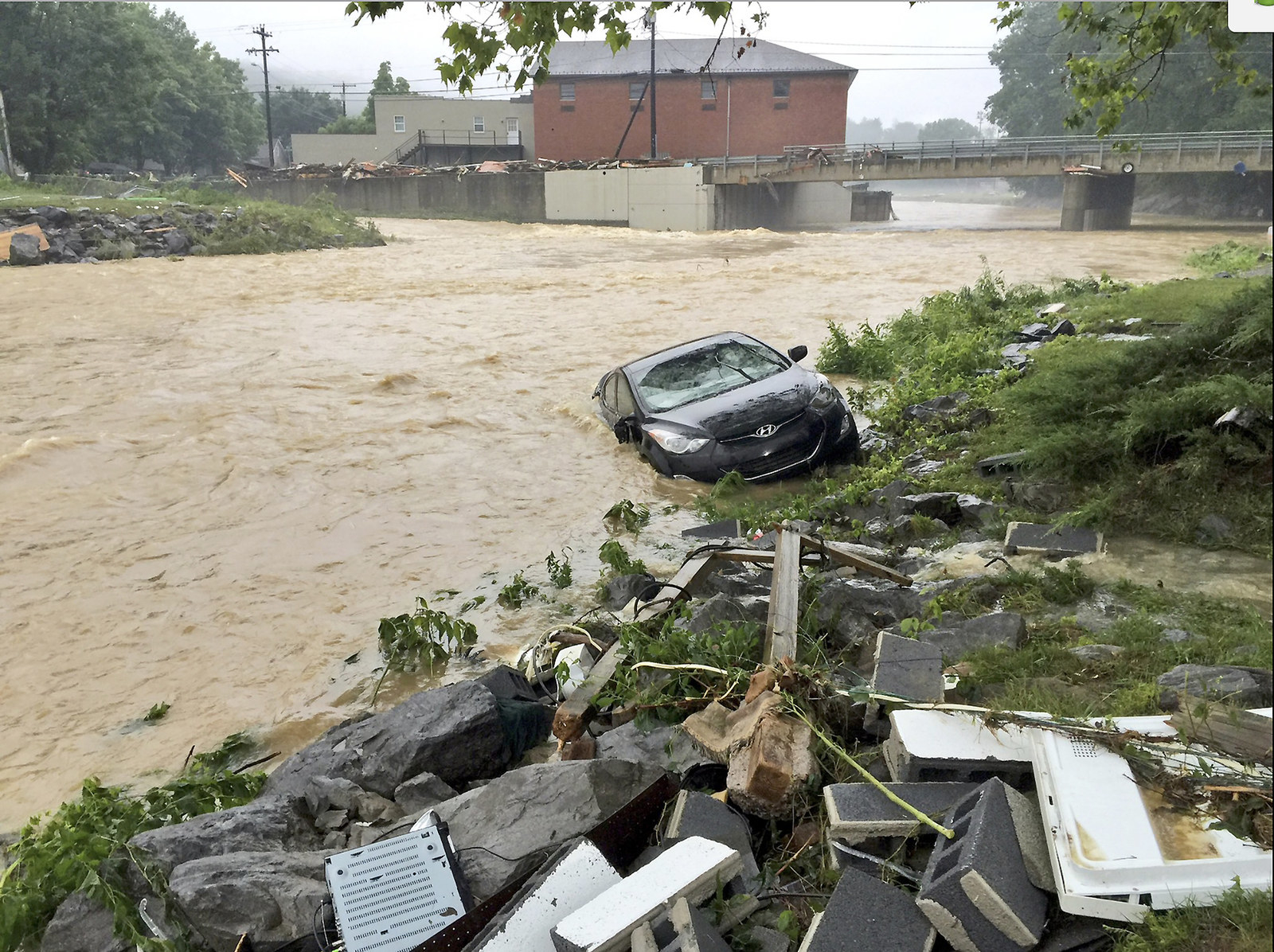 More than 80 displaced people in Kanawha County were being sheltered at Capitol High School, officials said Saturday.
In Jackson County, another child was also swept away; he had not been found as of Thursday night.
Gov. Earl Ray Tomblin declared a state of emergency for 44 of West Virginia's counties. In some areas, up to 10 inches of rain had fallen.
The heavy rains were expected to continue being a challenge to officials, as they work to respond to emergency calls and try to restore services to thousands of people across the state.
On Saturday, emergency officials said more than 60 roads remained close as a result of the flooding.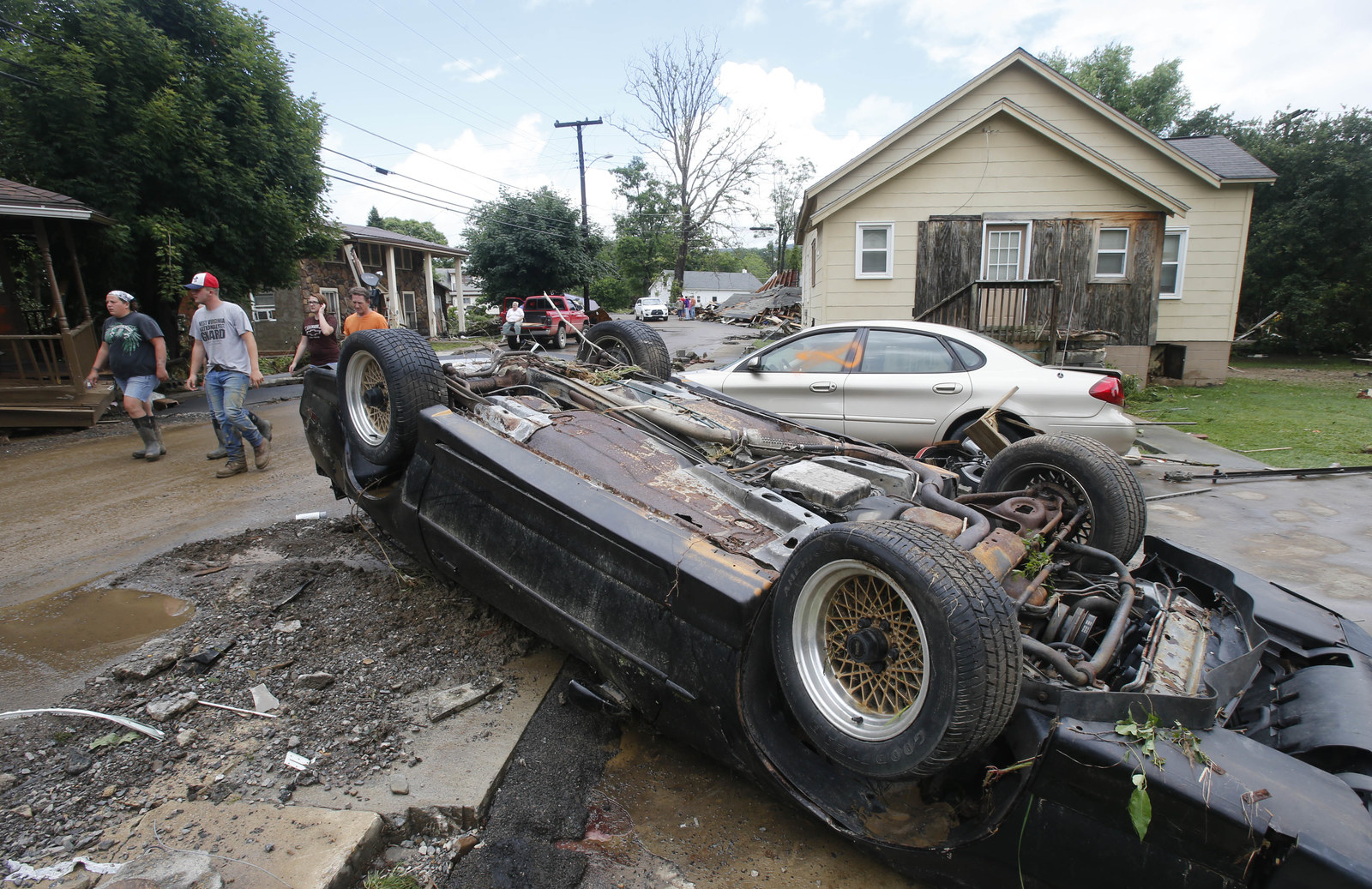 The rainfall totals have been historic, causing record-breaking water levels at many of the state's rivers, and causing out-of-bank flooding in communities.
In Queen Shoals, the Elk River reached 32 feet, U.S. Rep. Evan Jenkins said during the press conference, a level not seen since 1888.
In Belva, the Gauley River reached 27 feet, he said.