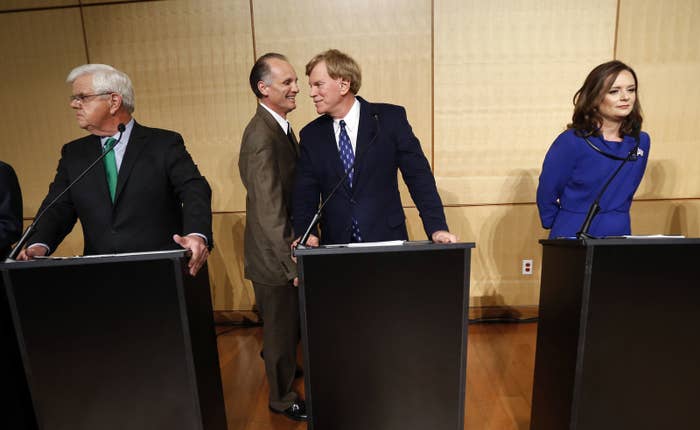 NEW ORLEANS — Inside the auditorium of the historically black Dillard University, former KKK leader David Duke accused the media — who he said was controlled by Jews — of inciting hatred and violence among black people toward whites.

"I'm not opposed to all Jews," Duke said Wednesday night in response to a question about why he insisted "CNN Jews" were behind negative coverage of Donald Trump.
"There's a lot of great Jews," he said. "I'm against Jews or anybody else that puts the interests of some other place, another country over our own country, that is controlling and dominating the media, that is teaching black people and inspiring black people to hate white people and inciting them to violence like the Black Lives Matter."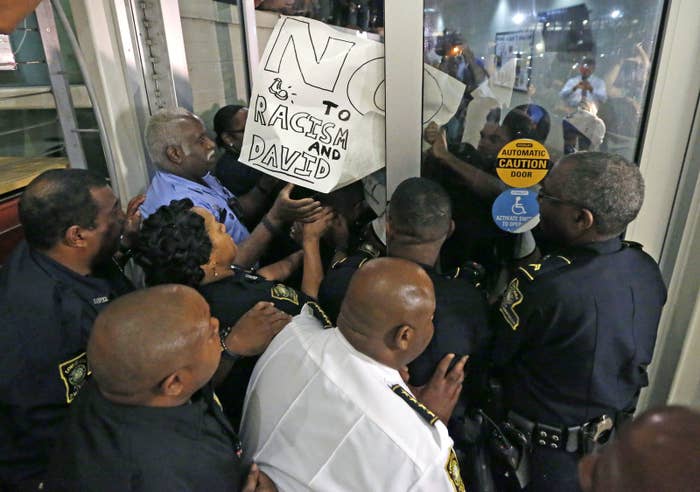 Outside, students loudly protested Duke's presence and at times clashed with police, who deployed pepper spray, a Taser, and took several people into custody.

Like many of the protesters, Victoria Whiteside, a 21-year-old student from Stone Mountain, Georgia, bristled at the presence of a former Klan leader on the campus. "We are protecting our school, we are protecting our education, we are protecting our values," Whiteside said of the gathered protesters.
Duke aired his white nationalist views as part of the debate among six Louisiana candidates for Senate. While many white Americans have looked aghast at the race because of Duke's presence, for Whiteside and many black Americans, his inclusion in the debate — and in a black college — had a familiar feel.
"It's not surprising. It's a repeat. And it's God telling us to protect what is ours," she said.
Questions from moderators covered classic topics from healthcare to Social Security, and candidates proclaimed their commitment to Louisiana values, conservative credentials, or ability to go to Washington without being tied to special interests.
And then there was Duke, who had just met the 5% polling threshold to join the debate and several times shouted down moderators who he accused of silencing him.
An ardent Trump supporter, Duke echoed the Republican nominee's language that "We're losing our country." He said white people lacked human rights, and he wanted to "defend the people of this country that made this country great."
"It is time we stand up now," Duke said. "This is the tipping point. We are getting outnumbered and outvoted in our own nation."
Initially, the protests did not appear to worry campus and New Orleans police on the scene. Police had successfully ferried the incendiary white nationalist leader into the debate venue's back door, without drawing the attention of the protesters.
Protesters also were initially focused on Dillard's President Walter Kimbough. Kimbough, who refused student demands to cancel the debate once it became clear Duke would be involved, was reviled by the protesters, who repeatedly chanted, "Uncle Tom Must Go!"
As the sun began to set, a handful of young protesters attempted to enter the building and force what would amount to symbolic arrests — a tactic common in peaceful direct action protests.
But the first two protesters through the door were quickly pulled to the ground by police. Angered, their compatriots held the door open, setting off a sometimes tense standoff.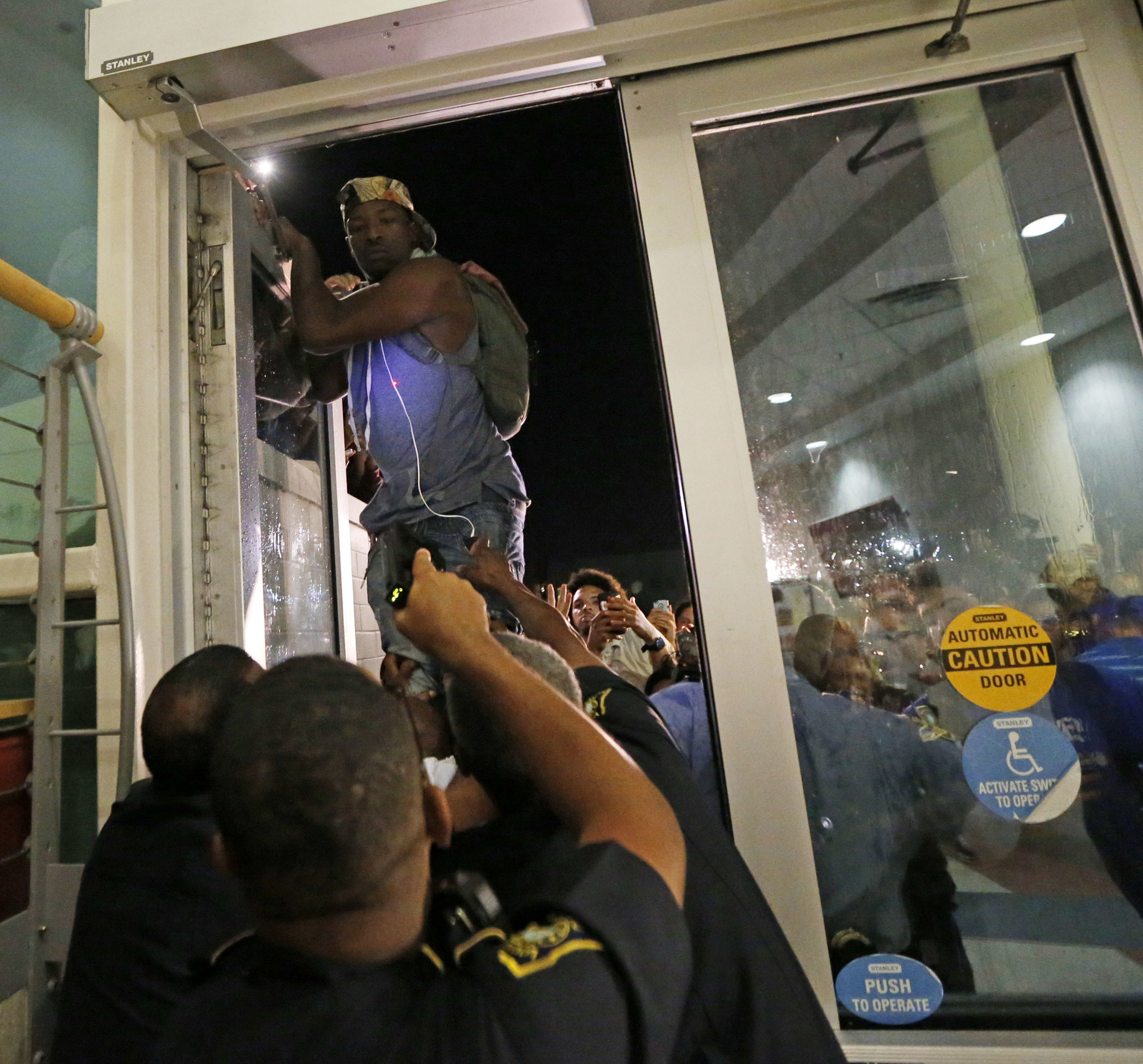 Inside the auditorium, Duke also criticized the influence of Jews on foreign policy, pointing to Hillary Clinton's positions on Syria.
"That lady should be getting the electric chair, be charged with treason," he said. "She knew that Syria is supporting ISIS. She knew this, she told it secretly to Goldman Sachs in her emails, but she didn't tell the public."
As Duke melted down inside, the scene outside deteriorated. Frustrated with protesters, police became increasingly aggressive. Within seconds, tactical batons began swinging while thick streams of pepper spray laid into the crowd. Protesters initially recoiled, but quickly rolled forward onto the ill prepared small group of police defending the door. Knotted up college students and middle aged police hit the ground and at least two officers unholstered their taser guns, struggling to find clear shots past their colleagues.
The scene became so chaotic, the small group of police began indiscriminately firing pepper spray, hitting protesters, journalists, and other police. Choking, both sides would fall back, regroup, and repeat.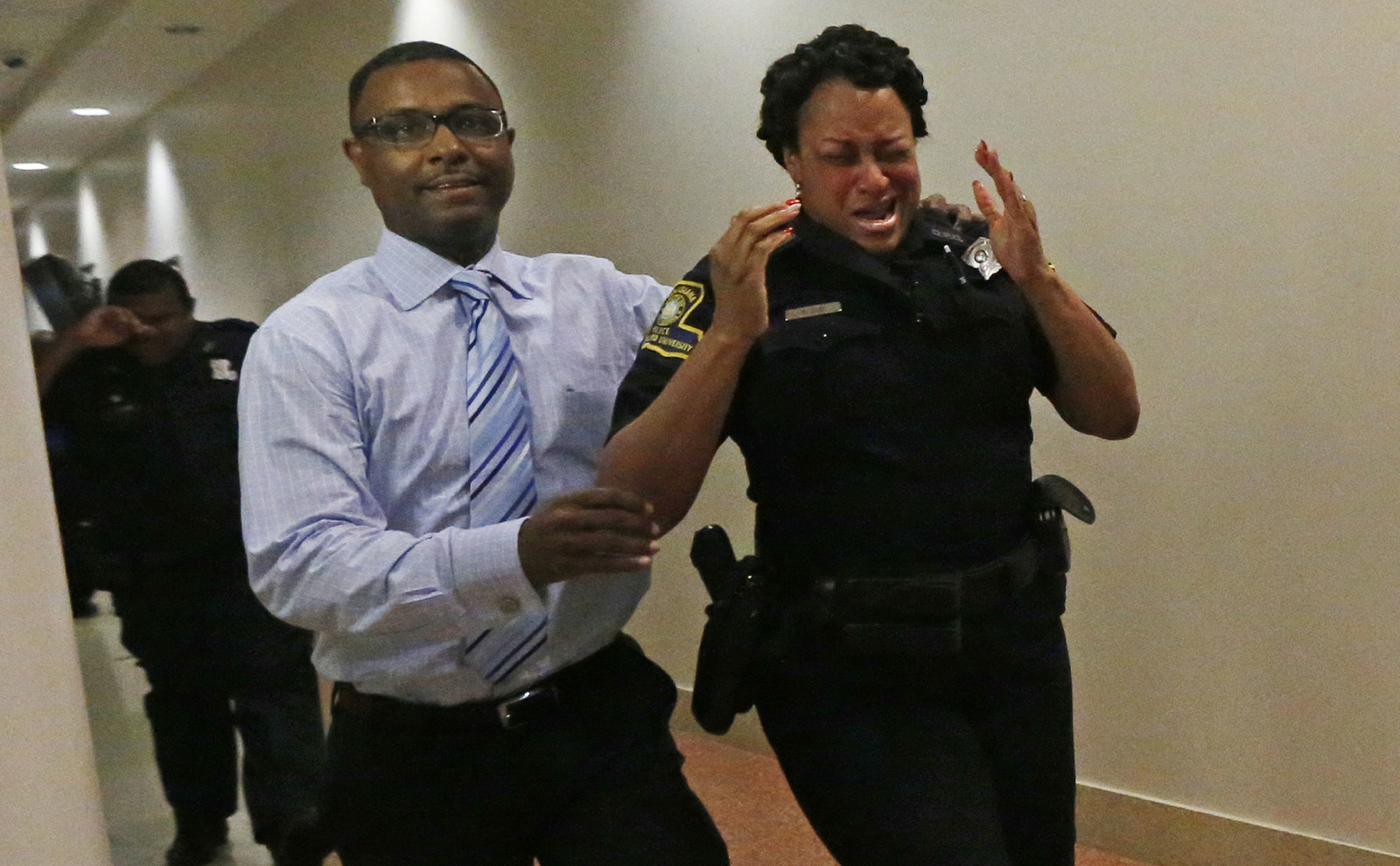 Frustrated, protesters moved to another entrance to the building, seemingly ready to resume their battles with the police. But after leaders pleaded with crowd to not destroy the campus, both sides seemed to relax.
Mostly ignoring Duke's outbursts, the other candidates strove to distinguish themselves in a crowded field that is expected to lead to a runoff election. But the talk kept coming back to Duke.
John Kennedy, a Republican who has led polls, pointed to Duke's criminal record and accused him of swindling money from supporters.
"It must be terrible to wake up in the morning with that much hate in your heart," Kennedy said.
Caroline Fayard, a Democrat, addressed her controversial campaign ad that appeared to show her Democratic opponent Foster Campbell saying he was like Duke.
"I would say there's no context in which to have a conversation, public or private, with David Duke," she said.
Campbell said the ad was a "damn lie."
"I have nothing in common with David Duke, other than we're probably breathing," he said.
Duke, in turn, characterized the rest of the candidates as insiders who would be swayed by big money — by his explanation, powerful bankers who were mostly Jews.
"If you want a real change, you know who to vote for and it's me, David Duke."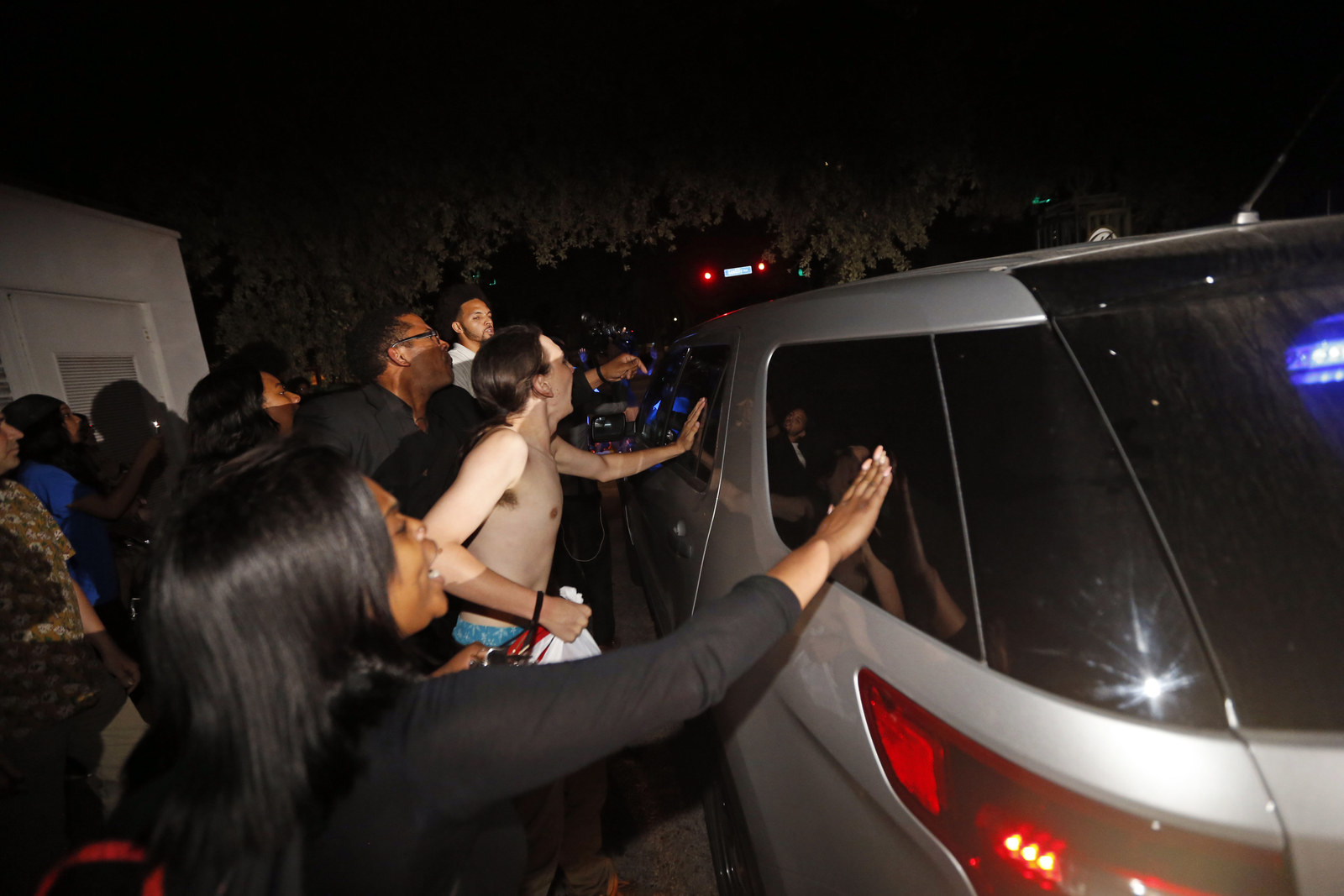 In the end, at least four protesters were detained and one arrested for trespassing, dozens of protesters and police suffered from the effects of pepper spray, and Duke was rushed off the campus in the back of a New Orleans City Police Department vehicle.
In an email sent to students after the debate, university president Kimbrough blamed the violence on students from Xavier and Tulane who he accused of acting as "instigators," and announced a "students only" town hall for Thursday morning.

"I will be there to listen and answer questions. And to reflect on what could be different, why we weren't strong enough to handle this event, etc etc," Kimbrough wrote.
Whiteside, who is studying to be a human rights lawyer, said that while she was "disgusted" by Duke's presence, said this year's election has hardened her resolve. "I'm not going to apologize. People want you to apologize for being who you are," she said.
"I'm not going to apologize for being black."