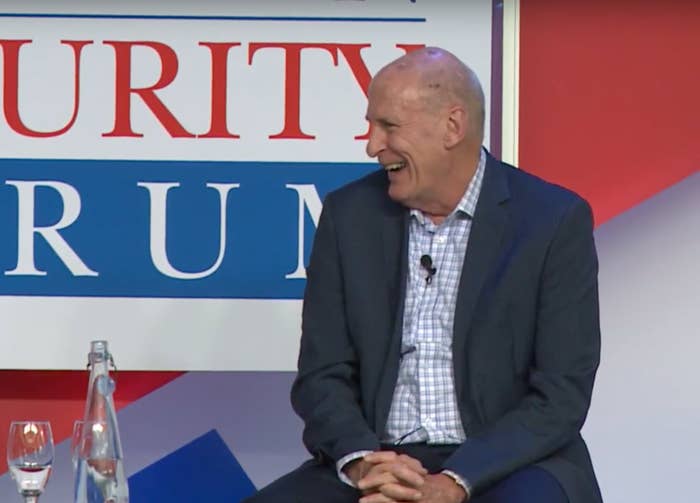 Director of National Intelligence Dan Coats had spent about 40 minutes talking to a crowd at the Aspen Security Forum in Colorado about the severity of the threat posed by Russia when he was informed that President Trump was bringing President Vladimir Putin to Washington, DC.
"We have some breaking news," the event's moderator, NBC correspondent Andrea Mitchell, told Coats. "The White House has announced on Twitter that Vladimir Putin is coming to the White House in the fall."
"Say that again?" said Coats, laughing. "Did I hear you right? Okaaaay. That's going to be special."
Earlier, White House press secretary Sarah Huckabee Sanders had announced on Twitter that Trump had told national security adviser John Bolton to invite Putin to the US capital.
"Those discussions are already underway," she tweeted.

Before he was surprised with the Putin news, Coats had earlier in the interview stressed that Russia, at the direction of its president, had meddled in the 2016 election and was trying to undermine American democracy.
"They are the ones that are trying to undermine our basic values, divide us with our allies. They are the ones that are trying to wreak havoc over our election process," he said. "We need to call them out on that. It's critical that we do so, and then take steps to make sure they are not able to do this with the election coming up."
Coats added that he felt it was his job to correct Trump's statements at a Helsinki press conference alongside Putin on Monday that suggested Russia was not responsible.
"Obviously I wished he had made a different statement, but I think now that has been clarified based on his late reactions to this," Coats said.
Coats said that US institutions, infrastructure, and financial systems continue to be under attack from hackers, and Russia is the most aggressive actor. He urged Americans to not be complacent against cyber threats, which could cause devastating destruction.
"I'm concerned about a cyber 9/11," he said.
Though US and Russian intelligence have at times worked together to keep their respective peoples safe, Coats pointed to the recent nerve agent attack in the UK as evidence of Russia's foul play.

"It should have told the world that if you think Russia is trying to be good neighbors, this is the kind of thing they still do," he said.
He added that Putin had training and experience as a former KGB officer that was unlike that of US presidents.
Coats said he didn't know what Putin and Trump discussed in their private meeting in Helsinki on Monday.
Before the two leaders meet again this fall, Coats said he'd provide a report on any possible intelligence risks to Trump.
Mitchell asked if he'd recommend that Trump not again meet privately with Putin without notetakers.
"If I were asked that question, I would look for a different way of doing it," he replied as the crowd again laughed.