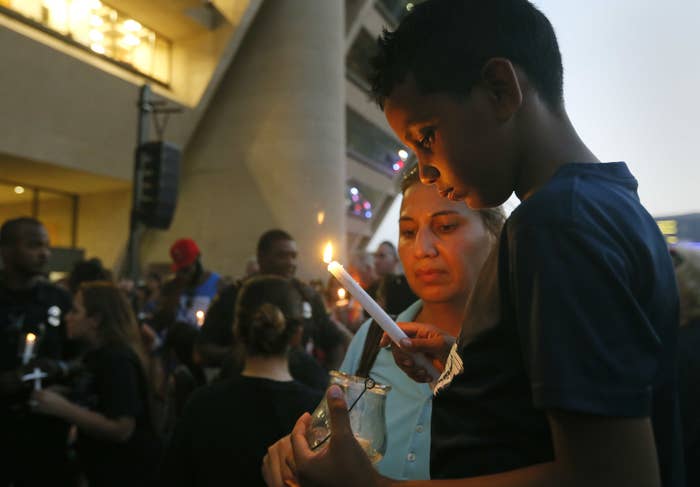 Former partners of the police officers killed in the Dallas attack described them Monday as brave, dedicated to their friends and family, and above all, committed to being a force of good in their city.
Organizers expected thousands of people to attend a vigil outside Dallas City Hall. Their candles illuminated the plaza as the Dallas skyline shone blue behind them and a bagpiper played "Amazing Grace."
Dallas Police Chief David Brown compared the fallen officers to superheroes and praised all cops for being mission-focused.
"What's our mission today? It's helping these families understand how to conquer this tragedy," Brown said.
Dallas Area Regional Transit (DART) Police Chief J.D. Spiller called on Dallas to lead the nation in having a discussion on race as well as supporting police officers.
"If someone though that what they did was going to tear up Dallas and the state of Texas, they were wrong," he said. "What it did was galvanize us."
Fellow officers shared memories of each of the fallen men.
Officer Brent Thompson, 43, had served with DART police for seven years. He had been married two weeks before to a fellow officer.
Words like bravery, valor, hero can be cliché, but Thompson embodied them, a fellow DART officer said.
"Brent Thompson was my friend, and I loved him," Officer Joseph Kyser said.
Officer Patrick Zamarripa, 32, joined the Dallas Police Department after serving in the military 15 years.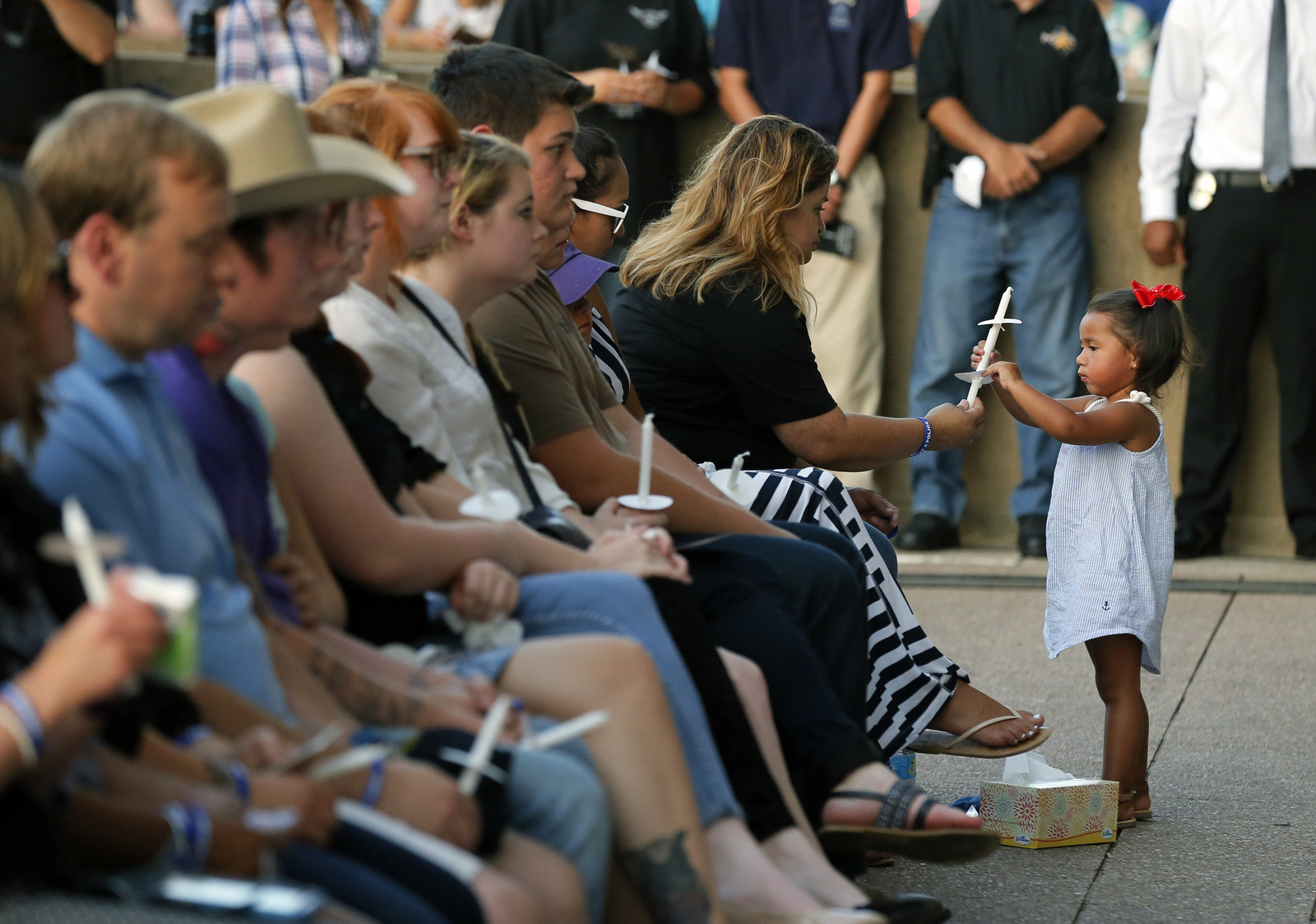 His partner, Officer Joshua Rodriguez, described him as hard-working, a dedicated family man, and a fan of the Dallas Cowboys, Texas Rangers, and Dallas Mavericks.
Not long before Zamarripa was killed, a homeless man had come up to him, distraught that someone had stolen his chips. Zamarripa bought him a new bag of chips and a drink from a 7-11, and the man stayed by his side eating them.
"It was as if he felt as long as he was close to Patrick, no one would harm him again," Rodriguez said.
Zamarripa always treated everyone he met with respect, Rodriguez said, and he felt honored to serve the community.
"These uniforms did not magically give him the courage or any power," Rodriguez said. "It's how my friend was. Sadly, we are here today because we have lost some of that goodness."
Sr. Cpl. Michael Krol, 40, loved to go out to eat in downtown Fort Worth, talking with friends and having a good time, another officer said. He was competitive — even when it came to running on a treadmill — but his friends knew that he cared for them.
"I always knew if I needed someone to be there, he'd come," Officer Andrew Gregorichsaid.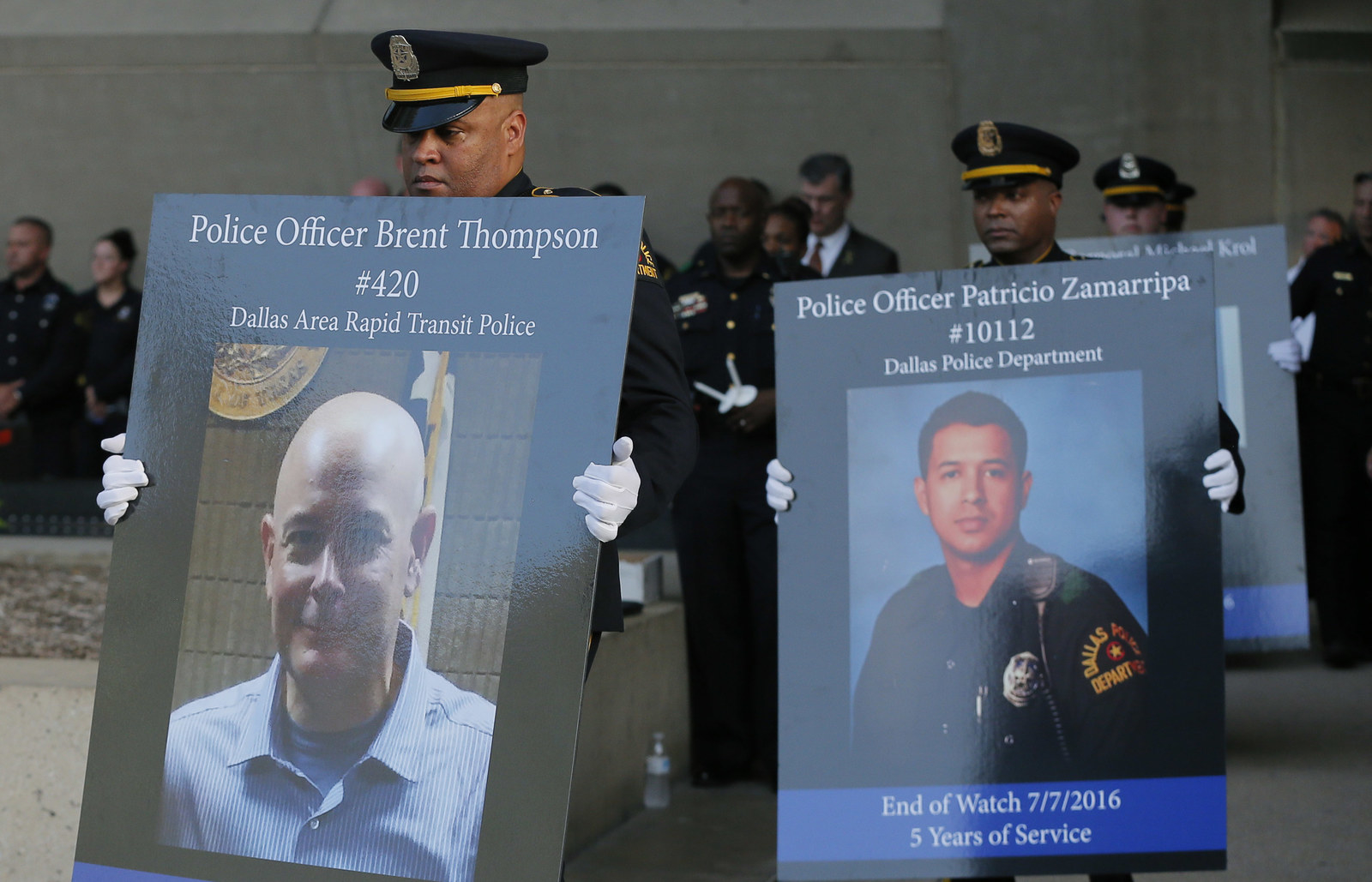 Sr. Cpl. Lorne Ahrens, 48, always stood out for his size. When he first joined Dallas police, Sr. Cpl. Jaime Castro remembered wondering how Ahrens would fit into a squad car or chase down a suspect.
Ahrens quickly proved him wrong, Castro said, proving to be a dedicated officer whose goal was to move into the 3080 unit — a narcotics squad known for working the city's most difficult area.
"Lorne did things the old-school way," Castro said. "He worked hard to earn it."
He achieved his goal, eventually becoming a legend within the department, Castro said.
"His work is evident in peaceful vacant lots, boarded boarded houses where once violent, rampant drug sales once plagued the community he served," he said.
Outside of work, Ahrens was a devoted husband and father to family, and on Monday, Castro spoke to them.
"You were his heroes in life," he said. "Without you there, he was nothing."
Sgt. Michael Smith, 55, had served with the Dallas Police Department for 27 years. Sr. Cpl. Marcie St. John was his partner for five of those years, patrolling a high-crime area in the early and mid 1990s.
"Mike always chose the path of righteousness," she said. "It wasn't always an easy path. Sometimes it was a downright difficult path."
She remembered him clashing at times with other officers about staying late at a scene.
"They were ready to go home, and we were staying still to do the job, because it needed to be done," she said.
The attack had left the city sad, grieving, and also angry, she said. But St. John called on Dallas to channel that anger into building hope.
"Instead, we choose to continue Mike's fight for good and not let the evil prevail," she said. "We will continue to protect and serve this wonderful city Mike loved so much."