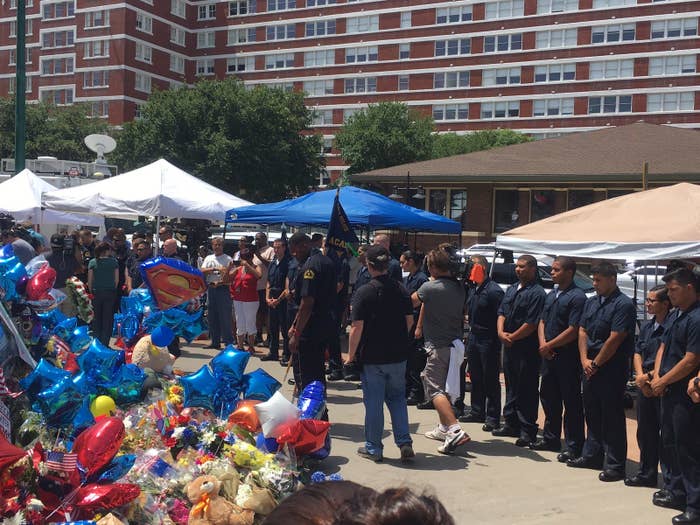 Men and women in blue, unadorned uniforms surrounded the memorial to fallen officers outside Dallas police headquarters on Monday, their shoulders squared and their heads bowed.

It was the current class of the Dallas Police Academy cadets, who had arrived with their instructors to pay their respects. They walked in formation under an academy flag then stood silently around the two squad cards covered in flowers and notes honoring the five officers killed in Thursday's ambush. Two young men grabbed each other's shoulders. One recruit wiped his eyes.

"It's an eyeopener to be here. Sad," said Joe Rojas, a 35-year-old recruit who joined the academy after serving 15 years with the U.S. Marine Corps.

He said he's mourned for fallen colleagues before, but that was overseas.

"To see it now here, I'm going to continue in a new career," he said.

Instructor Bobby Parrott said the academy hopes to provide a solemn reminder of what recruits could see any given day while working as an officer.

"They need to see it. They need to feel it," he said. "They need to see the support we've got."

Bringing the recruits here is one of the many ways — along with defensive tactics, physical training, and more — that Parrott said instructors are using to mold the recruits i to officers.

"We try to instill in them a warrior's mindset but with a caretaker's heart," he said.
Earlier in the day, Dallas Police Chief Brown had told reporters about the challenges facing the department. The duties of officers keep expanding beyond traditional police work, he said, to include dealing with issues such as mental health or stray dogs.

For recruit Nancy Rojas, 26 — she's not related to Joe — Dallas is the only city she's wanted to work. Her family is here, she grew up here.

"This is my community. I love it," she said. "This is where I want to work."

This is her second time through the police academy. After failing a driving test, Rojas said she was determined to keep working toward the skills to become a Dallas cop.

Seeing the community's support outside police headquarters was amazing, she said, adding that she was confident the department would get through the unprecedented tragedy.

"It reinforces our desire to work for the best police department in the country," she said.