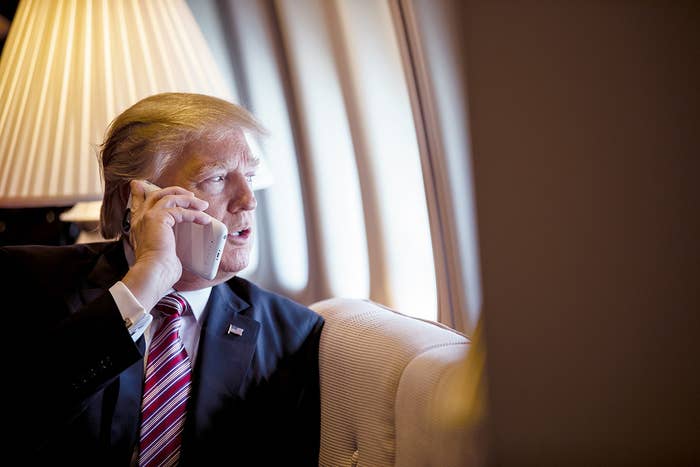 Chinese and Russian spies are regularly eavesdropping on President Trump's cellphone calls, the New York Times reported on Wednesday.

The president regularly uses two iPhones modified by the National Security Agency, as well as one that's off the shelf, the Times reported. White House staff members have urged him to only make calls over a secure phone line and are left hoping the president doesn't mention any classified information on those calls, the Times reported.
Chinese spies in particular are seeking to learn who the president trusts and how he might be manipulated as the US and China are engaged in a trade war, the paper said. Russian surveillance efforts are less intensive, apparently because of Trump's positive statements about Russian President Vladimir Putin.
On Thursday, Trump dismissed what he said was an "incorrect" report in a tweet, claiming that he only uses government phones and has one "seldom used" government cellphone. The tweet was sent from an iPhone.
Deputy press secretary Hogan Gidley added that Trump uses only one official government iPhone. The phone is monitored "constantly" for security vulnerabilities and regularly replaced, as recommended by US intelligence officials.
Cellphones are notoriously vulnerable to hackers, and there's no dispute that China and Russia have the capability to eavesdrop on typical calls. In 2016, 60 Minutes worked with a hacker and California Rep. Ted Lieu to show how simple it would be for a spy to gain access to a politician's cellphone.

Concerns about what Trump may say on an unsecured phone line have been around since the beginning of his term. In May 2017, the Associated Press reported that Trump had given his cellphone number to several world leaders — creating an opening for would-be eavesdroppers.
In May, Politico reported that Trump resisted efforts to keep his phones secure because they were "too inconvenient." The president's security team recommended switching out his phone with Twitter access once a month to safeguard against malware. The phone was left untouched for as long as five months, Politico reported.
It wouldn't be unprecedented for Trump to casually mention classified information in a conversation. Last year, he revealed highly classified information to the Russian foreign minister and ambassador during a meeting in the Oval Office, the Washington Post reported.