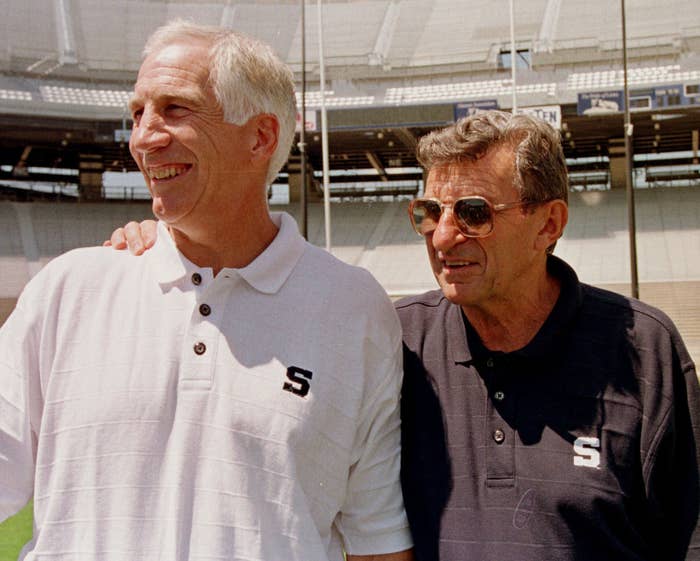 A boy said he told former Penn State head football coach Joe Paterno that he had been molested by assistant coach Jerry Sandusky in 1976, a new court document shows.
The document — part of a lawsuit between the university and an insurance company — mentions the 1976 report of abuse as well as instances in 1987 and 1988 when inappropriate behavior between Sandusky and children was witnessed by other Penn State assistant coaches.
Sandusky is currently in prison for molesting boys between 1994 and 2009, and others have come forward to say they also endured abuse. Now, a judge has confirmed the allegations against him — and university employees' apparent knowledge of them — go back to the early years of Sandusky's career.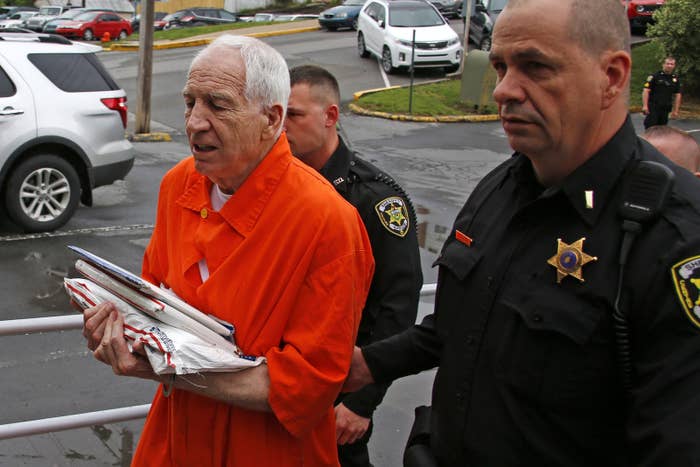 Penn State has been fighting with its general liability insurance company in court since 2012 regarding who should pay damages for victims of Sandusky. In an opinion filed Wednesday, Judge Gary Glazer said "there is some evidence of record" of child molestation by Sandusky between 1976 and 2001.
Of particular relevance to the case are instances in which other Penn State employees were notified of the potential abuse, the judge notes, which happened in 1976, 1987, 1988, 1998, and 2001. Sandusky retired in 1999, but he maintained an office on campus related to his nonprofit work with at-risk youth.
According to the judge, a child reported that he had been sexually molested by Sandusky to head football coach Joe Paterno in 1976. In 1987, another assistant coach witnessed "inappropriate contact" between Sandusky and a child at a Penn State facility. In 1988, another assistance coach witnessed "sexual contact" between Sandusky and a child. That same year, a child's report of molestation was allegedly referred to the university's athletic director.
"There is not evidence that reports of these incidents ever went further up the chain of command at PSU," the judge wrote.
A spokeswoman for the university said they were aware of the allegations, but could not comment because of ongoing litigation as well as confidentiality agreements.
"We are sensitive to the need to adhere to our commitments and to honor the privacy concerns of potential victims," Penn State's Lisa Powers told BuzzFeed News.
The events were described in depositions, the judge said. According to Penn Live, those cases are sealed. A lawyer for the Paterno family told the publication that the coach had never covered up Sandusky's conduct.