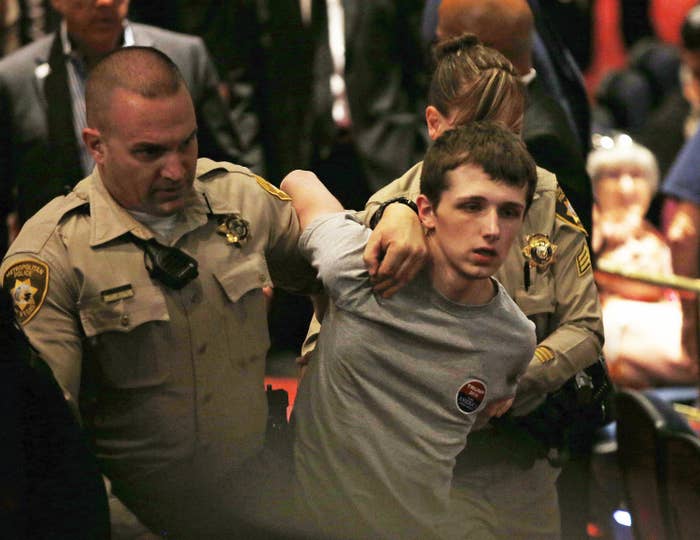 A 20-year-old British man who said he hoped to kill Donald Trump pleaded guilty on Tuesday to two federal charges.
Michael Sandford, who was in the US illegally, pleaded guilty to being an illegal alien in possession of a firearm and impeding and disrupting government business and official functions. His sentencing is scheduled for Dec. 13, and in a plea agreement he acknowledged it was "almost certain" he would be deported and never allowed to return to the US.
Sandford was arrested inside Trump's June 18 rally at the Treasure Island Hotel and Casino in Las Vegas. The British man, then 19, approached a Las Vegas police officer and said he wanted to get Trump's autograph. Sandford then grabbed with both hands for the officer's Glock 9 mm handgun and tried to pull it from its holster. The Secret Service and other law enforcement responded, and Sandford was taken into custody.
At the time of his arrest, Sandford told a Secret Service agent he had traveled to Las Vegas to kill Trump, according to court records. Before attending the rally, he had visited a gun range to practice firing a similar gun.
After Sandford's arrest, his father told The Sun the teen had traveled to New Jersey after meeting an American girl. He overstayed his visa, and his family had had trouble staying in contact with him. His father added Sandford had never shown any interest in politics and described him as having Asperger's syndrome.
In the plea agreement, prosecutors suggested a sentence of between 18 and 27 months behind bars. The maximum sentence for the crimes is 10 years in prison.